San Antonio Car Accident Attorney
Car Accidents happen every day and unfortunately they can lead to life altering injuries or wrongful death. Fault in car accidents is often hotly disputed and insurance companies do not always have your best interest at heart – oftentimes denying your injury claim. When this happens, you need an experienced San Antonio car accident attorney who will stick up for you and fight for your rights to compensation. Our personal injury lawyer has experiences in handling a variety of car accidents cases, including:
Accidents caused by fatigued drivers
Automobile defects
Inexperienced drivers
Distracted driving
San Antonio Car Accident Injuries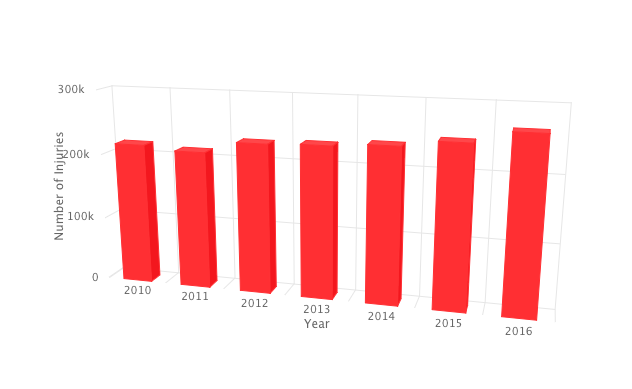 According to the Texas Department of Transportation, the data above shows well over 200,000 injuries occurring every year throughout the state of Texas from motor vehicle crashes. This number is equivalent to an injury causing accident occurring about every two minutes. These statistics also show that Texas roads are becoming more dangerous – with an increase in injuries every year since 2011.
Texas Car Accident Fatalities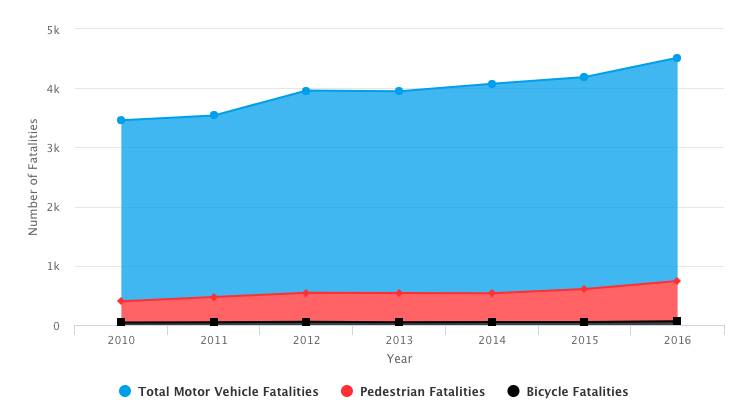 Data is current as of August 1st, 2017 from the Texas Department of Transportation.
A study released last year ranked the city of San Antonio as the 18th most dangerous among the 51 largest metro areas in the country. Between 2003 and 2012, 373 San Antonio residents were killed while walking, out of the 4,192 pedestrians who died throughout Texas.
The study noted safer street design may have prevented a majority of those fatalities. It seems that most pedestrian deaths occur on roadways that have been engineered and operated to the benefit of speeding traffic, without accounting for those who walk, bike or use public transit. That makes adults and children the most vulnerable to risk while walking or bicycling. Researchers point to a need to design and maintain roads that are engineer with the idea of keeping everyone safe. Over the last couple of decades, a number of communities have been redesigning roads in a way that improves their function for all sorts of travelers. They have been adding larger sidewalks and wider bike lanes, as well as improving the design of crosswalks in a way that makes crossing the street safer and more comfortable for everyone.
Law enforcement and city officials have been taking more traditional steps to improve traffic safety in San Antonio, including more frequent patrols. To combat the growing problem of distracted driving, the city passed a law banning hand-held cell phone use while driving. They have also increased penalties for DUI, hit and run and failure to move over for an emergency vehicle. The city also has a three-foot rule in place, meaning that motor vehicles must provide at least three feet of clearance to bicycles as they pass them. SAPD officers have also started riding bikes on San Antonio streets to enforce that rule and others.
Traffic safety seems to vary based on where you are in the city. Some areas of the city and Bexar County have excellent traffic safety records, while other areas experience unusually high numbers of injury and fatal accidents. Traffic accidents, especially those leading to injuries or fatalities, are not inevitable. Also such accidents take a major toll on the city, and not just economically.  Motor vehicle accidents too often lead to premature disability or death and a tragic disruption for families and friends.
That is why the U.S. Department of Transportation and the National Highway Administration have developed Vision Zero goals, which encourages cities to implement policies to make a commitment to eliminating traffic fatalities and serious injuries. Nine cities have signed on, but so far, San Antonio has not, even though some areas of the city have shown that something like Vision Zero is achievable. For example, Joint Base San Antonio and the central business district both have traffic fatality rates that are very close to zero. It is time that San Antonio made a public safety commitment to reduce or eliminate traffic fatalities and injuries. That means designing roadways in a way that takes into account that human error is always possible, but that mistakes don't have to be fatal. If road designs account for nearly all traffic fatalities and greater speed exponentially increases risk, San Antonio officials should be working on those factors to at least move toward Vision Zero.
Car Accidents Caused by Distracted Driving
According to Distraction.gov, "In 2010, 3092 people were killed in car crashes involving a distracted driver and an estimated additional 416,000 were injured in motor vehicle crashes involving a distracted driver." Unfortunately, in Texas, there is not an outright ban on texting and driving. An attempt to ban texting and driving in Texas in 2011 was vetoed by Governor Perry.  Currently, more than twenty-six (26) cities, including San Antonio, Texas, have bans on texting and driving. However, Texas has a very limited statewide ban.  If you've been injured or have lost a loved one due to distracted driving, call our San Antonio texting and driving accident lawyer today.
In Texas, texting and driving is only banned for:
Bus drivers when a passenger 17 and younger is present;
Drivers in school crossing zones; and
Drivers younger than 18.
In light of the statistics regarding distracted driving accidents, Texas has failed to pass meaningful highway safety laws to protect everyone on the roadways.  The dangers of distracted driving are well-known and published.  A report by the Federal Motor Carrier Safety Administration entitled, "Driver Distraction in Commercial Motor Vehicles" unveiled the following alarming statistics:
Text messaging creates a crash risk 23 times worse than driving while not distracted;
Sending or receiving a text takes a driver's eyes from the road for an average of 4.6 seconds, the equivalent-at 55 mph-of driving the length of an entire football field, blind; and
Headset cell phone use is not substantially safer than hand-held use.
The San Antonio Car Accident Lawyer at Hill Law Firm has years of experience in representing clients who have been injured or whom lost loved ones as a result of distracted driving. We understand the importance of requesting cell phone records of defendant drivers early in litigation to ensure that the data can be received and analyzed prior to trial.
Car Accidents Caused by Driver Fatigue
Because drivers often fail to report their own fatigue when they're in an accident, exact drowsy driving figures are difficult to come by. The National Highway Traffic Safety Administration (NHTSA) has estimated that at least 2.5% of all fatal crashes and about 2% of all nonfatal crashes with injuries are caused by a driver who was too tired to drive. The Centers for Disease Control and Prevention (CDC), however, has produced modeling studies suggesting that the NHTSA number maybe quite a bit low. There modeling suggests that between 15 and 33 percent of fatal crashes possibly involve driver fatigue. Fatalities and injuries also tend to be more severe than in accidents that don't involve tired drivers.
In 2011, the Texas Department of Transportation cited fatigued driving as a factor in 4,183 vehicle crashes. Of those, 136 were fatal, with 1,178 resulting in serious injuries and another 711 resulting in relatively minor injuries. Nationally, the NHTSA cites fatigue as a factor in more than 100,00 motor vehicle crashes annually, resulting in 1,550 fatalities and 71,000 serious injuries.
The problem may be more widespread than any agency is able to count, however. The CDC examined Behavioral Risk Factor Surveillance System (BRFSS) data for 2009 and 2010, from more than 147,000 respondents in 19 states and the District of Columbia. The respondents were asked questions about drowsiness and fatigue while driving, and 4.2 percent of them reported having fallen asleep while driving at least once during the previous 30 days. Texans registered the largest number in that study, with a 6.1 percent response rate.
According to some research, the impairment level for being awake for 18 straight hours was roughly equivalent to having blood-alcohol level of 0.05 percent. Those who had been awake for 24 straight hours were found to be just as impaired as someone with a blood-alcohol level of 0.10, which is actually above the legal limit in Texas.
Government researchers have also studied drowsy driving risk, complications, causes, and possible countermeasures. A report by the National Highway Traffic Safety Administration (NHTSA)  found that  young people  under 30,  especially males,  are the most likely to be  involved in crashes where a driver falls asleep.  in some states, the NHTSA  data  show that men were five times more likely than women  to be involved in such a crash,  and that three quarters  of such crashes  involved  people under the age of 30.
Texas Car Accident Facts from 2016
1 person was killed every 2 hours and 20 minutes in a car accident
1 person was injured in a car accident every 2 minutes
1 reportable crash occurred ever 57 seconds
The number of car accidents increased 5.45% from 2015
There were 814 people killed in car crashes occurring in intersections
638 people were killed in head-on crashes
Texas had no deathless days on its roadways
Pedestrian fatalities increased 21.5% from 2015 – totaling 678 deaths
There were 455 people killed in distracted driving driving car accidents – a 5% decrease from 2015
Contact an Experienced San Antonio Car Accident Lawyer
If you or a loved one have been severely injured in a motor vehicle accident, be sure to protect your legal rights. The personal injury lawyer at Hill Law Firm handles cases all over the great state of Texas and we have the experience to fight for the compensation you deserve. Call our San Antonio office today for questions or to schedule a free case evaluation, 210-960-3939.