San Antonio Dog Bite Lawyer
Nearly everyone loves dogs and thinks of them as man's best friend. Unfortunately, sometimes their bite can cause serious injury to someone. Every year, nearly 5 million people are attacked or bitten by a dog in the United States, with about 1 million of those victims requiring significant medical attention in the wake of the attack, ranging from stitches to surgery or worse.
In addition to the physical trauma that occurs due to the bite itself, sometimes a dog's bite can spread germs and diseases such as tetanus, rabies or MSRA, which is a serious staph infection. Regardless of what injuries or illnesses develop, a San Antonio dog bite lawyer can guide you to the medical help you need.
When a Dog Bites
When someone has been victimized by a dog bite or attack, the owner of the dog can be considered negligent, making them responsible or liable for the injuries. Of course, the extent of their responsibility will depend on the circumstances surrounding the bite or attack. It is not always possible to prevent a dog bite, but we all have a responsibility to mitigate the chances of an attack.
For example, no one should approach or disturb a dog that is unfamiliar, especially if the owner is not present. Everyone should also pay attention to the canine's body language. If a dog feels either protective or threatened, they may become very tense, stiffen their tail, pull back their head or ears, stare intently or start backing away. Any of those signs can indicate an intention, so the best thing to do in those cases is to remain calm and motionless and begin to back away slowly when the dog loses interest.
The Texas "One Bite Rule"
The law in Texas seems pretty clear on dog bites, but it looks more straightforward than it actually is. The state is just one of 15 that follow the "one-bite rule" when it comes to dog bites and attacks. What that means is, the dog's owner is usually protected from liability for a dog's first biting offense. It is important to note, however, that being the dog's first victim does not take the owner completely off the hook. Not only are some specific dog breeds not subject to the rule, but those dogs from other "safer" breeds are only protected if liability can't be based on other grounds. To find out of this rule applies, a San Antonio dog bite lawyer can help clear things up.
Among some possible situations that could make the owner liable regardless of the "one bite rule" may include the following:
The dog was not properly leashed in an area where there are strict leash laws in place.
The owner did not exercise reasonable control over the dog.
The dog was not kept inside the owner's property.
The dog was left alone with small children.
The owner was aware that their dog had a tendency to be violent or protective in certain situations but didn't protect others from them.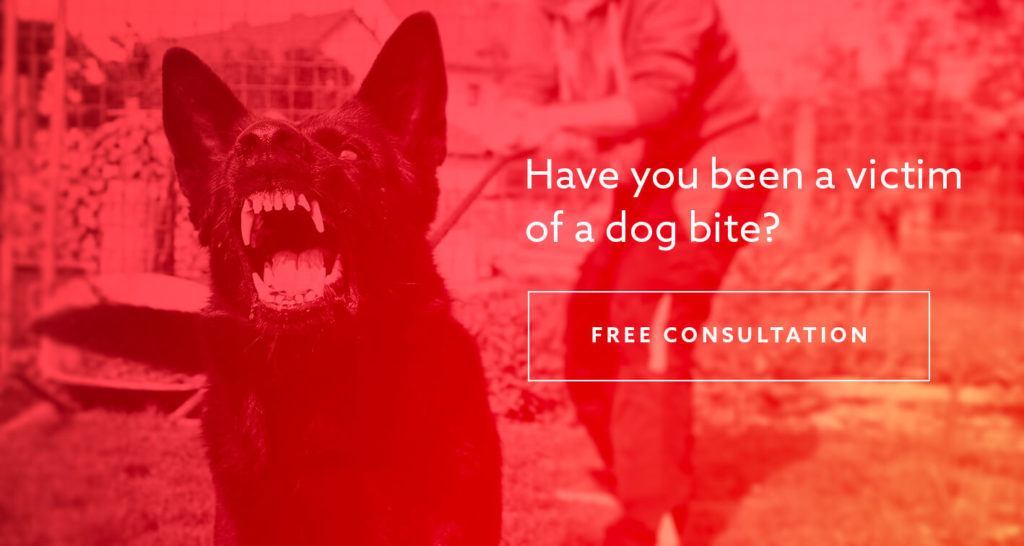 Get Medical Treatment
The San Antonio dog bite lawyer at Hill Law Firm knows that the negative effects of dog bite injuries can often go well beyond the physical manifestations of the bite itself. Many dog bite victims, especially children, also experience ongoing psychological trauma and emotional distress, sometimes as serious as post-traumatic stress disorder (PTSD). This type of thing can be even more profound if the scarring from the dog attack is visible on the face, hands or lower arms.
Dog attacks often affect more than the victim; if a child has been bitten or attacked, the parents who saw the attack or its aftermath can, depending on the circumstances, make their own claims and recover monetary compensation for their own personal emotional distress.
Of course, anyone who has been bitten by a dog should first seek medical attention, if that is deemed necessary. If the bite is minor, meaning it doesn't break the skin, be sure to at least clean and disinfect the wound, although it may be worthwhile to have a doctor look at it anyway. Always take pictures of all injuries and the scene of the attack and get the contact information for any potential witnesses to the attack. Finally, call local animal control officials and possibly the police. Getting official reports on what happened can be important later on.
Dog Bite Statistics
Approximately 4.5 million dog bites occur each year in the United States. Nearly 1 out of 5 bites become infected. (CDC)
Dog attacks occur every 75 seconds in the United States. Each day, over 1,000 citizens need emergency medical care to treat these injuries. (CDC)
In the 13-year data set, 54 cases involved a dog killing its primary owner.
In 2015, more than 28,000 people underwent reconstructive surgery as a result of being bitten by dogs. (ASPS)
Of the more than 8 different dog breeds identified, one-third were caused by pit bull terriers and resulted in the highest rate of consultation (94%) and had 5 times the relative rate of surgical intervention. (NCBI)
The 10 Most Dangerous Dog Breeds:
We listed the top ten most dangerous dog breeds in terms of fatal attacks on humans from 2005 to 2017.
As shown on the chart, pitbulls are far more likely to show aggressive behavior and be involved in a fatal attack compared to all other dog breeds.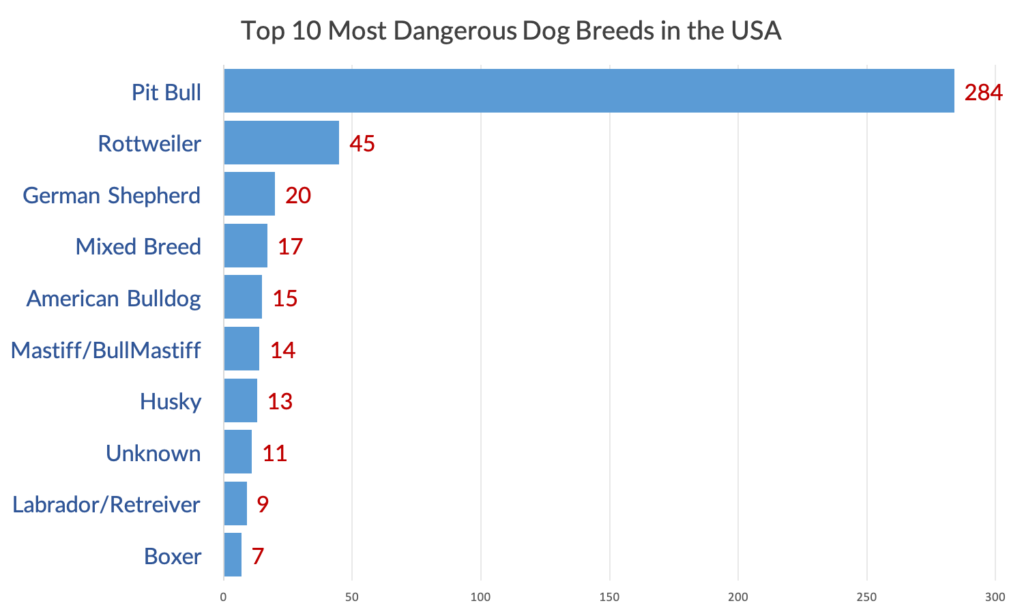 From 2005 to 2017, pitbulls have averaged a human fatality every 16.7 days on average.
Contact an Experienced San Antonio Dog Bite Lawyer
Call a San Antonio personal injury lawyer at Hill Law Firm to help you try to make things right. A great many victims of dog attacks choose not to file suit because they know the dog owner and don't want to be a bother. However, they should know that such lawsuits don't actually impact the dog owner because in most cases, the compensation they receive will come from the dog owner's homeowner's insurance policy.
Our trial attorneys in San Antonio can help the victim of a dog bite recover for their immediate medical treatment for puncture wounds and possible infections. We can also recover for long-term needs, including physical and occupational therapy, reconstructive surgery, and all medical bills associated. We can also help you recover for the cost of psychological counseling if that is necessary.
If you or a loved one have been attacked or bitten by a dog, you may be entitled to compensation for any injuries or death that may have occurred, including compensation for future medical claims that may be necessary in the future. You will need an experienced lawyer to help you navigate the difficult Texas laws regarding liability for dog bites.
Please contact the experienced and proven San Antonio dog bite attorney at Hill Law Firm as soon as possible. That way we can get all of the details while they're fresh, and work with you to protect your rights and get you the fair compensation that you deserve. Call us now at (210) 960-3939 or send us a message online and let us help you protect your rights under the law. An initial consultation is always free.
"Everyone at the Justin Hill firm are outstanding!!! During every step of the process, each person was very informative, responsive, and flexible….explanations were provided so we knew what to expect. Very impressed with his honesty and straight talk during our initial consult. I highly recommend this firm for your legal needs." – Charlie