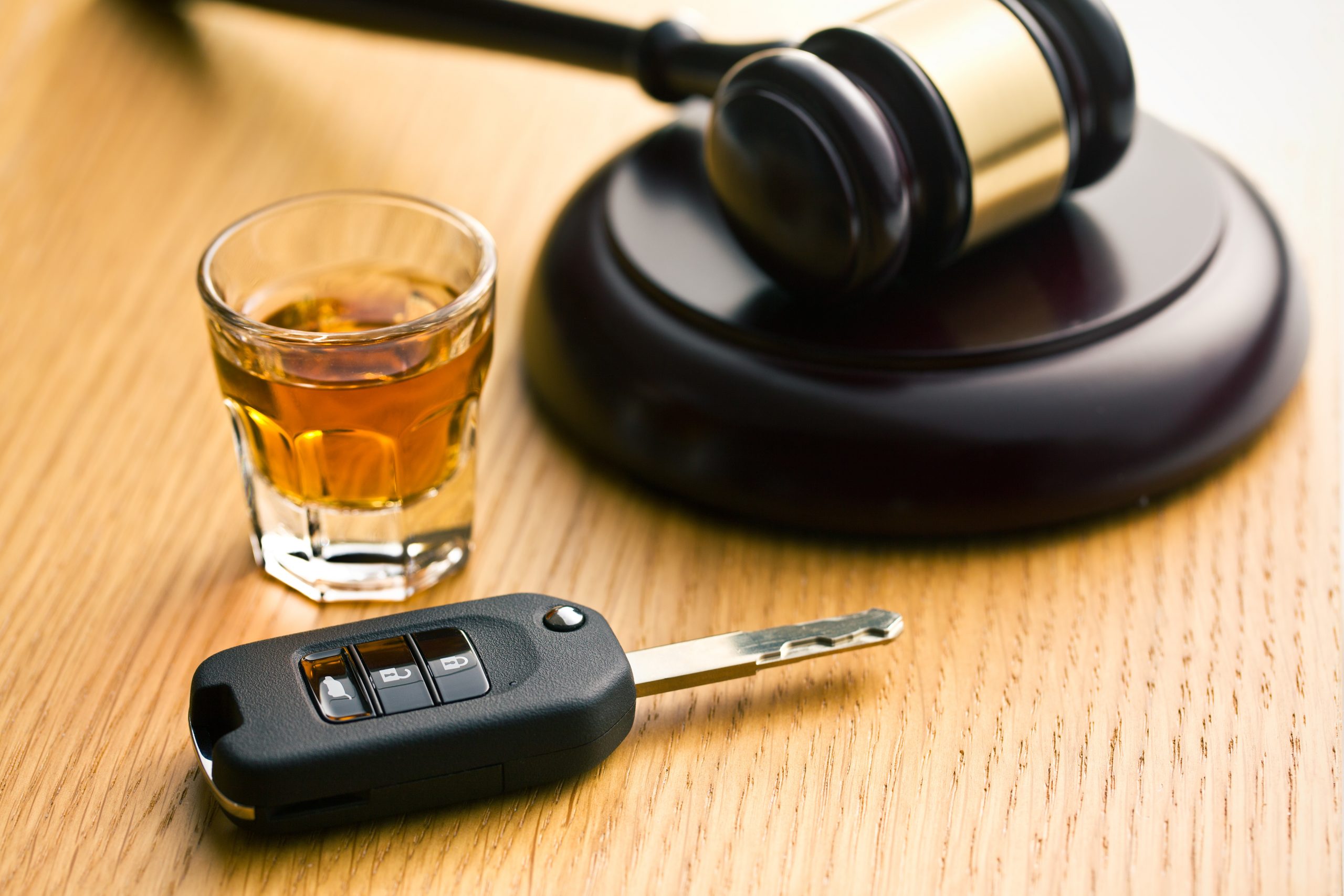 Mothers Against Drunk Driving (MADD) ranks Texas the second worst state for drunk driving accidents in the U.S. According to MADD there were about 1,300 reported fatalities as a result of drunk driving in 2011 – accounting for 42% of overall accident fatalities in Texas. Drunk driving has since continued to be a very serious problem in Texas and has led to the injuries and wrongful death of many innocent Texans.
If you or a family member have been injured or wrongfully killed as the result of a drunk driving accident, you need an experienced and reliable San Antonio drunk driving accident lawyer to stand up for your rights. Personal injury attorney, Justin Hill has served on the advisory council for MADD South Texas for many years, and he has years of experience in handling all the issues that arise from drunk driving accidents.
  Click to contact an attorney & book a free consultation today!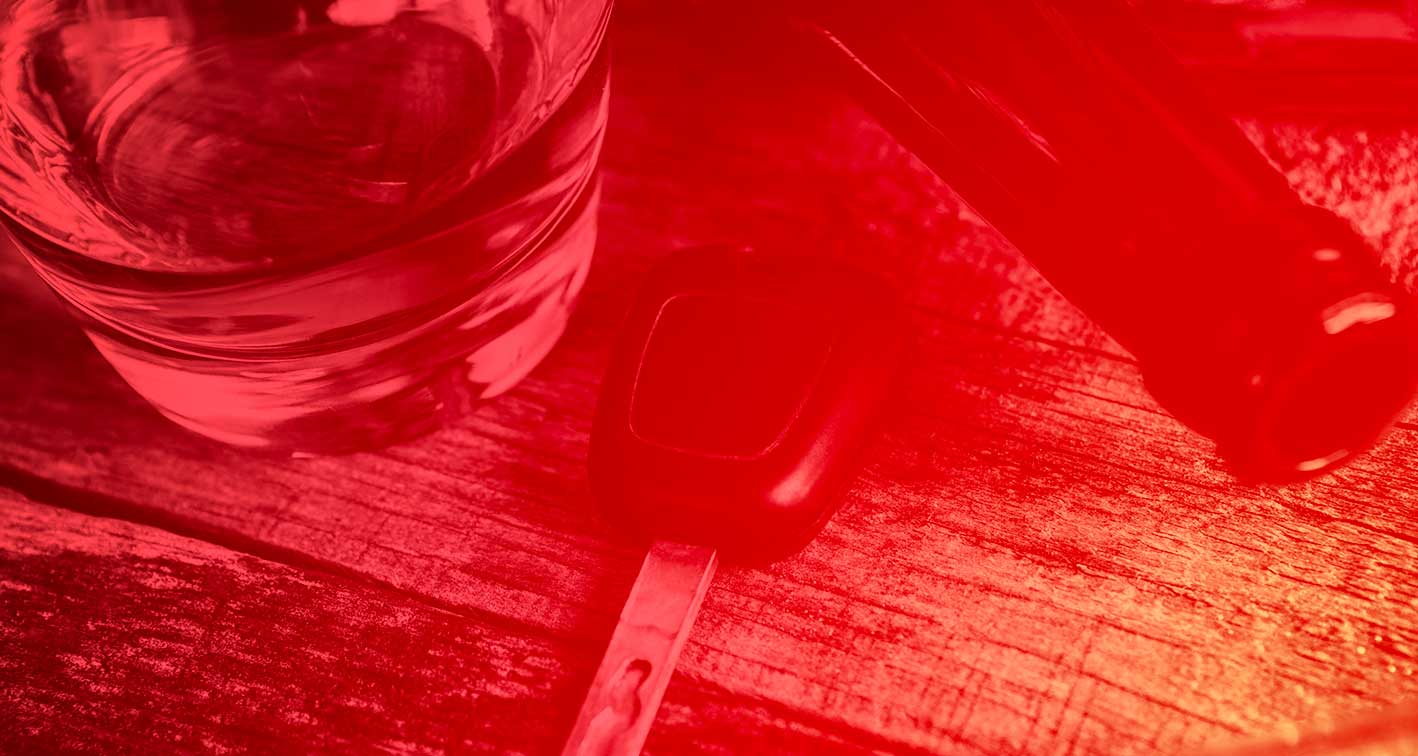 Drunk driving accidents potentially give rise to a number of causes of action. With every victim, our San Antonio car accident attorney will review whether the accident gives rise to the following causes of action:
Negligence
Dram Shop Liability
Providing Alcohol to a Minor
Claims Against Employers
Negligent Entrustment
Negligent Hiring, Training or Retention
Negligent Control Over an Employee
It is important all of these avenues are explored to protect the rights of those injured or wrongfully killed by drunk drivers. At Hill Law Firm, the attorneys at our San Antonio firm not only fight to make sure victims receive compensation for their injuries but they also try to change policies to keep the public at large safe.
Texas DUI Laws
Overall, about 90,000 Texas drivers are arrested each year on DUI charges.  According to at least one study, the average person drives drunk more than 80 times before they get into an accident or get arrested, which makes the situation potentially very scary.
However, these numbers don't mean the state of Texas is doing nothing about the problem of drunk driving. In 2015, the Texas legislature passed a law it hopes will improve those troubling statistics. Among the provisions in the new law is one in which many who are convicted of drunk driving will only be eligible for a provisional driver's license that will require them to install an ignition interlock system, complete with breathalyzer, in their car, so the vehicle can only be started if there is no alcohol in their system. This allows offenders to continue to fulfill their work and family obligations while assuring the public that they're not driving under the influence. According to MADD, such systems have reduced drunk driving deaths as much as 30-45 percent in some states.
People should also be aware that Texas has what are called "dram shop laws." While the driver is almost certainly at fault in a drunk driving accident, there are often others who may have been negligent along the line and who should be held responsible. For example, another negligent party could be a bartender who decided to serve the driver too much alcohol. In other cases, it could be someone in a position to prevent the driver from getting behind the wheel. Perhaps someone could have taken the keys and called a cab, but instead handed them the keys and failed to call anyone. In any accident involving someone who was driving drunk, a thorough investigation must be conducted and a number of factors have to be considered.
A lot more must be done to stop drunk driving in Texas. Police departments throughout the state are trying to do their part by conducting more DUI task force operations, but they currently are not permitted to set up sobriety checkpoints. One reason is that courts have ruled that, at a minimum, sobriety checkpoints must be "authorized by a statewide policy governing checkpoints." There is no statewide policy in Texas. In the end, the people who make the terrible decision to drive drunk must realize that they are putting innocent lives at risk. There need to be stricter laws and better community outreach programs, which means we all must demand that.
Quotes from Drunk Driving Accident Victims represented by Justin Hill:
"About three years ago I became a victim of a drunk driving accident. My mom reached out to MADD for help. They said I was in need of legal representation and Justin was on their list of suggested attorneys.  Justin explained all of my rights as a victim and promised that he would do everything he could to make the best of the situation that I was in. He made it clear from the beginning that he was an attorney that was only interested in helping true victims, not people who were out to make a few extra dollars.  I felt very comfortable with Justin and his team. They kept me informed every step of the way and explained the progress of the case in terms that I was able to understand. Justin always seemed knowledgeable on the laws and my rights. He fought hard for me and explored every possible avenue to give me the best outcome. In the end, he was able to settle my case with the insurance companies for more than what was initially expected.  I would be happy to recommend Justin to anyone who is in need of legal representation. Just is extremely knowledgeable, trustworthy, responsive, and sensitive to my needs not only as a client but as a person as well. If I am ever in need of an attorney again (hopefully not!) I'll definitely be contacting Justin and his team again!."  Client in 2011
"I recommend Justin Hill for legal representation in the areas of negligence in company' safety policies in the trucking industry, drunk driving, texting while driving and personal injury cases. Justin worked hard to pursue justice in our case. A DWI employee that was driving with a suspended license while working collided head-on with my daughter while she was driving. Justin Hill's professional knowledge of the laws and procedures involving our case, his skills in mediation, his sensitivity and understanding of the traumatic experience of the DWI as it impacted my daughter along with myself and husband were outstanding and to be commended.  Justin's ability to present information, provide structure and meaning to our sessions with him along with his ability to listen and be patient with our feelings as we processed are to be commended. He always listened to our concerns and kept us up to date on the case. I am happy to share with you that the case had a successful ending on many levels. Not only did my daughter receive a monetary settlement, but she also received a non-monetary settlement involving company policy changes that will hopefully prevent further DWI's. I believed this case moved quickly due to his investment, hard work and commitment.  We are grateful for Justin Hill for putting a value on life by "fighting" for these settlements and presenting the non-monetary settlement involving policy changes which created a more responsible corporate citizen as an outcome for this company involved in our DWI case." Client in 2008
Texas DUI Accident Statistics
The 4 counties with the highest DUI crashes in Texas, according to the Texas Department of Transportation, are:
Travis: 1,502
Bexar (San Antonio): 2,016
Dallas: 2,263
Harris (Houston): 2,896
To put things into perspective, we looked at the difference between the total number of car crashes and the number of car crashes involving alcohol use.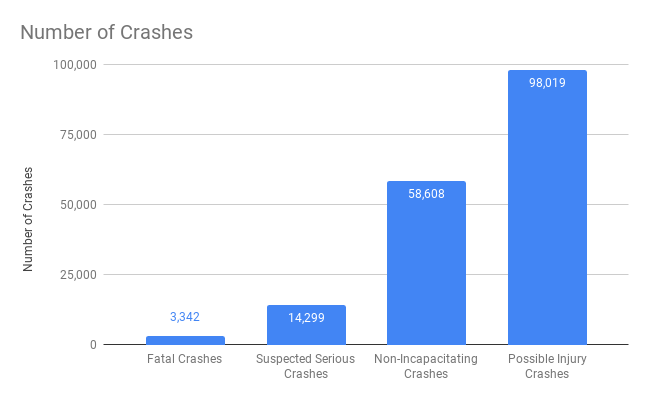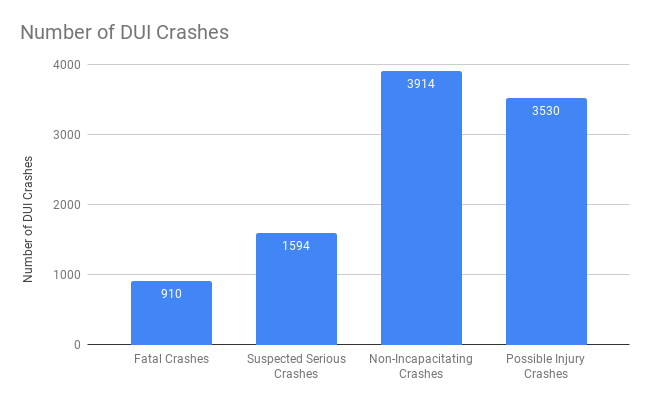 When we analyzed the data, our findings were alarming.
Although DUI car accidents with a possible injury count for less than 0.5% of all car accidents with possible injury, the number of DUI car accidents with a fatality count for almost 30% of all car accidents with a fatality.
This just shows how severe the effects of driving under the influence are on our community.
Moreover, we looked at the difference between the number of people involved in DUI car crashes vs. the number of people involved in all crashes and the results are as follows: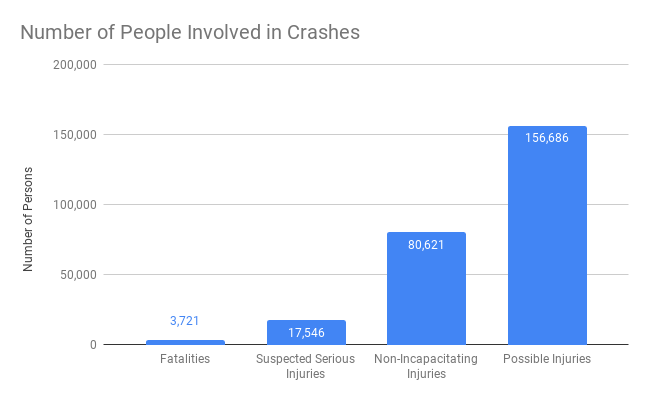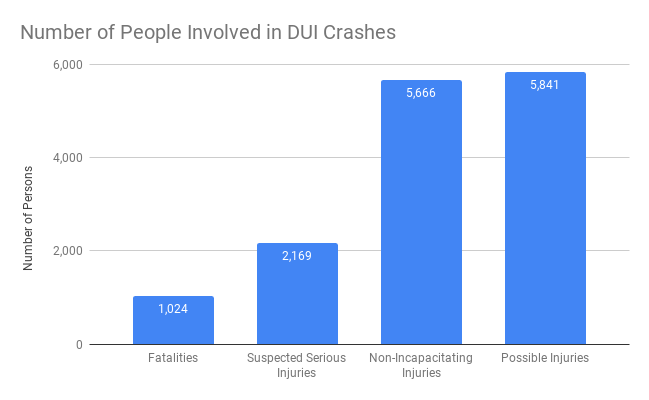 Unfortunately, the results are fairly similar.
The number of people involved in a DUI crash with a possible injury counted for less than 0.04% of the total number of people involved in car crashes.
On the other hand, the number of people involved in a fatal DUI crash counted for a little over 27.5% of the total number of people involved in a fatal car crash.
Criminal vs. Civil Drunk Driving Cases
When a driver is pulled over and arrested for drunk driving, a district attorney (DA) will decide whether to file criminal charges against the individual. Drunk drivers can face harsh penalties, especially if they caused a collision—for example, jail time, license suspension, hefty fines, community service, and more. In criminal drunk driving cases, victims of the drunk driver's negligence may have to testify, but they are not awarded compensation. However, they may feel a sense of justice for their injuries and losses if the drunk driver is convicted. 
Drunk drivers are also civilly liable for the harm they cause. In a civil drunk driving case, victims pursue a claim against the drunk driver for damages. A civil claim can be filed regardless of whether the drunk driver is charged or convicted of a crime. As a result, victims can recover compensation for their injuries and other losses caused by the accident.
DUI Trucking Accidents
In 1993, the National Transportation Safety Board, in collaboration with the National Institute on Drug Abuse, performed comprehensive drug screens on blood specimens from 168 truck and bus drivers from 8 states who were fatally injured while operating an 18-wheeler, commercial truck/trailer, or commercial bus.  One or more drugs were found in a staggering 67% of the drivers tested, with 33% testing positive for alcohol or psychoactive drugs, including marijuana, cocaine, amphetamine, methamphetamine, and ephedrine. Our San Antonio truck accident lawyer has experience handling accidents involving intoxicated truck drivers. Call us for a free initial case evaluation.
In a recent roadside inspection project conducted by the Commercial Vehicle Safety Alliance (CVSA), 1% of all truck drivers stopped at the roadside inspections were illegally under the influence of alcohol or drugs. This equates to 100,000 truck drivers nationally who are abusing alcohol and drugs while driving large commercial vehicles.  Unfortunately, many within the industry think the number may be double — 200,000 — due to the fact that roadside inspections are announced months in advance and the exact locations for the inspections are disclosed to the trucking industry.
Unfortunately, many instances of substance abuse go undetected within the trucking industry due to industry-wide cheating on drug tests.  Magazine publications for truckers advertise products that allow drivers to hide their substance abuse problems by skewing the results of drug tests.
Between April 30, 2012 and May 11, 2012, the drug and alcohol strike force of the Federal Motor Carrier Safety Administration (FMCSA) performed a 2-week sweep, searching for commercial truck and bus drivers who were under the influence of drugs or alcohol.  As a result of their efforts, 287 truck and bus drivers were removed from the road and banned from operating commercial vehicles and 128 companies face enforcement actions due to drug and alcohol violations.  Unfortunately, this sweep only took place in Washington D.C. over a 12-day period.  Imagine what the numbers would be if this sweep would have occurred on a national level.
Dram Shop Liability
Dram Shop Liability refers to the body of law that imposes liability on sellers of alcohol to obviously intoxicated patrons, and sometimes minors.  If a seller of alcohol provides alcohol to an obviously intoxicated patron, they can be held liable for the actions of that patron.  Dram shop cases typically involve individuals getting intoxicated at a bar and then hurting someone in a drunk driving accident afterward.
In Texas, the elements of a Dram Shop cause of action require proving the following:
The defendant sold alcohol to an adult recipient;
When the defendant provided the alcohol to the recipient, it was apparent to the defendant that the recipient was obviously intoxicated; and
The recipient's intoxication proximately caused the plaintiffs injury.
How Can a DUI Attorney Help Victims After a Crash?
If you have been injured by a drunk driver, it is important to obtain representation early. A drunk driving accident lawyer will have the experience and resources necessary to protect your rights and ensure you recover fair compensation. They will also handle every aspect of your claim, including:
Documenting and investigating the accident to collect evidence of fault. 

Interviewing witnesses who saw the accident or the defendant (at-fault party) purchasing and/or consuming alcohol. 

Searching for surveillance footage of the accident and also the defendant purchasing alcohol. 

Determining whether any other parties besides the drunk driver can also be held responsible (e.g., bar or restaurant that served the drunk driver, a government agency, defective product manufacturer, etc.). 

Gathering documentation on your injuries, lost income, pain and suffering, and more to accurately estimate your claim's value. 

Ensuring you are treated fairly by the drunk driver's insurance company and negotiating a fair settlement agreement. 

Filing a lawsuit and representing you in court if a settlement cannot be reached so that you recover the compensation you deserve. 
A drunk driving accident can be devastating and may mean months of recovery and financial stress. However, having a trusted drunk driving accident attorney fighting on your behalf can give you peace of mind. 
Damages After a Drunk Driving Accident
The goal of filing a drunk driving accident claim is to secure damages. Damages is the legal term for the compensation recovered in a settlement or award that is meant to reimburse you for your injury and accident-related losses. For example, the following types of compensation are often available: 
Past and future medical expenses.

This includes bills from immediately after the accident and the costs of any future treatment you may require, such as transportation to the hospital, surgeries, hospitalizations, medications, doctor appointments, physical therapy, home modifications, adaptive medical equipment, etc.

Lost income.

Any wages you would have earned while recovering from the collision, including anticipated future lost wages. 

Diminished earning capacity

. If you cannot make the same level of income as you did before the accident due to your injuries.

Property damage

. Bills for the repairs or replacement of your vehicle if it is a total loss, a rental vehicle, and any other personal items damaged in the crash, such as your cell phone, clothing, laptop, car seat, etc.

Pain and suffering

. Compensation for the physical pain you have had to endure due to your injuries.  

Emotional distress

. Compensation for any psychological conditions caused by the accident, such as depression, anxiety, insomnia, PTSD, etc.
Punitive damages are not available in every car accident claim, as this type of compensation is reserved to punish defendants who behaved with an extremely reckless disregard for the safety of others. However, punitive damages are commonly awarded in drunk driving accident cases since these collisions, and the resulting losses are often severe and preventable.  
What is the Average Settlement for a Car Accident in Texas?
Since the circumstances of every car accident dramatically vary, there is not an "average" settlement in Texas. Instead, a drunk driving accident attorney can estimate your case's value after considering common factors that impact a claim's worth. For example:​
The severity of your injuries and projected length of recovery.

Your age and any pre-existing injuries.

The extent of your suffering (e.g., daily physical pain, limitations, emotional distress, etc.)

Whether you suffered a permanent disability. 

Whether you will need ongoing medical care and adaptive equipment. 

The amount of income you lost and will lose in the future from being unable to work.

The defendant's degree of negligence 

Strength of evidence against the defendant.

Whether you contributed to the accident.

The defendant's insurance policy limits. 
Texas courts follow the rule of modified comparative negligence in drunk driving accident cases. Under this law, each party to a lawsuit is assigned a percentage of fault which will reduce their award. Therefore, if you were partially to blame for the collision, you will receive less compensation, even though the defendant was drunk. 
In addition, you must be 50% or less responsible for the accident to recover compensation. In Texas, this is also known as the 51% bar rule. Here's an example. Suppose you are awarded $100,000 and found 30% at fault. You will receive 70% of your award or, in this case, $70,000. On the other hand, if you are found 51% percent responsible, you will not receive any compensation.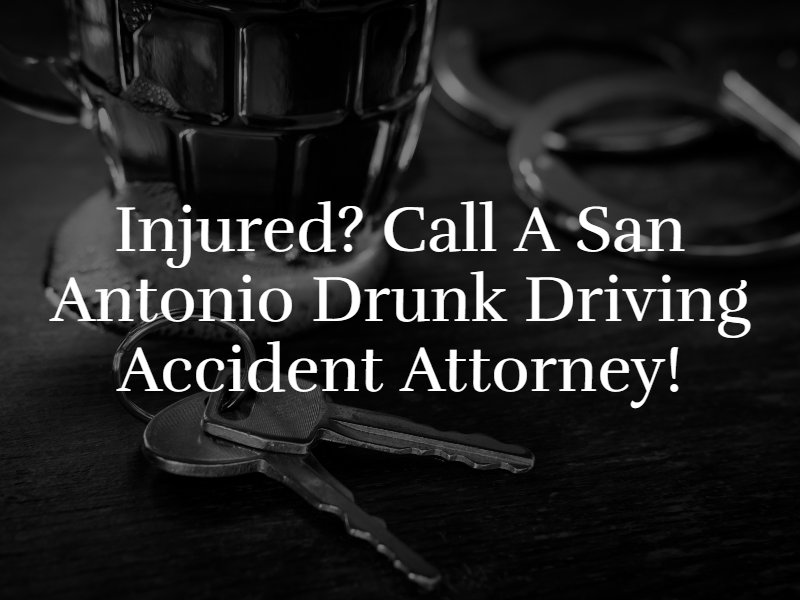 What Should You Do if You've Been Hit by a Drunk Driver?
After an accident with a drunk driver, you will likely feel overwhelmed, a rush of adrenaline, and possibly severe pain. It is critical to try and remain calm and take the following steps to protect your health and right to compensation: 
Call 911
Notify the police even if you do not believe anyone is injured. Emergency responders will evaluate you and may transport you to the hospital if necessary. When officers arrive, mention that the other driver seems drunk. They will create an accident report and will also assess the situation to determine if the driver is intoxicated. If so, they will place the driver under arrest. Information on the arrest, statements made, as well as the officer's opinion on who caused the accident will also be included in their report. This can weigh heavily on an insurance company's decision on fault. 
Take Photos and Video
If you are not immediately taken to the hospital, try to stay and document the scene as much as possible. Take photos and videos of the vehicles, their damage, the surrounding area, any debris or skid marks, and your injuries.
Ask For Contact Information
If the other driver is coherent, ask for their contact and insurance information. If not, law enforcement will obtain this information, and you will be able to find it in the police report. Speak to any witnesses, ask them for a brief statement, and how to reach them in the future. 
Get Medical Attention
See a doctor as soon as possible after leaving the scene. Some severe injuries can have delayed symptoms, and medical records are also critical to link any injuries and potential injuries to the accident caused by the drunk driver.  
Speak to an Attorney
Schedule a free consultation with a San Antonio drunk driving accident attorney to learn next steps and ensure you recover full and fair compensation. 
Contact our Experienced San Antonio Drunk Driving Accident Lawyer
If you have been injured or have lost a loved one as the result of a drunk driving car accident, do not hesitate to contact our San Antonio personal injury lawyer for questions or a free case evaluation. It is extremely important to move quickly to make sure your rights are protected, evidenced is preserved, notice letters are sent and that you are given the best opportunity to receive the justice you deserve. Call today at, 210-960-3939.