San Antonio Motorcycle Accident Lawyer
One of the best things about living in San Antonio has to be the weather. Most areas of the Texas are warm and dry most of the time and the sun shines most of the time, which means outdoor activities are very important to the state.
That, combined with the beautiful scenery throughout the state makes Texas a great place to ride a motorcycle. And because motorcycles are very economic to ride, they have become increasingly popular for commuting to and from work. That is probably why the number of motorcycle registrations has doubled statewide over the last decade, according to the Texas Department of Transportation (TxDOT).
Unfortunately, as the number of motorcycles on the road has increased, so has the number of accidents. That is why motorcycle riders should have a talented San Antonio motorcycle accident lawyer available, in case they need one. Call (210) 960-3939 or send us a message online to schedule a free case evaluation.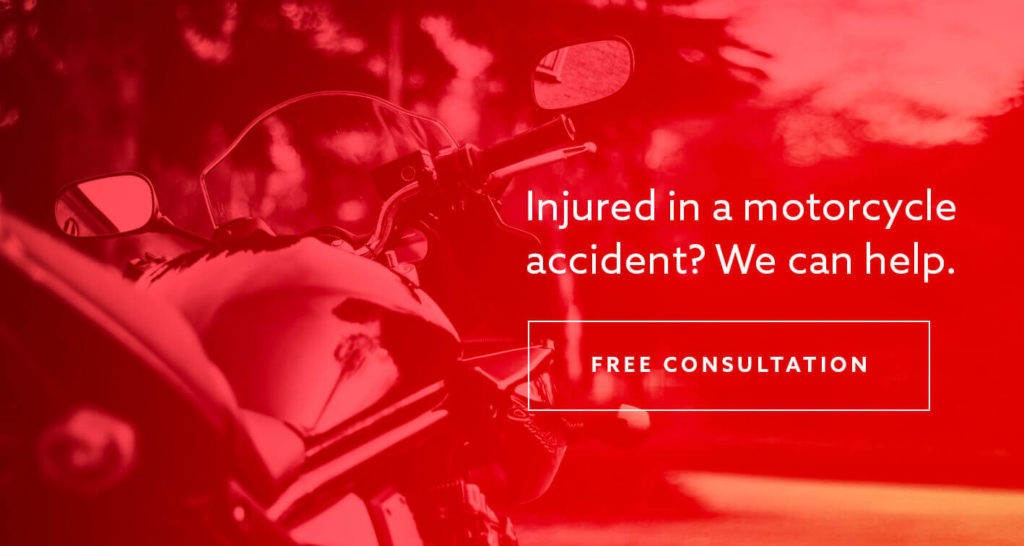 Consequences of a Motorcycle Accident in San Antonio
As personal injury lawyers experienced in auto accidents, we know that motorcycle accidents are often far worse than when a passenger car is involved. In 2015, more than 8,200 motorcycles were involved in accidents nationwide, compared with more than 473,000 passenger cars. However, the likelihood of being killed in a motorcycle crash is 35 times greater than in a passenger car and the likelihood of serious injury is five times greater.
The outcomes of motorcycle wrecks can be devastating. In addition to the possibility of death, many victims of motorcycle accidents also suffer debilitating injuries, including many that change lives forever. Some motorcycle accidents are the fault of the motorcycle rider, but most are not. Among the most common causes leading to motorcycle accidents are:
Cars turning left in front of motorcycles
Dangerous road conditions, including slippery or wet roads
Tailgating and rear ending
Limited visibility
Failure to yield the right-of-way
Failure to obey traffic lights and stop signs
Distracted driving / inattentive drivers
Driving under the influence
Sudden lane change
Motorcycle Accidents Statistics and Injuries
Most motorcycle riders are aware that riding in Texas traffic entails a higher risk than driving other vehicles and most adjust their riding to compensate for this, as well as for surrounding conditions, including the potential for distracted or careless drivers. That is why most riders attempt to compensate for the additional risk of physical injury by using protective gear while they ride.
Just riding a motorcycle carries with it some scary implications. The statistics are not in the favor of bikers.  According to motorcycleaccidents.org:
Those riding on a motorcycle are thirty-five times more likely to die in an accident than those in passenger vehicles
Over 10% of all roadway accidents involve motorcycles
The leading cause of death in motorcycle accidents is head and brain injuries
Motorcyclists that do not wear helmets are 40% more likely to die of a head injury that those that do wear helmets
Crash fatality risk is reduced by an estimated 37% by wearing a helmet
Common Motorcycle Accident Injuries
Unlike traditional passenger vehicles, motorcycles are much less protected, leaving the riders vulnerable to catastrophic injuries. Some of the most common injuries we see at Hill Law Firm are:
Road rash
Broken bones
Internal injuries
Burn injuries
Leg and foot injuries
Virtually all of these injuries can be mitigated using protective gear, especially a helmet. Statistics also show that wearing a helmet use has a major impact on reducing the effects of an accident. Unfortunately, in Texas, the only motorcycle riders and passengers who are always required to wear a helmet are those under 21. As long as a rider is over 21 and has either passed an approved Motorcycle Operator Training Course or can prove they have at least $10,000 in medical care insurance coverage, the wearing of a motorcycle helmet is optional.
Despite that, as San Antonio motorcycle accident lawyers, we urge everyone to wear a helmet at all times because they do save lives. A traumatic brain injury can have a profound effect on your life and the lives of your family and they can be prevented by wearing a helmet. When any of these happen, contact a motorcycle accident lawyer at our Texas law firm as soon as possible. No one else, namely insurance companies, will have your back after an accident. We will not let an insurance company give you a low settlement offer. Our legal team can handle all aspects of motorcycle accident claims to make sure you receive a fair settlement.
Representing Motorcycle Accident Victims Throughout the Process
Even when a motorcyclist takes every possible precaution to minimize risk, however, accidents do happen, which means it is important to know how to handle the aftermath. A motorcycle wreck is handled a bit differently than a standard auto accident, which means it is extremely important to hire an attorney capable of understanding the complexities of the laws surrounding them.
The laws that apply to motorcycle accidents can be potentially complex. It is important to know, for example, that Texas is a 51 percent fault state, which means the negligent party who is determined to be more than half at fault in an accident is the at-fault party, which means it can be very important that every detail of the accident be represented accurately.
There is also no clear guidance in Texas law regarding the issue of "lane splitting," where motorcycle riders ride between lanes. That means your attorney should know all the complexities of Texas law on those, as well. In some cases, a motorcycle accident may have occurred due to a malfunction of the bike itself, which means it is important to conduct a thorough inspection of the bike post-accident.
Get Legal Help Today
The experienced San Antonio motorcycle accident attorneys at our law offices can provide you with the representation you need to cover every eventuality and to get you the maximum compensation you deserve for your injuries and damages. His team will thoroughly investigate every aspect of the accident and make sure every detail is uncovered. They will make sure you recover everything you're entitled to, including medical expenses, lost wages, pain and suffering, property damage recuperation, and anything else you and your family are suffering as a result of someone else's negligence.
Our firm is experienced in helping those injured or killed in motorcycle accident cases involving defective motorcycles, defective motorcycle helmets, distracted driving, and negligence by other drivers leading to serious injuries or death of motorcycle riders. If you or a loved one have been injured or suffered a wrongful death in a motorcycle accident, contact Hill Law Firm as soon as possible for a free consultation to review your legal options.
---
"Everyone at the Justin Hill firm are outstanding!!! During every step of the process, each person was very informative, responsive, and flexible….explanations were provided so we knew what to expect. Very impressed with his honesty and straight talk during our initial consult. I highly recommend this firm for your legal needs." – Charlie