If you or somebody you love sustains an injury or property damage in an accident caused by another driver's negligence, you should be able to recover compensation for your losses. However, aggressive insurance carriers often put up a fight when it comes to paying out compensation. At Hill Law Firm, we are here to help if you need a Fredericksburg, TX car accident lawyer by your side. We have a track record of success handling complex vehicle accident claims, and we will make sure that you are properly cared for throughout the entire process.
Fredericksburg Car Accident Resources
To quickly access the resources at any point on this page, please click the corresponding link below.
Why Choose Hill Law Firm?
How Will an Attorney Help With a Car Accident Claim?
What to Do After a Fredericksburg Car Crash
Common Causes of Car Crashes
Leading Causes of Texas Car Accidents
Who is Liable?
Insurance Company Unlawful Tactics
Contact a Fredericksburg Car Accident Attorney Today
Choose Hill Law Firm for Your Fredericksburg Car Accident Case
Justin Hill at Hill Law Firm has extensive experience handling complex injury and vehicle accident claims throughout Texas and has a track record of success dating over a decade.
We take the time to listen to every question and concern that our clients have so that we can deliver the best outcome for their cases.
Our team handles Fredericksburg car accident claims on a contingency fee basis. This means that clients will not have to pay a dime in legal fees until after we successfully recover the compensation they are entitled to.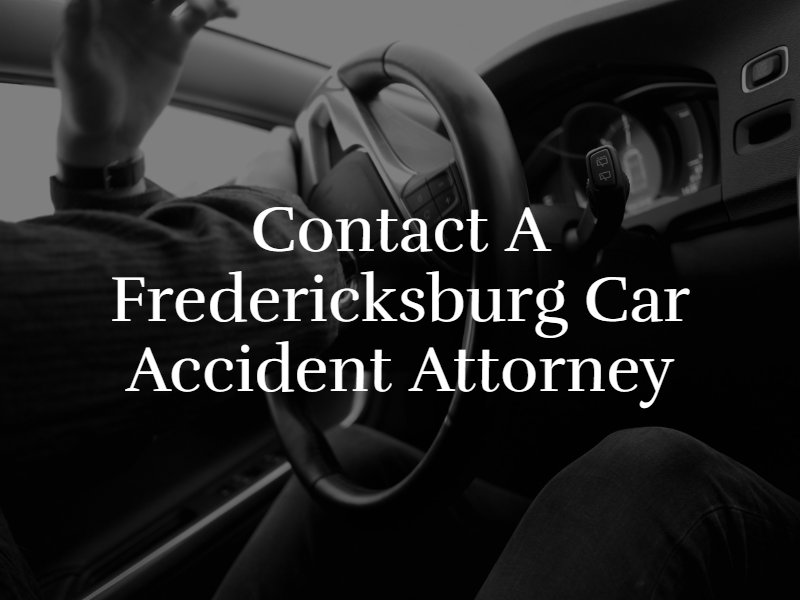 Will an Attorney Help a Car Accident Claim in Fredericksburg?
Car accident cases are not always straightforward. Sometimes, an attorney has to get involved in order to help ensure that the crash victim recovers full compensation. A Fredericksburg personal injury attorney can use their resources to:
Obtain all evidence needed to prove liability for the crash
Ensure their client is evaluated by a doctor who can treat their injuries
Work to fully calculate all economic and non-economic expenses
Vigorously negotiate with the insurance carriers to recover total compensation
Prepare the claim for trial if the insurance carriers refuse to offer a fair settlement
What to Do After an Accident in Fredericksburg, TX? 
A car accident can happen when you least expect it. You may not be able to predict a car crash ahead of time, but you can prepare for one. Knowing what to do in the event of a traffic accident can make a big difference when the unexpected happens. Having a list of steps to take can help you feel more prepared to take on the process ahead. It can also improve your ability to protect your rights, avoid common mistakes and successfully recover financial compensation. Here's what you should do if you get into a car accident in Fredericksburg:
Pull over and remain at the scene of the accident.

Texas law

requires drivers to immediately stop at the scene of any accident, even one involving minor property damage only or a vacant car. Leaving the scene of an accident can lead to hit-and-run criminal charges against you.

Check for injuries. Look for any injuries to yourself and others involved in the crash. If there are any injured victims, you have a duty to render aid, such as by calling the police or taking the victim to the hospital.
Report the crash. Texas law also requires you to report any car accident that involves injuries, deaths or property damage. Do this by calling 911 from the scene of the crash. Do not admit fault and do not leave until the police arrive.
Gather information. If you can, collect information and evidence before you leave the scene. Exchange information with the other driver, including insurance information. Take pictures of the crash scene. Speak to eyewitnesses and ask if they'd be willing to make statements. 
Get medical care. Seek professional medical attention for your injuries right away. Delaying the trip to the hospital can give a car insurance company a reason to deny your claim. Follow your doctor's recommended treatments and obtain copies of your medical records.
Know your rights. An insurance company may try to contact you as soon as the day of the crash. It's important to know your rights as a crash victim, including the right to fair compensation from the at-fault party's insurer, before you start the insurance process.
File an insurance claim. Once you have all of the key information about the crash, call your own car insurance company to notify them of the wreck. Then, if you believe the other driver is to blame, call his or her car insurance company to file a claim.
Contact a car accident lawyer in Fredericksburg. Before you accept an insurance settlement, call an attorney to discuss your case. Insurance companies are not always fair with claimants. The sooner you contact an attorney, the sooner you can get the help and support that you need.
Your general priorities after a car accident should be getting to safety, fulfilling your driver responsibilities and protecting your rights. You can trust the information and advice that you receive from a car accident lawyer to help you after a crash. Unlike an insurance company, a personal injury lawyer works for you and no one else. Whether you've completed all of these steps or not after a car accident in Fredericksburg, we can help you recover and move forward.
Common Causes of Fredericksburg Car Accidents
Vehicle accidents occur in a wide variety of ways in and around Fredericksburg, Texas. Information available from the Texas Department of Transportation indicates that some of the most common causes of vehicle accidents throughout this state include the careless or negligent actions of other drivers:
Operating too fast for conditions
Failing to yield the right of way to other drivers
Failing to stop at stop signals or stop signs
Reckless lane changes
Operating while distracted behind the wheel
Operating while impaired by alcohol or drugs
There are times when the insurance carriers and at-fault parties will try to blame the crash victim for causing the incident. However, Texas operates under a "modified comparative fault" system. This means that individuals can receive compensation even if they are partially at-fault (50 percent or less at-fault).
Leading Causes of Car Accidents in Texas
Most car accidents in Texas aren't accidents at all. They happen due to the preventable negligence of drivers, companies and other parties. At Hill Law Firm, we are passionate about holding drivers who cause car accidents accountable. We will launch an in-depth investigation into the cause of your car accident to help you achieve justice. Statistically, the most common causes of motor vehicle collisions in Texas are:
Driver distraction or inattention

Texting and driving 

Driving under the influence of drugs and alcohol 

Speeding 

Driving recklessly 

Driving while tired 

Dangerous lane changes 

Backing up without looking 

Failing to yield the right-of-way 

Running red lights
Other drivers are the number one cause of car accidents in Fredericksburg. However, collisions can also be caused by unsafe road conditions and defects, construction zones, vehicle defects, poor vehicle maintenance, bad weather, and crossing animals. If you aren't sure what caused your car accident in Fredericksburg, our lawyers can investigate to determine the cause for you.
Who Is Liable?
Under Texas's fault law, liability for a car accident goes to the driver or party most at fault. An accident victim must determine who caused the crash, gather evidence and present it to the at-fault driver's insurance company to recover damages. Drivers in the 12 no-fault states, on the other hand, seek compensation from their own insurance companies, regardless of fault for the car accident.
Drivers are liable most often for car crashes in Texas. All drivers are required to carry minimum amounts of liability insurance to pay for bodily injuries and property damage suffered by others in collisions. If the motor vehicle driver was operating the vehicle for work at the time of the crash, such as a truck driver or delivery driver, the employer may be held vicariously liable instead. 
Vicarious liability is a doctrine that makes employers responsible for harm caused by the negligence of their employees in the course of employment. Holding an employer or company liable for a car accident in Fredericksburg could result in greater compensation than the individual driver's insurance alone. Liability could also go to third parties such as the manufacturer of a defective vehicle part or the government agency in charge of road maintenance. 
Insurance Company Unlawful Tactics
The greatest challenge you will likely face after a car accident in Fredericksburg is dealing with the car insurance company. Whether it is your own insurer or that of another party, you may encounter many unfair and unlawful practices. These are called bad-faith insurance tactics, and they can include:
Wrongfully denying a claim

Offering less than the client deserves even when liability is clear

Delaying an investigation or payout

Failing to properly investigate the accident

Misrepresenting the terms of the policy
Unlawful practices by insurance companies are typically designed to save the insurer money on payouts. A car accident lawyer in Fredericksburg can combat these tactics for you and stop the insurance carrier from taking advantage of you. Your lawyer will fight for the settlement that you deserve while you focus on healing.
Contact a Fredericksburg, Texas Car Accident Lawyer Today
If you or somebody you care about has been injured in an accident caused by the negligence of another driver in the Fredericksburg, Texas area, reach out to the team at Hill Law Firm as soon as possible. We want to make sure that you are cared for appropriately from the beginning of your claim all the way through to the time you receive compensation. We will not hesitate to stand up to aggressive insurance carriers on your behalf. When you need a car or truck accident lawyer in Fredericksburg, you can contact us by clicking here for a free consultation or calling us at (210) 960-3939.