Injuries occur regularly in and around Seguin, Texas. Unfortunately, there are times when these injuries happen as a result of the negligence of others, and this can leave victims in a tough spot financially. At Hill Law Firm, our team is standing by to help when you need a Sequin, Texas personal injury attorney. We have the resources necessary to handle every aspect of your injury claim, and our goal is to make sure that you recover total compensation for your losses.
Seguin Personal Injury Resources
To immediately access the resources at any point on this page, click the corresponding link below.
Why Choose the Hill Law Firm?
What is a Personal Injury Case?
Why Do You Need a Lawyer?
Types of Personal Injury Claims We Handle
Compensation Available For Your Claim
Seguin Personal Injury FAQs
Benefits of Bringing in an Experienced Attorney
Our Commitment to Fighting for Injury Victims in Seguin
Speak to a Lawyer Today
Why Choose Hill Law Firm for Your Seguin Personal Injury Claim?
Justin Hill is an experienced trial attorney who has dedicated himself to helping personal injury victims in Seguin and throughout Texas.
We have recovered millions of dollars in compensation on behalf of our clients through both insurance settlements and courtroom victories.
We take personal injury cases in Seguin on a contingency fee basis. This means that our clients pay no legal fees until we recover the compensation they need. If we do not win, our clients do not pay.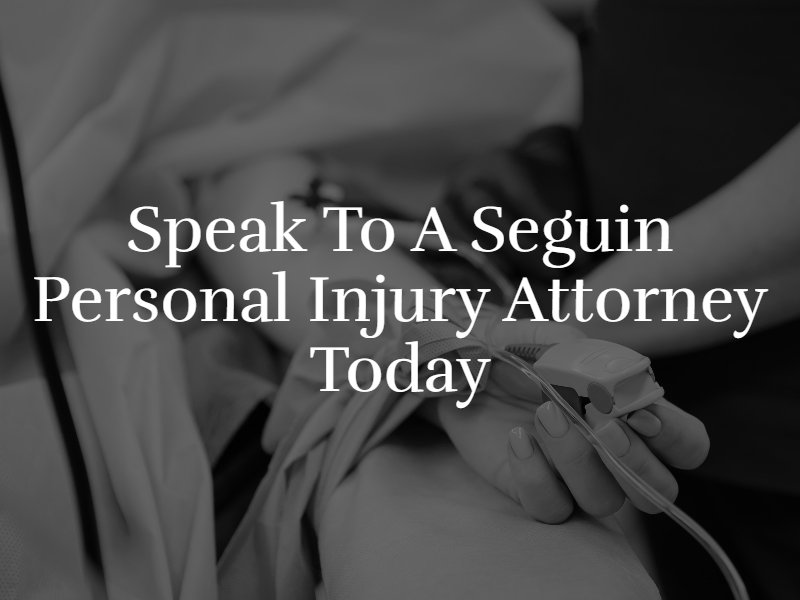 What Is a Personal Injury Case?
A personal injury case is a civil lawsuit that is brought by the victim of someone else's negligence against the party responsible for causing the victim's injuries. It is an opportunity for justice and financial compensation for a victim who has suffered injuries, losses, pain, expenses, an emotional toll or other ill effects of another person or party's preventable mistake. 
When an accident or mishap reasonably should have been prevented – thus preventing the victim from suffering an injury – a personal injury claim can be filed in Texas to hold someone legally responsible (liable). If the claim succeeds, the at-fault party or defendant will be responsible for paying for the victim's (plaintiff's) bills and losses.
To have grounds for a personal injury case in Seguin, there must be evidence of another party's negligence or fault for the injury. Someone is negligent if he or she fails to meet the required standard of care. If someone else would have done something differently to prevent your injuries, you may have the right to bring a case against the negligent party.
Why Do You Need a Lawyer for a Personal Injury Case in Seguin?
Personal injury claims typically become much more complex than most people would expect. That is why having a personal injury lawyer in Seguin is such a valuable asset. An attorney will play a multifaceted role in these cases, which includes conducting a full investigation into the incident in order to determine liability.
An attorney will also make sure that you are fully evaluated by a trusted doctor who can treat your injuries and help calculate total expected losses. Importantly, a lawyer will represent you in negotiations with insurance carriers while also preparing your case for trial in front of a personal injury jury.
Types of Personal Injury Claims We Handle at Hill Law Firm
At Hill Law Firm, our Seguin personal injury attorneys handle cases pertaining to all areas of personal injury law. This includes:
Bus accidents
Motorcycle accidents
Bicycle accidents
Pedestrian accidents
Construction accidents
Work injury or illness claims
Hospital negligence and medical malpractice cases
Nursing home abuse cases
Dog bites and animal attacks
Premises liability incidents
Slip and fall cases
Defective product claims
This is not an exhaustive list of the types of cases that we handle, and we would be happy to offer a free consultation to discuss your particular injury to determine the best steps moving forward.
Compensation Available for Your Personal Injury Case
Bringing a personal injury case in Seguin could result in financial compensation to help you and your family cover multiple related costs. The goal of a personal injury claim is to make an accident victim financially whole again. At Hill Law Firm, we work diligently to recover various types of compensation for our client's losses. This includes economic (special) and non-economic (general) damages:
Coverage of all medical expenses related to the injury
Lost wages
Property damage expenses
Out-of-pocket household expenses
Pain and suffering damages
Loss of quality of life damages
The value of your case will depend on the severity of your injuries, how much they have impacted your life, your wages prior to the incident and many other factors. If the defendant displayed gross negligence or a wanton disregard for the safety of others, you may also qualify for punitive damages. This is an additional amount awarded in some cases to punish a defendant and set an example for others in the community not to commit the same acts in the future.
Seguin Personal Injury FAQs
Filing a personal injury claim can be an overwhelming process. Knowing what to expect can help your family get through it with greater peace of mind. Use these frequently asked questions to learn more about personal injury claims in Texas:
How do I know if I have a case?

Consulting with an attorney is the best way to find out if your case has merit, but in general, if someone reasonably should have prevented your injury but negligently failed to do so, you may have grounds to bring a claim.

Is filing a lawsuit always necessary?

No. The vast majority of personal injury cases reach settlements, or agreements between the victim and an insurance company outside of court.

What should I say to an insurance company?

Do not agree to give an insurance company a recorded statement and do not admit fault for the accident. If the insurer offers a quick settlement, contact an attorney before accepting. You can also hire an attorney to take over insurance company communications for you from the very beginning.

How much time do I have to file a personal injury claim? In Texas, the statute of limitations is two years, for most cases. If you attempt to file a lawsuit after two years have passed, the courts will most likely refuse to hear the case.
How much is my case worth? This is something you will need to discuss with an attorney for an accurate answer. Some of the factors used to calculate personal injury damages are injury severity and extent, the cost of medical bills, the victim's income, and the insurance coverage available.
To receive personalized advice, information and answers to your specific questions from an attorney in Seguin, contact Hill Law Firm to request a free case consultation.
Benefits of Hiring a Seguin Personal Injury Attorney
One of the greatest mistakes that you can make during a personal injury case is assuming that an insurance company is looking out for your best interests. Even if a client has never missed an insurance premium payment, an insurance company will try to diminish the payout or avoid paying altogether. An insurance claims adjuster may sound friendly, but he or she works for the insurance company and is hired to save the insurer as much money as possible.
Hiring an attorney levels the playing field between you and an insurance corporation, improving your odds of securing fair compensation for your losses. A law firm will have the personnel, resources, knowledge and experience to aggressively litigate your case and demand a fair monetary award for the full extent of your injuries. You can trust your attorney to fight for positive case results while you focus on healing from your injuries. 
An attorney can handle many aspects of your claim for you, such as investigating the accident, determining liability, filling out and filing legal paperwork, navigating Texas's complicated personal injury laws, hiring experts, preserving evidence, negotiating with insurance companies, and representing you at court, if necessary. You don't have to deal with a serious injury or the daunting claims process alone.
Our Commitment to Fighting for Injury Victims in Seguin
The attorneys at Hill Law Firm are passionate about what we do. Attorney Justin Hill founded the firm after graduating cum laude from Baylor Law School, which he attended on an academic scholarship. Throughout his career, Justin has been committed to helping accident victims take a stand against negligence and go up against insurance companies and other corporations in pursuit of justice. 
Justin opened Hill Law Firm to focus on personal injury law and solely represent plaintiffs in cases brought against wrongdoers. Recently, Justin secured a spot in the Top 50 Personal Injury Verdicts in the State of Texas for achieving a $386,009.45 settlement when the insurance company initially offered his client just $500 to settle her case. 
Attorney Gabriel Narvaez is also dedicated to helping people. He was awarded a Pro Bono and Public Service Certificate for his commitment to several pro bono events. Our third attorney, Daniel Willis, worked as a defense attorney for an insurance company. This makes him a valuable asset to our firm, as he understands both sides of a personal injury case and how insurance companies operate. Together, we make a formidable team that is passionate about fighting for injury victims.
Contact a Seguin, TX Personal Injury Attorney Today
If you or somebody you love has sustained an injury caused by the negligence of another individual or entity in the Seguin area, turn to the team at Hill Law Firm for help immediately. Our attorneys will stand up to aggressive insurance carriers on your behalf, and we have no problem taking your claim all the way to trial if necessary. Our goal is to make sure that you recover the compensation necessary to make a full recovery. When you need a Seguin, Texas, personal injury attorney, you can contact us by clicking here for a free consultation or calling us at (210) 960-3939.