Sustaining any type of injury can lead to substantial setbacks for those involved. Unfortunately, injury victims often struggle to recover maximum compensation if they were harmed due to the careless or negligent actions of others. At Hill Law Firm, we are here to help if you need a San Marcos personal injury attorney by your side. We have the resources necessary to fully investigate your claim, and we have a track record of success recovering significant compensation for individuals throughout the state of Texas.
Why Choose Hill Law Firm for Your Personal Injury Claim in San Marcos?
At Hill Law Firm, our team focuses on providing a personalized approach to every single personal injury case that we take, which means we listen to your needs and answer your questions every step along the way.
Many of our clients come to us through referrals from past clients and our colleagues, which is a testament to the service that we are able to provide.
Our legal team has recovered millions of dollars in compensation on behalf of clients through jury verdicts and insurance settlements.
San Marcos Personal Injury Resources
Why Should I Hire a San Marcos Personal Injury Lawyer?
Personal injury claims can become immensely complex, and this is not something that an injury victim needs to focus on. Our San Marcos personal injury attorneys can use their resources to conduct a complete investigation into the cause of the incident in order to determine liability. They will handle every aspect of the claim on behalf of their client, which includes opening up and engaging in vigorous negotiations with the insurance carriers and at-fault parties. Sometimes, it becomes necessary to file a personal injury lawsuit in civil court in order to ensure a client recovers total compensation. The discovery process and courtroom litigation should always be handled by a lawyer who has extensive experience in personal injury law.
What Is Negligence?
Most personal injury cases in Texas are based on the legal theory of negligence. If someone is negligent, it means that he or she has failed to use the proper amount of care, such as a driver who is guilty of distracted driving. If one person's negligence causes injury or harm to someone else, the negligent party will be responsible for paying for the damage caused. In a personal injury lawsuit, it is the injured victim's burden to prove negligence. This generally requires evidence of four elements:
Duty of care. An obligation to exercise ordinary care.
Breach of duty. Any action or omission that falls short of the duty of care.
Causation. Proof that the breach of duty is the actual cause of the injury in question.
Damages. Compensable losses suffered by the victim due to the defendant's negligence.
If you are not sure whether your case contains the four elements of negligence, contact our attorneys for an in-depth case evaluation. We will listen to your story, review the facts of your case, and let you know if it has merit. An experienced attorney can make it easier to establish negligence and hold a defendant legally and financially responsible (liable).
Common Personal Injury Cases We Handle in San Marcos
Our team has vast experience handling a wide variety of types of injury cases throughout the state of Texas. We help clients who have sustained anything from minor injuries to incredibly severe injuries recover compensation for their losses. Some of the main types of cases that we help clients with include:
Pedestrian accidents
Bicycle accidents
Motorcycle accidents
Dog bites
Medical mistakes
Defective products
Wrongful death
This is certainly not a complete list of the types of cases that we help clients with, and we strongly encourage you to contact a personal injury lawyer in San Marcos so we can examine your individual claim and help determine the best path forward.
How Do I Prove My Personal Injury Case?
Even if you know that you were injured by the negligent, careless or reckless acts of another person in San Marcos, you must prove your claim to recover financial compensation. The burden of proof – the evidentiary standard to win your case – is a preponderance of the evidence. This burden of proof applies to all civil lawsuits. It means clear evidence that convinces a judge or jury that the defendant is more likely to be at fault for the accident than not at fault. A personal injury lawyer can prove your case by collecting evidence to support it, such as:
A copy of the police report

Evidence from the scene of the accident

Eyewitness accounts

Photographs and video footage

Medical records

Testimony from an expert

An injury journal
The more compelling your evidence against the defendant, the stronger your claim to damages. Hiring an attorney from the beginning of your case can improve your chances of acquiring key evidence before it is lost or destroyed. Your lawyer can interview witnesses, return to the scene of the accident, host depositions, subpoena evidence, request copies of important documents and take other steps to collect evidence on your behalf.
How We Investigate Our Cases
The investigation is a key part of any personal injury case in San Marcos. It is the investigative stage that finds evidence against one or more defendants to convince the courts to award financial damages. At Hill Law Firm, our attorneys provide comprehensive investigations of our clients' personal injury cases. We are exhaustive in our search for answers and information, using proven investigative tactics and qualified experts to help us prove our clients' claims. 
We effectively and efficiently investigate personal injury cases by returning to the scene of the accident, speaking to witnesses, reviewing any available photographs and videos, reconstructing what happened, hiring accountants and medical experts, and using cutting-edge legal technologies. Our law firm works with teams of investigators and experts to determine causation, liability and how much a claim is worth.
What Type of Compensation Is Available for a Personal Injury Case in San Marcos?
Individuals may be able to recover a variety of types of compensation in the aftermath of sustaining a personal injury. If a case is successful, our team of experienced attorneys diligently to recover both economic and noneconomic losses on behalf of clients. Some of the types of compensation that we typically recover include:
All medical bills resulting from the incident
Property damage expenses
General household out-of-pocket expenses
Lost income if a victim cannot work while recovering
Physical pain and suffering damages
Emotional and psychological damages
Loss of quality of life damages
Loss of consortium damages for a spouse or family members
The total amount of compensation available for a personal injury claim in San Marcos will vary depending on the facts surrounding each particular incident. Some of the factors that can influence these claims include the severity of the injuries, whether or not a person is able to return to work, the level of property damage, and the total amount of pain and suffering.
What About Partial Fault for a Personal Injury Claim?
One of the most common tactics insurance carriers and at-fault parties will use is to try to blame accident victims for causing their own injury. However, Texas operates under a "modified comparative negligence" system. This means that individuals can still recover compensation so long as they are not 51 percent or more responsible for causing their own injuries. However, the total amount of compensation a person receives will be reduced based on their percentage of fault. For example, if an individual sustains $50,000 worth of damages, but they are found to be 10 percent at fault, then they would recover $45,000 in compensation instead of the full $50,000. We conduct thorough investigations into these incidents to do everything possible to prove the liability of the other party. We will not let aggressive insurance carriers and at-fault parties push you around and convince you to take a lower settlement than you actually deserve.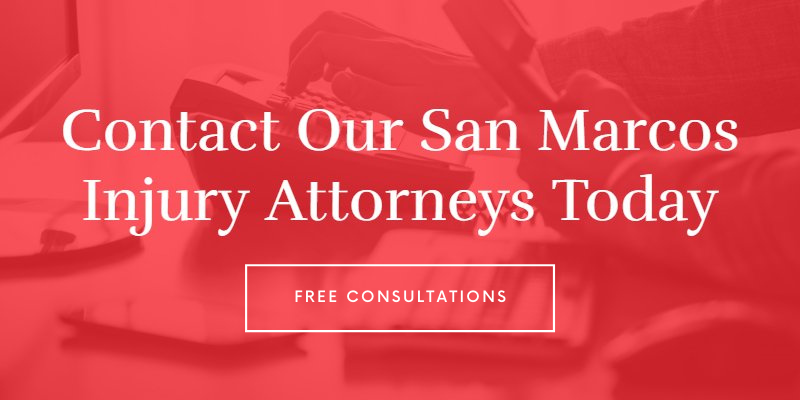 What is the Time Limit to File a San Marcos Accident Claim?
One of the main concerns for injury victims in San Marcos revolves around time limits. First, it is important to understand that insurance carriers have very strict reporting deadlines. Often, insurance carriers require that an injury be reported within a day or two after the incident occurs. This is why it is important to contact your insurance company to report the accident as soon as possible. You will have more time, however, to file a claim.
Overall, the time limit to file a personal injury claim in Texas is two years from the date an injury occurs. This means that all injury claims must be made within two years from the date of the accident or they will likely be dismissed in court. This means that individuals will be unable to recover the compensation they are entitled to. There are some exceptions to the two-year time limit, however, such as the discovery rule.
Not all accident victims discover their injuries right away. If you have an injury with delayed symptoms, you will have two years from the date that you discovered or reasonably should have discovered your injury to file – rather than the date of the accident. There is also an exception for injured minors. Minors have two years from their 18th birthdays to file personal injury lawsuits. Please work with one of our San Marcos attorneys who can guide you through this process and ensure that your case is filed promptly.
Texas Personal Injury Statutes of Limitations
The legal term for Texas's time limit for filing a personal injury claim is the statute of limitations. The general statute of limitations for personal injury cases is found in the Texas Civil Practice & Remedies Code Section 16.003. This statute states that a person must bring a suit for personal injury or injury to property no later than two years after the day the cause of action accrues. There are different civil statutes of limitations, however, for other types of cases:
Child sexual abuse: 30 years

Other sex crimes: 5 years

Breaches of contract: 4 years 

Automobile accidents: 2 years

Defective products: 2 years

Medical malpractice: 2 years

Wrongful death: 2 years (from the date of death)

Libel or slander: 1 year

Claims against the government: varies by county
A claim against the government in Texas generally must be filed much sooner than two years. In the City of Dallas, for example, a claimant has only six months to file a Notice of Claim. It is important to contact a personal injury attorney right away after a harmful accident in Texas to learn your civil statute of limitations. Otherwise, you may wait too long to file and discover that your right to obtain financial compensation has been barred based on a missed deadline.
Important Information About San Marcos Civil Court in Hays County
To file a personal injury lawsuit for an accident that took place in San Marcos, you will need to visit or contact the Hays County Civil Courthouse (the Civil Division of the Criminal District Attorney's Office). You will file with the standard civil court or the Small Claims Court, depending on the value of your claim. Here is the information that you need to know about the civil court:
Address: 712 South Stagecoach Trail Suite 2292, San Marcos, TX 78666
Phone: (512) 393-7625
Fax: (512) 393-7633
Email:

ccal@co.hays.tx.us
The office is open during regular business hours: Monday thru Friday from 8:00 a.m. to 5:00 p.m. During the COVID-19 pandemic, the San Marcos Civil Court may offer some services virtually. Making a mistake during the filing of your claim could compromise your ability to recover financial compensation. Trust a San Antonio personal injury attorney at Hill Law Firm with this process to file correctly.
Contact Our San Marcos Personal Injury Lawyers Today
If you or somebody you care about has sustained an injury caused by the negligent or intentional actions of another individual or entity in San Marcos, Texas, reach out to the team at Hill Law Firm for help today. We have the resources necessary to handle every aspect of this claim on your behalf, and we have no problem standing up to aggressive insurance carriers or at-fault parties. When you need an experienced San Marcos personal injury attorney, you can contact us by clicking here for a free consultation or calling us at (210) 960-3939 for legal advice. We also serve the following areas: Boerne, Fredricksburg, Kerrville, Kyle, New Braunfels, Round Rock, San Antonio, Schertz, Seguin, and Travis County.