Pedestrian safety is a priority driver safety issue in Texas – where non-motorist fatalities have steadily increased every year since 2012.
At the Hill Law Firm, we wanted to be a part of the solution.  Pedestrians of any age are amongst the most vulnerable road users.  Even at low speeds, a motor vehicle collision with a pedestrian can lead to catastrophic injuries.  So, in order to help prevent pedestrian collisions from ever occurring, we first had to find out where exactly pedestrians are at high-risk of being struck, injured or killed by vehicles on Texas roads.  We enlisted the help of data visualization firm 1Point21 Interactive and analyzed the four latest available years of crash data (2012 – 2015) from the Texas Department of Transportation.
Our study examines the issue, maps out every location where a pedestrian collision occurred and identifies and highlights high danger areas across the state.
Through geospatial analysis, we identified 73 high-risk zones in the state of Texas, where 10 or more pedestrian collisions occurred during the study period. Within these zones, there were a total of 1088 pedestrian crashes, 1044 injuries, and 41 fatalities – all disproportionately high totals.
The Most Dangerous Places for Pedestrians in Texas
[wpdatatable id=4]
*The Pedestrian Danger Index (PDI) is a composite score that takes crash volume and injury severity into account. Fatalities and incapacitating injuries are weighed heaviest. 
[wpdatachart id=3]
San Antonio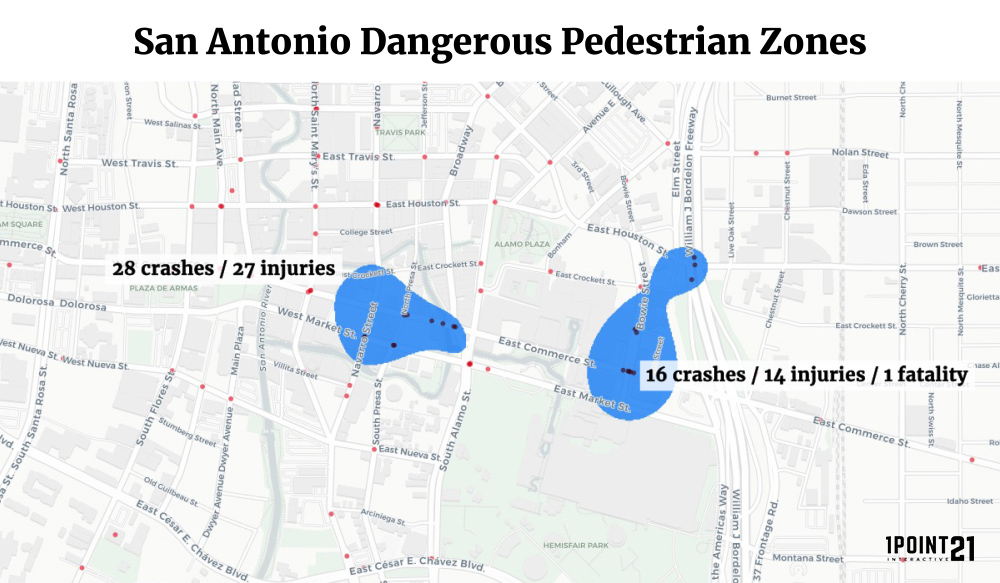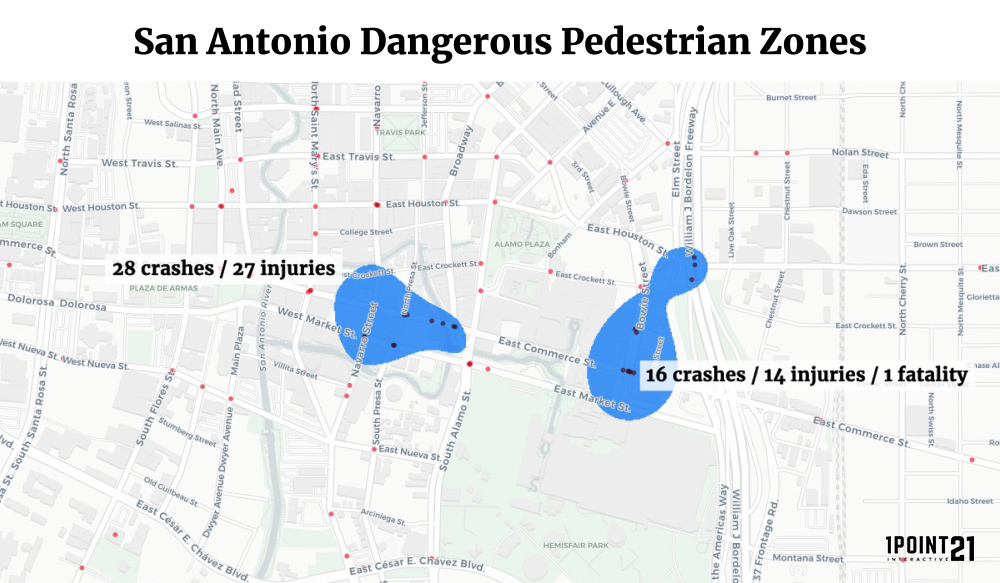 San Antonio was home to 16 high-risk zones for pedestrians – the most of any other major city in Texas. These zones tallied a total of 230 crashes across 152 intersections, resulting in 204 injuries and 11 fatalities. That's more crashes across less intersections than the Dallas-Fort Worth-Arlington metropolitan area, and the most fatalities of any other major city.
Pedestrian safety and car accidents have always been a large cause for concern in San Antonio, with intersections lacking crosswalks and roads generally not friendly for commuting by foot. In some parts of the city, pedestrian safety has diminished so much that activist groups are taking matters in their own hands. An anonymous group called the San Antonio Department of Transformation has been painting their own crosswalks and building makeshift safety barriers on various troublesome roads, due to lack of action on the government's part.
Austin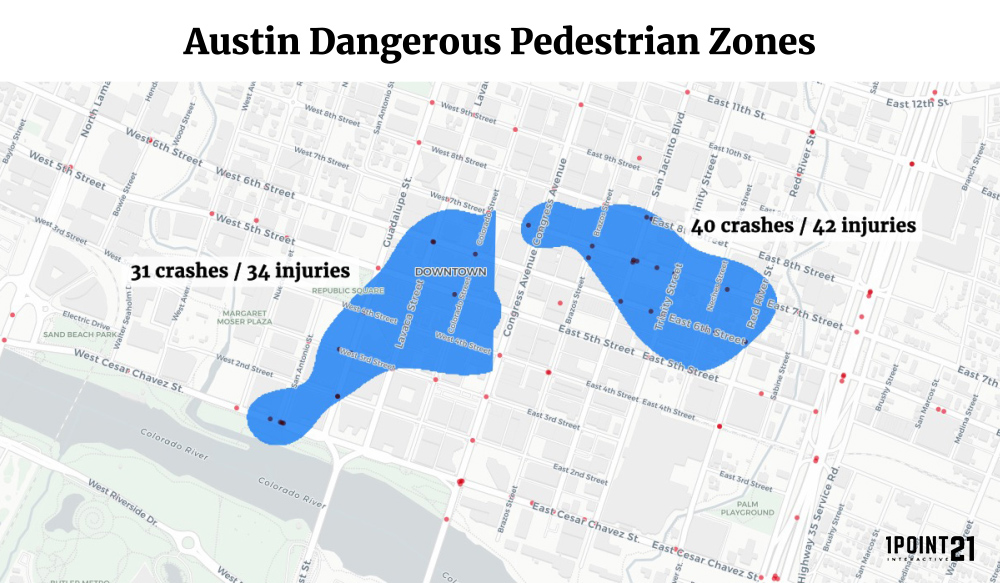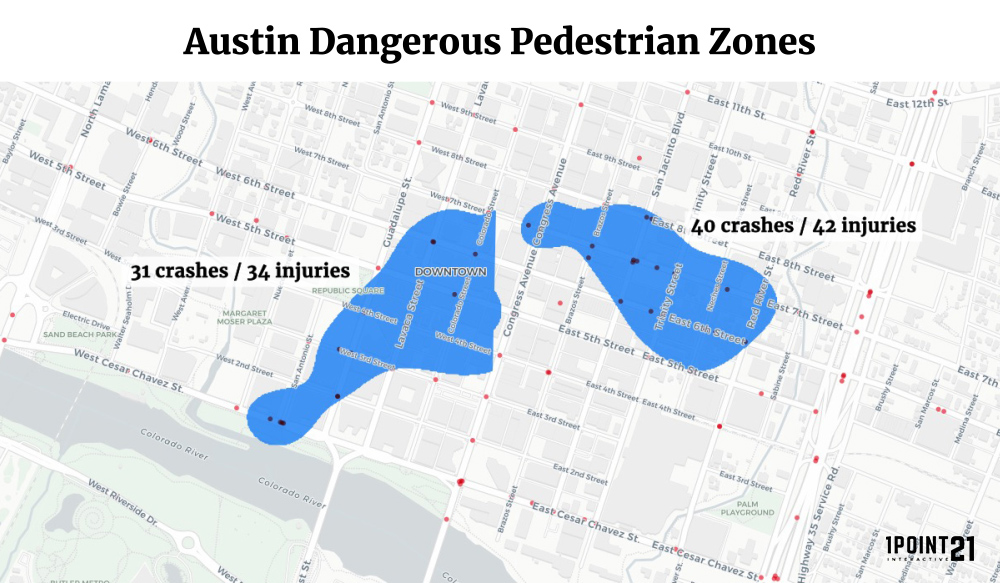 With only 9 high-risk zones, Austin may seem more pedestrian-friendly than the other major cities in the state, but looks can be deceiving. Austin's zones contained 171 crashes, 171 injuries, and 5 fatalities across 115 intersections. Despite having three less zones than Houston, Austin had more crashes and more injuries across less intersections – and 4 of the top 10 high-risk zones are located in the state capital.
The source of these pedestrian accidents is a tale of two cities. On one hand, a significant amount of the crashes can be attributed to the high-pedestrian density in the downtown area – specifically the bustling entertainment district in Sixth Street. On the other hand, pedestrian crashes are also concentrated in areas of north and northeast Austin, which are home to low-income minority neighborhoods where there is a lack of proper safety features such as crosswalks and proper barriers. Pedestrian safety is a diverse problem that requires attention on both sides of the city.
Houston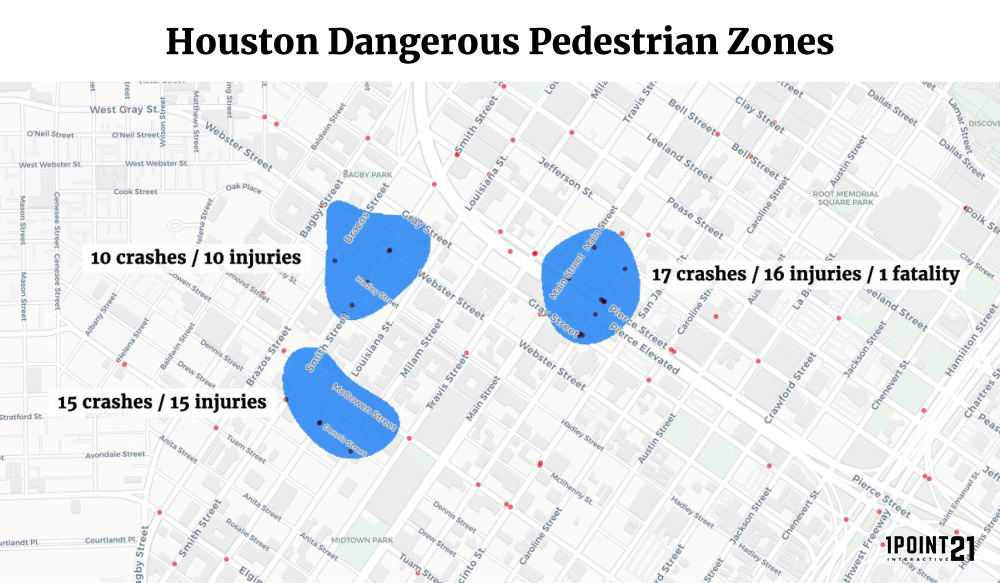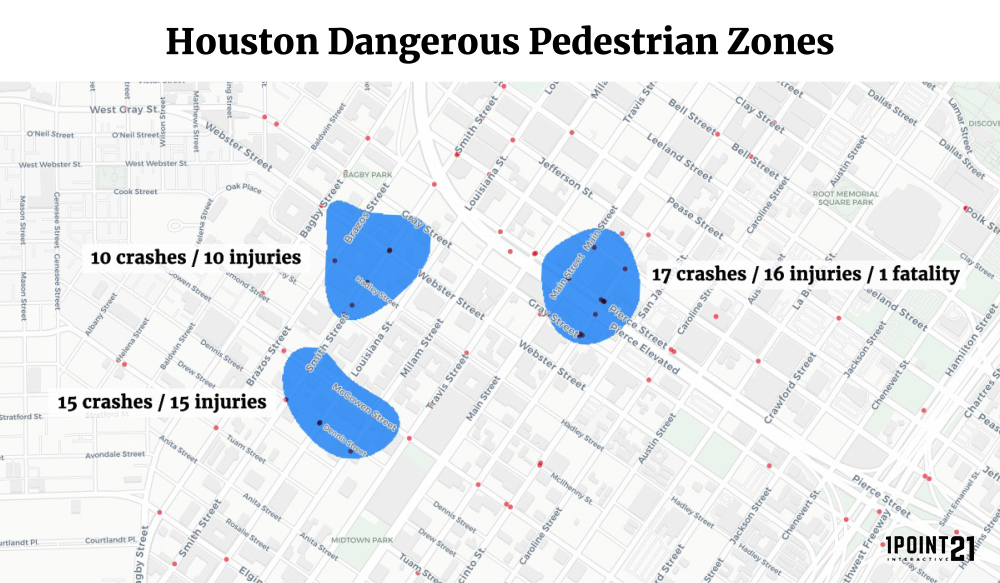 Houston is the most populous city in Texas by a considerable margin.  However, according to our data, 166 crashes and 167 injuries were spread across 117 intersections in 12 high-risk zones. Of the major cities, only El Paso's zones contained less crashes and injuries.
However, this does not necessarily mean that Houston is one of the safest cities in Texas for pedestrians. Since 2012, Houston has routinely recorded the highest number of car crashes among Texas cities, topping out at over 67,000 crashes in 2016, resulting in more than 23,000 injuries and 245 fatalities.
Because Houston is such a large city, many of the high-risk intersections are not clustered, but rather widely dispersed – often well outside of our proximity criteria for determining high-risk zones. Houston may not have as many high-risk zones, but it may have more isolated high-risk intersections evenly distributed throughout the city that warrant further investigation.
Dallas/Fort Worth/Arlington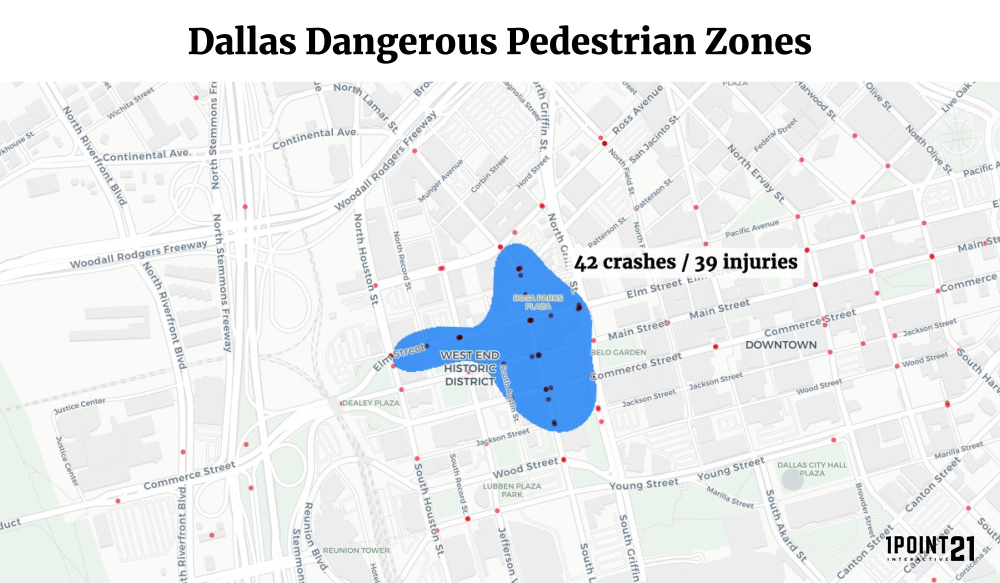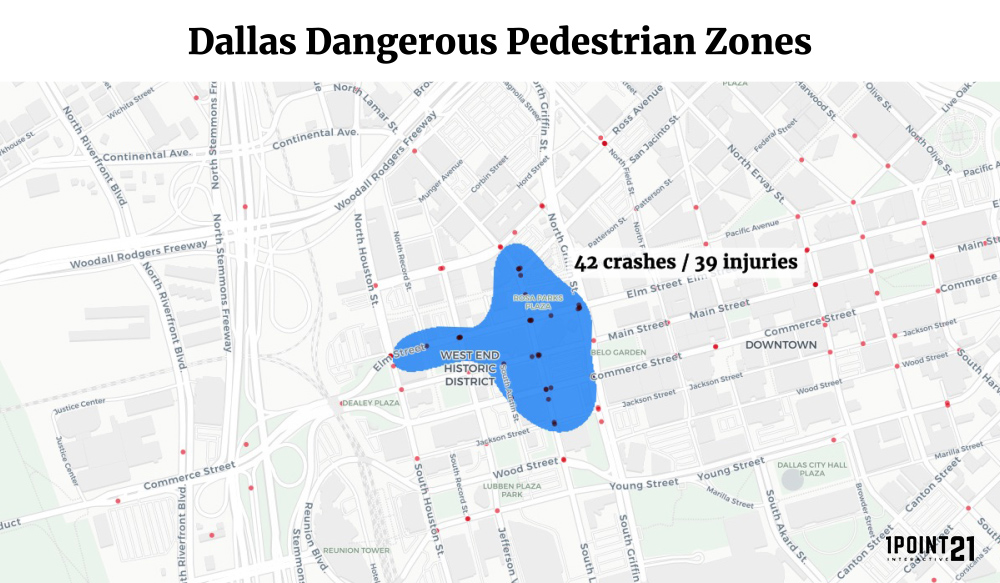 The Dallas-Fort Worth-Arlington metro area had 222 crashes, 220 injuries, and 9 fatalities across 15 zones totaling 180 intersections. Although the numbers are concerning, consider that these are numbers for three cities combined. Dallas on its own amassed 159 crashes, 155 injuries, and 7 fatalities across 10 zones – all considerably less than San Antonio, Austin, and Houston.
The case with Houston may also apply here as well – because the Dallas-Fort Worth-Arlington metro area is so large, this may be another issue of high-risk intersections, not high-risk zones.
El Paso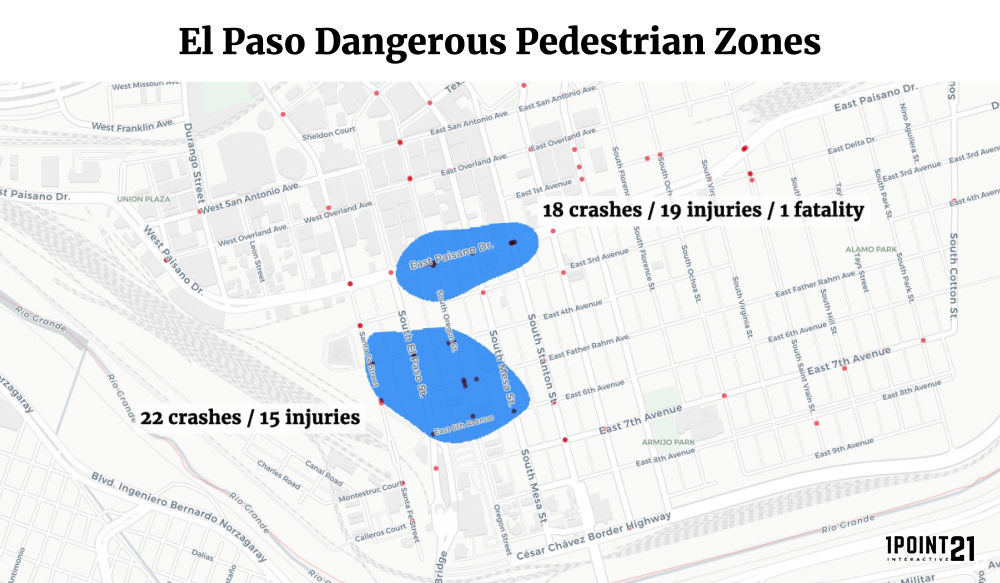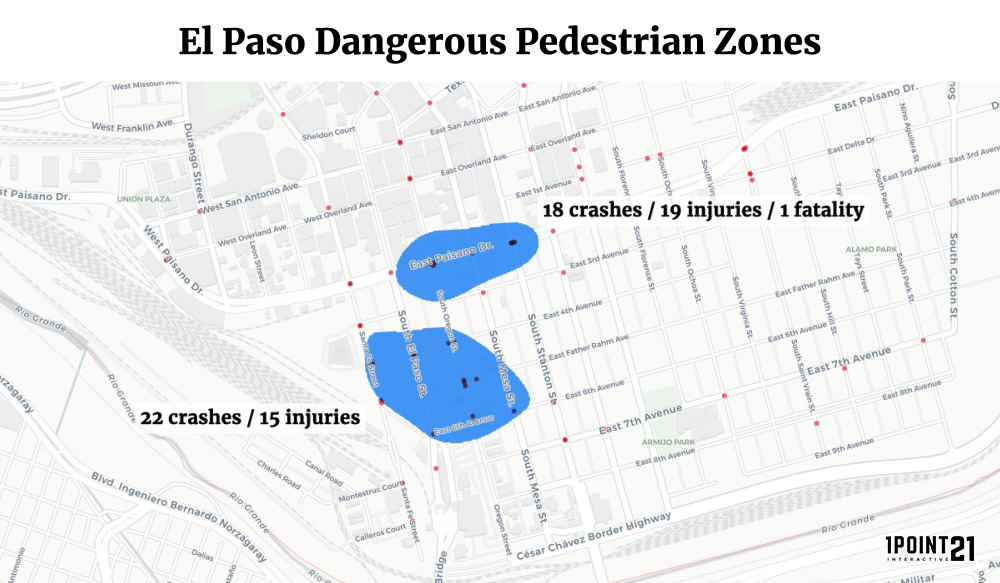 El Paso was home to 5 high-risk zones, accounting for 74 crashes, 69 injuries, and 1 fatality across 56 intersections. Despite the seemingly low numbers, that does not necessarily mean the city is one of the more pedestrian-friendly cities in Texas.
Pedestrian deaths in El Paso have nearly tripled in the past year, from 8 in 2015 to more than 20 fatalities in 2016. Evidence seems to point to a lack of basic pedestrian amenities such as crosswalks or even sidewalks in a considerable amount of neighborhoods. Although some suburbs (such as Sparks) received sidewalks just this year, El Paso may have a long way to go before being considered a pedestrian-friendly city.
Other Zones of Note
Beyond the major cities, there were also other smaller cities that displayed a surprisingly high risk for pedestrians.
Brownsville
By Texas accounts, Brownsville is a fairly small city, but with an estimated population of 184,000, it would be a major city in nearly any other state. Located on the southernmost tip of Texas, the coastal city contained two zones totaling 33 crashes, 32 injuries, and a single fatality across 23 intersections. One of those zones ranked 8th overall on our list, with 22 crashes, 21 injuries, and 1 fatality across 20 intersections.
Part of the reason why this is the case in a smaller Texas city is the economy – Brownsville has one of the highest poverty rates in the nation. In 2013, it was deemed the poorest city in America, with 36 percent living below the poverty level – and Cameron County, where Brownville calls home, has the highest child poverty rate in the state, with 47 percent of children struggling for the most basic needs.
A high poverty rate can lead to a number of circumstances that elevate pedestrian risks, including poor maintenance of roads, a high concentration of pedestrians, and a surge in panhandlers wandering across roads seeking spare change.
Laredo
Laredo only has one zone on the list, but it's a significant one, ranking 5th among major cities such as Austin and San Antonio. This zone encompasses 25 intersections, totaling 27 crashes, 22 injuries, and 2 fatalities.
One of Texas' many towns residing on the U.S.-Mexico border, much of Laredo's pedestrian concerns are similar to those in Brownsville – it's largely a low-income neighborhood that lacks some of the basics for pedestrian safety.
Why is This Important?
Pedestrian safety is a foremost issue in Texas with good reason: the state has recorded year-over-year increases in pedestrian deaths for the past three years, with no real end in sight. In 2015, the state recorded 558 pedestrian fatalities – a 14.3 percent increase from 2014 – and in 2016, Texas recorded 678 deaths – a whopping 21.5 percent increase from 2015.
Pedestrians are the most vulnerable road users.  A collision with a motor vehicle, even at relatively low speed can lead to devastating injuries.
With populations rising and the number of licensed drivers surging every year, it's imperative to emphasize the fact that even one pedestrian fatality is simply unacceptable.
Pedestrian Safety Tips
Here are a few tips from our car accident lawyer to minimize danger at intersections and on roads for both drivers and pedestrians.
For Drivers
Always keep an eye out for pedestrians. They may not be walking in expected areas, and younger pedestrians may abandon all traffic safety laws with no warning.
Never pass vehicles stopped at a crosswalk. Assume that they are always stopped for a good reason. Passing these vehicles while a pedestrian is crossing unbeknownst to you is a recipe for disaster.
Follow the speed limit in residential areas, and go lower than the speed limit in pedestrian-heavy areas. Always be prepared to stop, especially if you're in a neighborhood densely packed in pedestrians, such as a downtown setting or school zone.
Stay focused and be prepared in areas where children may be present. They don't always follow conventional laws, and may absent-mindedly dart out into the street at a moment's notice.
Never drive under the influence of drugs or alcohol. This includes prescription medications and any other drugs which may be legal but might otherwise affect your ability to drive.
For Pedestrians
Always walk on a sidewalk when available. If no sidewalk is available, walk on the far shoulder, facing traffic. That way you are aware of any vehicles that may veer toward you.
Be extra-cautious during situations where visibility is affected. This includes night-time, sunsets and sunrises, and other situations where a driver may easily miss you crossing the street.
Be a predictable pedestrian. Only cross at intersections and crosswalks, where drivers expect pedestrians.
Be visible and wear bright clothing. Wearing dark clothing during night-time is a huge no-no.
Avoid alcohol and drugs – or any substances which may impair judgement and reaction time on the road.