Being injured can complicate your life and empty your wallet. When you are injured in an accident caused by someone or something else, you are entitled to compensation for your injuries. One of the experienced Laredo personal injury lawyers from the Hill Law Firm is standing by to provide a risk-free consultation on your case, and read on to learn more about how we can help.
Contact a Laredo Personal Injury Lawyer After Your Injury
Once you have ensured the health and safety of everyone involved in the accident that led to your injury and sought out emergency medical care, it is time to contact an attorney. Your personal injury attorney will begin the process of collecting evidence and drafting your demand for coverage that begins the many steps towards you being compensated.
Collecting your compensation is not automatic after your accident. To begin collecting what you are entitled to, you'll need to collect evidence, draft and file a claim, and negotiate a settlement that covers all your costs. This can take quite a bit of time and can be difficult when you are trying to recover from your injuries, which is where your personal injury attorney comes into play.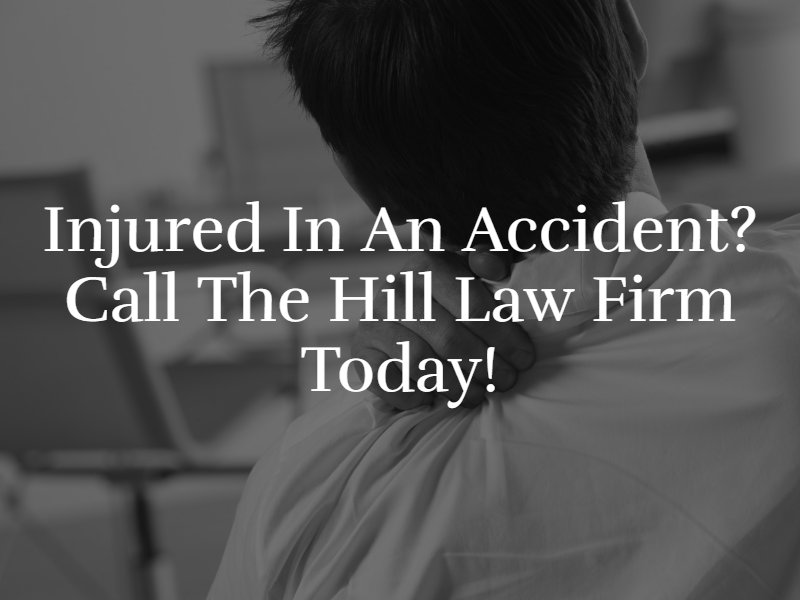 Common Personal Injuries You Can Collect Damages For
When you are injured by someone or something else and experience costs and damages associated with your injuries, you are entitled to compensation. The party that was responsible for the accident is determined by analyzing the facts and circumstance of your accident and applying the law to them. Your Laredo personal injury lawyer handles all of this for you so that you can focus on recovering from your injuries.
Personal injuries that might entitle you to compensation include:
Neck and back injuries
Traumatic brain injury or TBI
Nerve damage
Burns or disfigurement
Dog bites
Suffering a personal injury can lead to substantial costs ranging from medical bills to lost wages and income. When the injury was caused by someone or something else, you could collect compensation to cover all costs and damages linked to your injury.
Common causes of personal injuries that may entitle you to compensation include:
Motorcycle accidents
Slip-and-fall accidents
Dog attacks
Assaults
Workplace injuries
Defective products
Damages Include Short- and Long-Term Costs Associated with an Injury
Whatever the incident or injury, when you are entitled to damages they should cover both your short- and long-term expenses. In the immediate days and weeks following your accident any property repairs and emergency medical bills in the short-term should be covered. Lost wages in the short-term, and any change in your earnings ability in the long-term should also be included.
For example, if you were hit by a drunk driver which led to you hitting your head on the steering wheel of your car, your initial short-term treatment will be the emergency room. At the emergency room it might cost a few thousand dollars to give you stiches for your wound. If the blow to your head caused a traumatic brain injury, you may require ongoing medication, treatment, and rehabilitation in the long-term, and all of these medical costs should be covered in your damages. Your lost wages after the accident, and any change in the earnings you can make at work, are also to be incorporated into your damages.
Accurately calculating the amount of your damages in a personal injury case requires the collection of evidence to determine how your injuries will impact your health and ability to work in the long-term. This information must then be incorporated into an accurate and complete demand that is made of the insurance company of the responsible party. Your Laredo personal injury lawyer knows how to negotiate with the insurance company to achieve the best possible settlement.
We Negotiate with the Insurance Company on Your Behalf
When you are injured in an accident caused by someone or something else, you will generally collect your compensation from an insurance company. The insurance company could be a policy held by the driver who caused the accident, or by the store where you experienced a slip-and-fall, or insurance carried by your employer. It is important to understand that the insurance company does not work for you, they work for profit.
Insurance companies have full-time teams of claim analysts and attorneys working to carefully scrutinize each and every claims that comes their way. Their goal is to deny whichever claims they can, and to pay as little as possible on those claims they do a pay out on, as payments to injured parties are their costs. The lower the insurance company's costs, the greater their profits, and low settlement offers and even wrongful denials are ways insurance companies have been known to increase profits.
With an attorney from the Hill Law Firm on your case, the insurance companies will know that you mean business, and they will take you seriously. Working with a lawyer from a respected firm like Hill will lead to you recovering more than you would by filing a claim on your own, simply because we know how to apply the law and case precedent to lead to the best possible outcome in your case.
Connect with Hill Law Firm on Your Injury Now
To explore the facts and circumstances of your case and what damages they might entitle you to, schedule a consultation with the Hill Law Firm. Our experienced Laredo personal injury lawyers are standing by to provide a risk-free, cost-free assessment of your case to determine options.
If we take your case, you will pay nothing up-front and nothing out-of-pocket, ever. When we take personal injury cases, we take them on contingency, which means that we are only paid if we win on your case. Our payment comes out of a portion of the earnings we win for you that we'll agree upon before getting started. Reach out when you are ready to have our firm step into your shoes and advocate for the best possible settlement for your personal injury.