Austin Car Accident Attorney
Austin is a popular area, which means there is plenty of traffic all year around. Unfortunately, vehicle accidents are a common reality for many residents and visitors to this area. At Hill Law Firm, we are here to help if you need an Austin car accident lawyer by your side. Our team has the resources necessary to fully investigate your claim, determine liability, and help you recover compensation for your medical bills, property damage expenses, pain and suffering losses, and more.
Why Choose Hill Law Firm for Your Austin Car Accident Case?
The Austin personal injury attorneys at Hill Law Firm are dedicated to providing a client-focused approach, which means we take the time to listen to your goals and needs.
We have recovered millions of dollars on behalf of injury victims throughout the state of Texas through settlements and jury verdicts.
We have a network of resources at our disposal, and we refuse to back down from aggressive insurance carriers. Our team will take your case all the way to trial if that's what it takes to ensure clients are treated fairly.
How Will an Austin Car Accident Lawyer Help My Claim?
Car accident claims can become very overwhelming for individuals who are working to recover from injuries and repair their vehicles. However, when an attorney gets involved, they will handle every aspect of the case on behalf of their client. This will include:
Conducting an independent investigation in order to determine liability
Ensuring their client is evaluated by medical professionals who can treat their injuries
Working with economic and financial experts to calculate total losses
Fully preparing the case for trial while negotiating with insurance carriers
Common Causes of Car Accidents
According to information available from the Texas Department of Transportation, we can see that there were more than 11,000 total vehicle accidents in Austin during the latest reporting year across the state. Unfortunately, these incidents led to 92 fatalities and several thousand injuries.
If we examine the most common causes of vehicle accidents across the state, we can see these incidents occur in a variety of ways:
Driver inattention
Alcohol- or drug-impaired driving
Speeding or operating too fast for conditions
Unsafe lane change
Failing to yield the right of way
Failing to stop at a stop sign or signal
Common Car Accident Injuries
Unfortunately, individuals involved in vehicle accidents in and around the Austin area often sustain severe injuries. At Hill Law Firm, our San Antonio injury lawyers have extensive experience helping clients who have sustained the following:
Traumatic brain injuries
Spinal cord injuries
Broken and dislocated bones
Severe lacerations
Puncture wounds
Road rash
Internal organ damage
Internal bleeding
Amputations
Crush injuries
In addition to these traumatic injuries, we also know that crash victims in Austin can suffer from significant emotional and psychological trauma as a result of the actual crash, the injuries, and the subsequent recovery process. Our goal is to help clients recover total compensation for their losses, including compensation for physical injury medical bills as well as emotional and psychological suffering.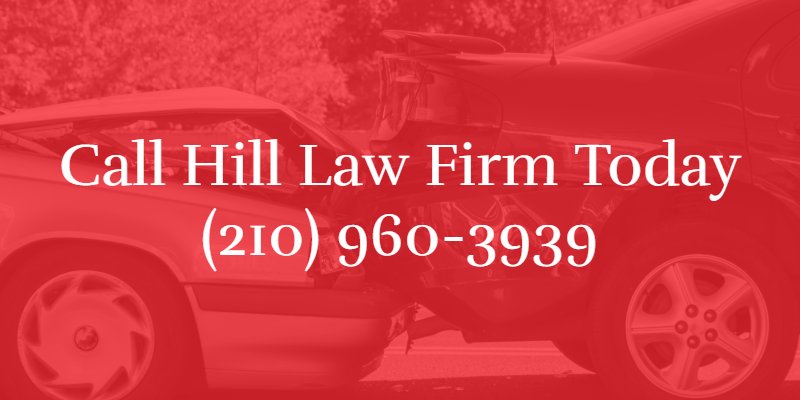 Compensation Available After an Austin Car Accident Occurs
There may be various types of compensation available to those injured in a car accident. In general, we will find that clients are able to recover both economic and non-economic losses after these incidents occur.
Economic damages. We can refer to these as special damages. These are the losses that are calculable after a vehicle accident occurs. We say calculable because we can add up bills and receipts that car accident victims receive, and this can include:

All medical expenses
Property damage expenses
General household out-of-pocket expenses

Non-economic damages. We can refer to these as general damages. These damages revolve around more immeasurable types of losses that individuals suffer from after a vehicle accident occurs. We do not have bills or receipts that can be added up to measure a person's:

Physical pain and suffering
Emotional distress
Loss of enjoyment of life
Loss of consortium for family members
The total amount of compensation available to individuals after a vehicle accident occurs in Austin will vary depending on the circumstances surrounding each collision. Some other factors that can alter how much compensation is ultimately handed over include the severity of the injuries, the level of property damage, how long it takes a person to recover, and the level of a person's pain and suffering.
In cases where the actions of an at-fault driver were grossly negligent or intentional, punitive damages may be awarded as a result of a civil personal injury lawsuit.
How Much Does an Auto Accident Lawyer in Austin Charge?
Affording an attorney after a car accident occurs can seem immensely challenging. However, the team at Hill Law Firm takes these cases on a contingency fee basis. This is an arrangement where we handle all upfront and out-of-pocket costs related to the case, and clients will not be responsible for paying any legal fees until after we successfully recover the compensation they are entitled to. If we do not win the case, our clients do not pay a dime. We think that this fee arrangement helps ensure that any individual, regardless of their current financial status, is able to hold at-fault parties responsible for their actions.
Contact an Austin Car Accident Attorney Today For a Free Consultation
If you or somebody you love has sustained an injury or property damage in a vehicle accident caused by another driver in the Austin, Texas, area, reach out to the team at Hill Law Firm for help today. We have the resources necessary to handle every aspect of your claim, and we have no problem standing up to aggressive insurance carriers on your behalf. Let us make sure that you recover total compensation for your losses so you can make as full of a recovery as possible. When you need an Austin car accident attorney, you can contact us by clicking here for a free consultation or calling us at (210) 960-3939.