Sustaining a personal injury should not mean that a person is placed in financial jeopardy. Unfortunately, securing compensation after sustaining an injury can be challenging. At Hill Law Firm, we are here to help if you need a Fredericksburg, Texas personal injury attorney by your side. If another individual, business, or entity caused your injury, we will fully investigate the claim and work diligently to recover total compensation for your losses.
Fredericksburg Personal Injury Resources
To quickly access the resources at any point on this page, please click the corresponding link below.
Why Choose Hill Law Firm?
How Will a Fredericksburg Personal Injury Attorney Help With My Claim?
Personal Injury Statute of Limitations
Common Personal Injury Claims We Handle
How to Prove Fault in a Fredericksburg Personal Injury Case
Compensation Available in Your Case
Contact Our Attorneys Today
Why Choose Hill Law Firm for Your Fredericksburg Personal Injury Case?
Justin Hill at Hill Law Firm is an experienced trial lawyer who has handled major injury cases throughout the state of Texas for more than a decade.
Our team of injury lawyers take pride in providing personal and individualized care to every client.
We take Fredericksburg personal injury claims on a contingency fee basis, which means that our clients will not have to pay a single dime in legal fees until after we recover the compensation they are entitled to.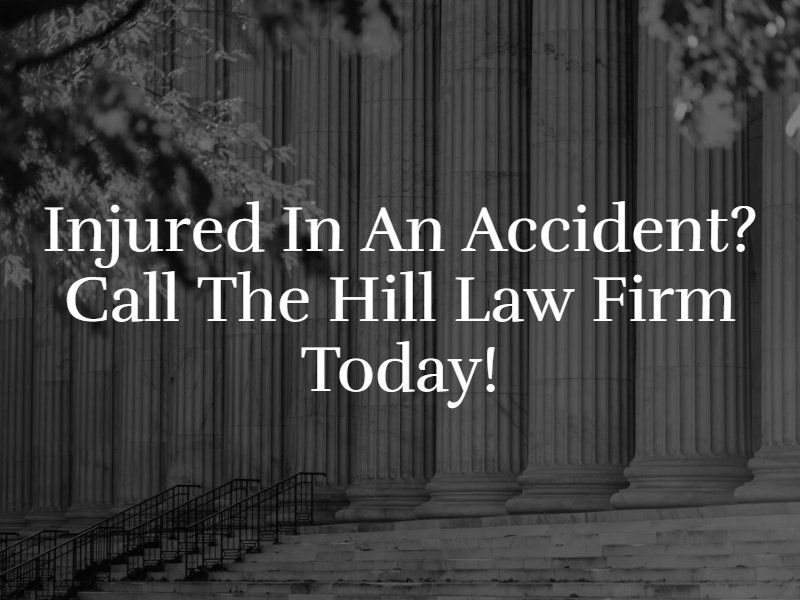 How Will an A Personal Injury Attorney in Fredericksburg Help My Claim?
Personal injury claims can become immensely challenging, particularly when the at-fault party or their insurance carriers refuse to pay fair compensation. However, a personal injury lawyer in Fredericksburg will use their own resources to go head-to-head with these other parties. An attorney will gather all the evidence needed to prove liability and vigorously negotiate with insurance carriers to recover fair compensation.
Importantly, an attorney will know when it is necessary to take a case all the way to a jury trial. They will handle the entire process, both in and out of the courtroom, on behalf of their client.
Fredericksburg Personal Injury Statute of Limitations
We want to stress the importance of filing personal injury claims in Fredericksburg as soon as possible. The personal injury statute of limitations in Texas is two years from the date an injury occurs, but we encourage you to file your claim much sooner than this. Insurance carriers typically have prompt reporting deadlines, and failing to file a claim on time could result in the denial of your claim altogether.
Common Personal Injury Claims We Handle
The team at Hill Law Firm handles a wide variety of injury claims throughout the Fredericksburg area in Texas. This includes, but is not limited to, the following:
Car accidents.

Negligent and reckless drivers cause car accidents in Fredericksburg every day. A driver's automobile insurance will cover an accident if he or she is at fault, such as by speeding, breaking traffic laws, tailgating, running a red light, driving while distracted or driving drunk. Car accident cases can also have other liable parties, such as the government for a road defect or a vehicle manufacturer.



Commercial truck accidents.

Trucking companies have legal obligations under state and federal law. They must properly maintain their fleet of trucks, train their drivers and secure cargo. Truck drivers must also obey special laws, such as hours-of-service regulations. If anyone in the trucking industry breaks the rules or cuts corners, this increases the risk of trucking accidents.

Bus accidents. Buses also come with special rules and regulations. Unfortunately, bus companies do not always follow these rules. They may hire unqualified drivers, for example, or fail to properly maintain their buses. A bus driver could also be at fault for an accident, such as from distracted or drowsy driving. The entity responsible for the bus – such as a private bus company, the city or a school district – will most likely have to pay for a bus accident. Call our Fredericksburg bus accident lawyer today to discuss your case in greater detail.
Pedestrian and bicycle accidents.

Pedestrians and bicyclists are the most vulnerable road users, meaning they are at high risk of serious and fatal injuries in accidents. Drivers can often prevent these collisions by obeying traffic laws and paying attention to the road. All drivers must yield the right-of-way, when appropriate, and avoid distractions. If a driver causes a pedestrian or bicycle accident, his or her insurance should cover the costs.

Motorcycle accidents.

Motorcycles can be difficult to see, especially for a driver who isn't paying attention to the road. Motorcycle accidents often take place due to unsafe lane changes, speeding, left-hand turns, following too closely and distracted driving. Motorcyclists are exposed to serious injury risks in collisions, even if they are wearing helmets and take all proper safety precautions. 

Boating accidents.

Boating accidents can occur if the owner or operator of the boat is negligent. Examples include poor boat maintenance, boating under the influence, reckless boating, and failing to check the conditions of the weather and water before heading out. In most cases, homeowners insurance will cover a boating accident on behalf of the owner of the vessel.

Nursing home abuse and neglect.

Nursing homes in Fredericksburg have a legal responsibility to ensure the physical, mental and psychosocial well-being of residents. Unfortunately, many nursing homes fail to take proper care of senior citizens. Nursing homes and their employees may be guilty of resident abuse or neglect, including physical and sexual abuse. If your loved one is a victim of any type of mistreatment at a nursing home in Texas, your family may be entitled to financial compensation.

Medical mistakes.

A patient may have grounds to file a medical malpractice lawsuit in Texas if the health care provider fell short of the medical industry's standards of patient care, resulting in injury. Common examples include medication errors, surgical mistakes, misdiagnoses, birth injuries and defective medical devices. These medical mistakes can require the health care practitioner or hospital to pay for the victim's losses.

Defective product claims.

Product liability law allows injured consumers to seek financial compensation from manufacturers and distributors for products that are dangerous or defective. Injured consumers generally do not have to prove negligence to receive compensation in this type of lawsuit. It is enough to show that the item contained a defect and caused the injury or death.

Premises liability incidents.

Premises liability laws in Texas require property owners to take proper care of their land and buildings. This is true of both public and private property owners. If a property owner welcomes someone onto a property and that person gets injured due to a preventable defect, the victim can file a premises liability lawsuit in pursuit of damages. These cases include slip and falls, dog attacks, swimming pool accidents, and staircase accidents.

Construction accidents.

Construction sites can be extremely dangerous for workers and passersby. They contain heavy machinery, dangerous equipment, power tools, open trenches, scaffolds, heights and many other hazards. If a construction company is negligent, this can make workers even more prone to injury and death. An injured worker could potentially recover through workers' compensation and/or a personal injury lawsuit in Fredericksburg.

Workplace injuries. Workplace accidents are typically preventable if due care is exercised by the employer or owner of the company. Employers have a responsibility to maintain safe premises, have adequate security, properly train workers, provide all necessary safety equipment and respond promptly to safety complaints. Any breach of the duty of care can result in worker injuries and deaths. A work injury attorney in Fredericksburg can help you determine who may be liable for any injuries you suffered.
If you've been hurt in any type of accident, we can help. Our lawyers will tailor our legal efforts around your specific case.
How to Prove Fault in a Fredericksburg, TX Personal Injury Case
A personal injury case in Texas consists of four main elements of proof: duty, breach of duty, causation and damages. You or your lawyer must prove that these elements exist with at least a 51 percent certainty (a preponderance of the evidence). In other words, you must show that the defendant owed you a duty to act reasonably, violated this duty and caused your accident. A lawyer can help you prove fault by collecting evidence against the defendant, such as a copy of the accident report, your medical records, pictures and videos, and witness testimony.
Compensation Available in a Fredricksburg Personal Injury Case
There may be various types of compensation available to personal injury victims in Fredericksburg, Texas. This includes both economic and non-economic damages. Economic damages have a specific value based on what the accident cost the victim financially. They include:
Coverage of all medical bills associated with the injury

Medications, surgeries, rehabilitation and physical therapy

Lost wages if a victim cannot work
Property damage expenses
Out-of-pocket Household costs

Funeral and burial expenses
Noneconomic damages are the intangible losses associated with an accident that do not have a specific dollar value. They are subjective and depend on the victim's life and experiences. They include:
Pain and suffering damages

Emotional distress 

Mental anguish

Post-traumatic stress disorder

Permanent disability

Lost ability to earn future wages (earning capacity)

Loss of enjoyment of life damages
L

oss of consortium
You may also be eligible for punitive or exemplary damages, although they are not as common. This is an additional amount awarded primarily to penalize the defendant for particularly wrongful, negligent or egregious acts. Discuss the value of your case with an attorney before accepting an insurance settlement. A lawyer will accurately evaluate your case to prevent an insurer from taking advantage of you.
Contact a Fredericksburg Personal Injury Lawyer Today
If you or somebody you care about has been injured due to the negligent actions of another individual in the Fredericksburg, Texas, area, reach out to the team at Hill Law Firm as soon as possible. We have the resources necessary to handle every aspect of your claim, and our team will not hesitate to stand up to aggressive insurance carriers on your behalf. Let us help you recover compensation for your medical bills, lost income, pain and suffering damages, and more. When you need a Fredericksburg personal injury attorney, you can contact us by clicking here for a free consultation or calling us at (210) 960-3939.