San Antonio Bus Accident Attorney
Bus accidents are a unique area of personal injury law. San Antonio Bus accident attorney Justin Hill is highly knowledgeable and experienced in this area of the law. Few law firms handle bus accidents involving large commercial buses, but Justin has a lot of knowledge gained from experience in handling accidents involving large motor coaches. Bus accidents cause thousands of serious injuries and kill hundreds of people each and every year. Come in for a free evaluation of your case. You may be entitled to significant compensation for your injuries.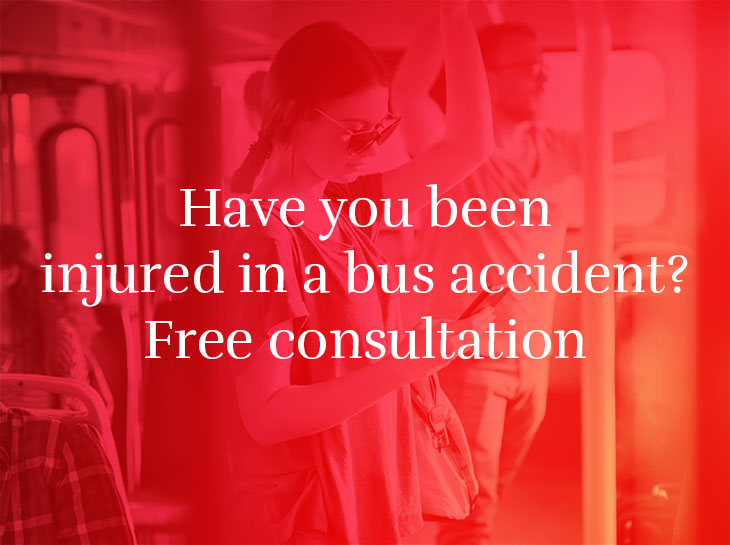 If you or someone you know has been injured or killed in a bus accident, you need a knowledgeable and personal injury lawyer in San Antonio on your side. Buses are often owned and operated by government entities or large, powerful companies, which can seriously cloud any potential issues of liability. Our bus accident lawyer in San Antonio has assisted many people in getting through the aftermath of a devastating bus accident, and we will use that experience, and knowledge we have gained, to make sure that everyone who is hurt is treated fairly and receive the compensation they deserve.
Whether a bus is being operated by the government for public transportation or as school buses, or it is run by a private company as a charter or tours, an accident is possible. Bus accidents may be caused by driver error or fatigue, automotive manufacturing defect, poor maintenance, or even poor road conditions. Whatever caused the accident, our San Antonio lawyers will work hard with you, to make sure that your rights are protected.
Bus Accident Injuries
Americans use the bus a lot. Every single year, Americans take at least 360 million trips on a bus for one reason or another, adding up to a total of 28 billion miles traveled. there are 450,000 school buses on the road every single day, as well as 30,000 commercial buses. On average, 24,000 people are injured every year, with nearly 40% of those being children on school buses. Nearly 300 bus passengers are killed every year. Other vehicle drivers and passengers make up nearly 60 percent of fatalities in bus accidents, with non-motorists (pedestrians and bicyclists) making up another 27 percent.
Bus accidents can be quite gruesome and result in major injuries to everyone involved, including the drivers and passengers in all vehicles involved, as well as injuries to bystanders. Because many of the injuries can be extremely serious, the victims of these accidents often face huge and ongoing medical bills, and are often incapable of working, thereby resulting is a tremendous loss of income. Hill Law Firm will do everything possible to make sure our clients receive the justice they deserve.
Causes of Bus Accidents
Most buses tend to be extremely large and heavy, and require a special set of skills to operate, which is why there is a special license category for drivers. The most common causes of bus accidents include drivers who have not been properly trained or those who are driving while fatigued because they're working too many hours in a row. Drivers who are distracted while driving is also a common cause of bus accidents. The distractions can include passengers bothering them, playing with electronic equipment, or any number of other things, such as eating or drinking or playing with the entertainment system on the bus. In some cases, the driver may be intoxicated or under the influence of drugs, including some drugs that are legally prescribed by doctors. It is the bus companies' responsibility to make sure good bus drivers are always behind the wheel, caring for the safety of their passengers.
Other major causes of bus accidents have to do with the mechanical condition of the bus. Because buses travel long distances at high speeds and because they are much larger and heavier in most other vehicles on the road, the mechanical condition of the bus is crucial. Therefore, the company that owns the bus has a duty to make sure the bus is always maintained properly and is equipped with proper safety equipment. If they do not, they may be held liable for the accident. In some cases, a manufacturing defect may have been discovered for that particular bus, which could make the manufacturer at least partially liable. Other factors can lead to bus accident injuries, such as overloaded buses or poor road conditions. Our Texas bus accident injury lawyer will thoroughly investigate every aspect of every bus accident to make sure that all parties who are either fully or partially responsible are held accountable.
Bus Accident Legal Issues
Every single bus accident case is different, and all bus accident cases differ greatly from a San Antonio auto accident case.  For one thing, most involve either the government or a private bus company, as well as an insurance company. Establishing liability can be very difficult, regardless of whether the bus is owned by a government for a private company. in many cases, depending on the state, the owner of a bus may be considered a "common carrier," which means they are required to demonstrate a higher standard of care than the average driver and are required to protect their passengers. This can often mean that liability is easier to establish in a case against a common carrier.
On the other hand, in cases where a bus is owned by a governmental body, it may be more difficult to establish liability, even in those cases in which a bus driver seems to be clearly at fault. In some cases, states have enacted immunity laws that can make it very difficult to establish liability. This is why it is very important that you have a knowledgeable and experienced bus accident attorney capable of acting quickly, to conduct a thorough investigation as well as to file the required notices, in order to preserve any claim you may have against the responsible party or parties.
Contact a San Antonio Bus Accident Lawyer
If you or a loved one have been injured because of a bus accident, you have important legal rights, but you must act quickly to protect those rights and obtain the justice you deserve. To schedule a consultation with a qualified and experienced bus accident lawyer in San Antonio, contact Hill Law Firm today.