San Antonio Personal Injury Lawyer
You have rights after a personal injury accident. In Texas, the civil courts allow injured parties to come forward with claims against negligent or reckless parties. A successful personal injury claim could end in the financial compensation you need to move forward after an accident. Someone may owe you compensation for your medical bills, lost wages, property damages and more. Contact the San Antonio personal injury attorneys at Hill Law Firm to discuss your case and legal options in more detail. We offer 100% free initial consultations in Bexar County.
Why Choose Us?
The people of San Antonio, Texas have trusted us with their personal injury claims for years. Most of the clients we accept are referrals from past clients and colleagues.
The lawyers at our firm are not afraid to challenge defendants in court, when necessary. Even with difficult cases, we have had a long track record of success.
The clients we accept do not have to pay upfront for our services. We operate on a contingency fee basis on San Antonio personal injury claims, with no fees until we win.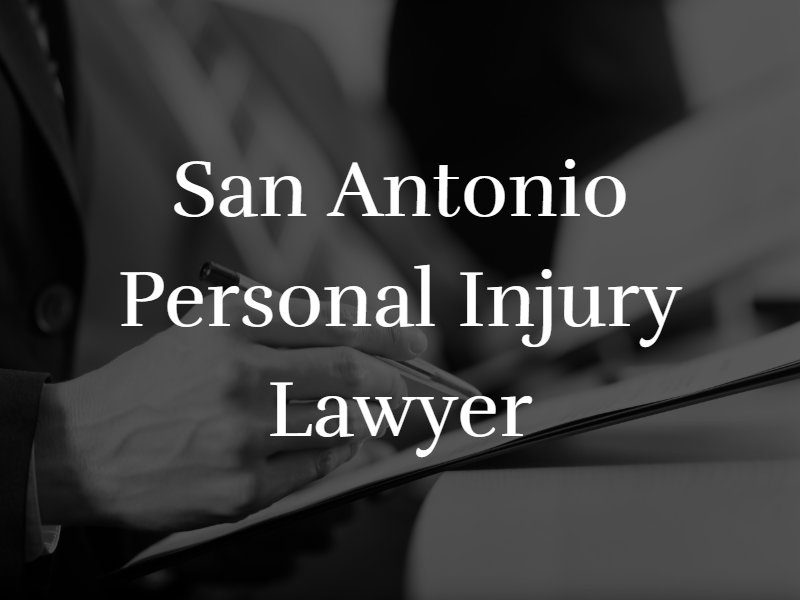 How a San Antonio Personal Injury Attorney Can Help You
Many clients make the mistake of thinking they can handle their injury claims alone, without assistance from attorneys. Unfortunately, this leads to minimal payouts or no payments at all for their injuries. Insurance companies do not always treat clients fairly. They may use bad faith tactics to save money. When you have to go up against an insurance corporation or powerful defendant in San Antonio in pursuit of justice, hire an attorney to make the process easier. Your legal team can handle negotiations and an injury trial for you while you concentrate on recovering.
Types of Events That Are Covered in Personal Injury Cases
Personal injury law is a broad practice area that encompasses dozens of different accident and injury types. You might have grounds to file a lawsuit against a person, company or another entity after any type of accident that gives you or a loved one an injury. Speak to the personal injury lawyers at Hill Law Firm to find out if you have the elements of a claim. If so, we may be able to help you seek fair compensation from the at-fault party.
Bicycle and pedestrian accidents
Commercial truck and bus accidents
Drunk or distracted driving accidents
Work-related injuries and illnesses
Hospital negligence and malpractice
Premises liability and slip and fall accidents
Food poisoning
Vape and e-cigarette injuries
Maritime accidents
Sexual assault
These are all claims we accept at Hill Law Firm. We take other types of cases as well. Our accident attorneys have experience assisting clients with claims involving fractures, muscle strains, lacerations, burns, head and skull injuries, traumatic brain injuries, spine and back injuries, and other catastrophic injuries. Do not assume you do not have a claim until you have spoken to an attorney. We can assess your case for no costs upfront when you call (210) 960-3939.
Is There a Time Limit to File an Injury Claim?
Do not delay in contacting an attorney and starting your personal injury claim. The courts in Texas have strict filing deadlines called statutes of limitations. If you miss your time limit, the defendant can file a motion to dismiss your claim. In general, you will have no longer than two years from the date of your accident or injury to file a civil claim in Texas. The clock will start counting down either on the date of your accident or the date of injury discovery.
Types of Damages You Can Recover
Personal injury claim damages can refer to both the losses you suffered due to the defendant as well as the compensation available. Damages are an important part of your case. The damages available in your claim will depend on the factors unique to your case. Claim values in San Antonio can vary drastically according to the losses involved.
Existing medical expenses
Future health care needs
Lost income and capacity to earn a living
Physical pain and suffering
Emotional distress/mental anguish
Property damages
Lost quality of life
Punitive damages
Wrongful death damages
You may be eligible to recover both economic and non-economic damages. Economic damages refer to the financial losses connected to your accident, such as out-of-pocket costs. Non-economic damages are personal losses from the accident, such as physical pain and psychological suffering. An attorney will do everything possible to maximize the damages you recover for your personal injury claim.
Dealing With Insurance Companies
A big part of your San Antonio personal injury claim will be dealing with insurance companies. In most cases, it will be an insurance company handling your claim and offering compensation for your damages, not an individual. Insurance companies are well-versed in how to avoid paying claimants. They are self-interested and wish to profit their investors more than help injured accident victims. It is important to be careful when dealing with insurance companies and their claims adjusters.
In general, the trial lawyers at Hill Law Firm recommend clients do not talk to insurance claims adjusters. These are hired professionals with one main goal: to save the insurance company money. Insurance adjusters will achieve this goal through any means – including insurance bad faith. Bad faith means the insurance provider is not treating your claim honestly or fairly. Hire attorney Justin Hill to negotiate with claims adjusters on your behalf. Justin Hill has years of experience going up against insurance companies and their agents.
When Can I Expect a Settlement Check?
If your lawyer succeeds in achieving a settlement with an insurance company, you can expect the check within about five to six weeks, on average. It could take longer, however, if you have a complicated claim or if the insurance company is intentionally delaying payout. Your lawyer can give you a more accurate timeline depending on the facts of your case. If the delay is a type of insurance bad faith, you may have grounds for an additional claim against the insurer.
Contact a San Antonio Personal Injury Lawyer Today
If you or a loved one has a personal injury in San Antonio, do not hesitate to contact Hill Law Firm for assistance in bringing a claim. Two years may seem like a long statute of limitations, but it can move quickly. It can also hurt your claim to wait too long to file a cause of action, even if you are within your time limit. Waiting too long could lead to issues such as losing important evidence that supports your case. Call our law offices at (210) 960-3939 as soon as possible after an accident to schedule your free consultation with our San Antonio personal injury lawyers. We fight for maximum compensation.
---
"I have been more and more impressed with Hill Law firm and Justin Hill with every interaction.
I have consulted with them multiple times and on a variety of matters including business and personal. They are prompt to return calls, respond to messages and provide professional, excellently researched insight. Regardless of what your legal needs, I would recommend them completely and trust them wholeheartedly. They will always be my go-to law firm for representation in any matter." – Millie