San Antonio Construction Accident Attorney
Construction is a dangerous job that can be made even deadlier due to human error, such as an employer neglecting to provide the correct safety equipment to construction workers. If you or a loved one suffered a serious injury in a construction site accident in San Antonio or the surrounding area, contact Hill Law Firm to request a free consultation. We can help you get through the claims process and pursue maximum financial compensation for your related medical bills and other losses. We are here for you and your family during this difficult time.
Why Choose Hill Law Firm?
Our lawyers are ready to fight for you. We always put our clients first and search for ways to make their lives easier.
We are trial-tested attorneys with a long track record of success in and out of the courtroom. We are not afraid of taking on challenging cases and powerful defendants.
You will not pay your construction accident attorney anything upfront. We operate on a contingency fee basis, meaning you'll only pay us if we win your case.
Why You Need a San Antonio Construction Accident Attorney
Suffering an injury at a construction site as a worker or passerby can be overwhelming. You may not be sure how to answer phone calls from insurance claims adjusters or bill collectors, as well as what to do about mounting medical bills and lost wages. Contacting a construction accident attorney can lend you some peace of mind. Your attorney will understand Texas' construction site regulations and laws, as well as how to help you get the money that you need to move forward.
An attorney will understand the risks commonly associated with construction sites, what an employer should do to mitigate these risks, and the rights that a construction worker or bystander has after suffering a serious injury at a construction site. An attorney can hire qualified experts, carefully investigate your accident for signs of fault, collect evidence of negligence, and negotiate for maximum financial compensation on your behalf. Your lawyer will do what it takes to successfully handle the complicated legal process for you.

How Common Are Construction Accidents?
Worker injuries and deaths happen relatively often in the construction industry. According to the Occupational Safety and Health Administration, construction is consistently the deadliest industry in the U.S. In 2019, about 20 percent of all worker deaths occurred in the construction industry. Construction took 1,061 worker lives in 2019 alone. The Bureau of Labor Statistics reported 123 deaths in construction in Texas in 2019.
From working from heights and scaffolds to operating heavy machinery, many things that are present at a construction site can cause serious injuries. Statistically, the most common causes of deaths in construction are falls (36.4 percent), struck-by objects (15.4 percent), electrocutions (7.2 percent), and caught-in or between objects or equipment (5.4 percent). These four accident types are what OSHA calls construction's "Fatal Four."
Common Construction Site Injuries
The construction industry poses many health and safety risks to workers, as well as to drivers, cyclists and pedestrians that have to pass through construction zones in San Antonio. A construction site accident can cause a wide range of serious physical injuries and illnesses. The injuries sustained can depend on the nature of the accident and the victim. Common examples include:
Broken bones
Skull fractures
Traumatic brain injuries
Spinal cord fractures
Other back and spine injuries
Neck injuries
Soft-tissue injuries
Pulled muscles
Eye and ear injuries
Electric shocks
Burns
Lacerations
Scarring and disfigurement
Internal injuries
Exposure to toxic substances
Heatstroke
If you were diagnosed with any type of injury after being in a construction site accident in San Antonio, contact a personal injury lawyer from Hill Law Firm for assistance. We can help you fight for the financial compensation that you need to pay for your injury, including present and future medical costs.
What Compensation Is Available in a Construction Accident Case?
It is important to understand the value of your construction site accident injury claim in Texas. Otherwise, you may accept a settlement from an insurance company that undervalues your losses. Although no amount of money can make up for a serious injury, obtaining fair and full financial compensation from the at-fault party can deliver a sense of justice. You may be eligible for the following types of compensation as an injured victim:
Economic damages. Economic damages refer to funds for the financial losses associated with a construction accident. These can include medical expenses, surgeries, rehabilitation, disability accommodations, lost wages, lost future capacity to earn, travel costs, out-of-pocket expenses and legal fees. Economic damages can be calculated with a degree of relative certainty based on bills, receipts and other evidence.
Noneconomic damages. These are the intangible ways in which the accident impacted the victim. Common examples include physical pain, emotional suffering, distress, mental anguish, psychological trauma, lost quality and enjoyment of life, and loss of consortium. Noneconomic damages are calculated based on an insurance company or jury's impression of how much pain and suffering the victim has experienced based on injury severity and the facts of the case.
A successful construction site accident lawsuit in San Antonio could repay you and your family for several types of losses that you would not have suffered were it not for the defendant's negligence. This can be important for moving on and reducing your family's related financial stress while you recover from a serious injury. Let a San Antonio construction accident lawyer from Hill Law Firm help you recover fair financial compensation.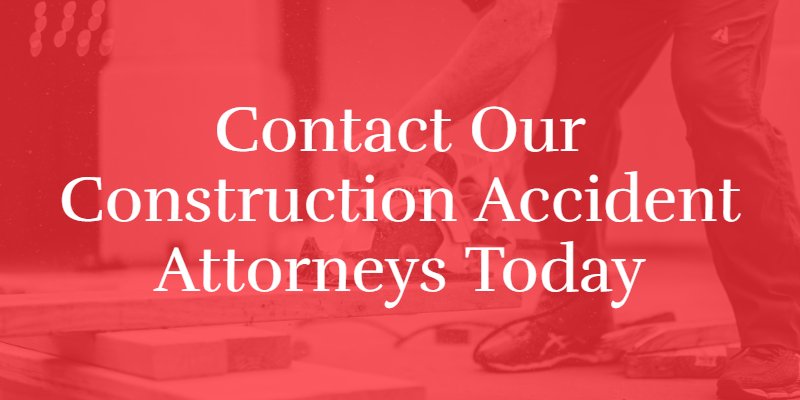 Consult With an Experienced San Antonio Construction Accident Lawyer Today
Construction companies and site managers are often lax in their attempts to keep a construction site safe for workers and nonworkers alike. A construction company may try to save money by ignoring federal laws or cutting corners on safety regulations, for example. This can lead to devastating and preventable construction site accidents.
If you or a loved one was injured in a construction accident in San Antonio, one or more parties may be financially responsible. Our injury attorneys in San Antonio can help you pursue justice and the financial compensation that you deserve from the liable party. Contact the attorneys at Hill Law Firm today to request a free consultation. Call (210) 960-3939 or send us a message online and we'll get back to you as soon as possible.