No worker expects to suffer a serious or fatal injury at work. Sadly, thousands of workers throughout the United States end up in emergency rooms with occupational injuries and illnesses every year. If you were recently involved in a work accident that left you with a short-term or long-term injury, contact an attorney at Hill Law Firm to discuss your rights. You may be entitled to financial compensation.
Our Fredericksburg work injury lawyers have years of experience and can help you navigate a complicated claim. We can help if you have been injured or a loved one has been wrongfully killed on the job. Contact us to schedule a free case evaluation, where we will listen to your story and review your legal options in detail.
Fredericksburg Work Injury Resources
To immediately access the resources at any point on this page, click the corresponding links below.
Why Hire Our Attorney?
Why Are Work Injury Cases Frequently Complicated?
Determining Liability After a Workplace Injury
Useful Evidence in a Work Injury Case
How Our Lawyer Can Help
Leading Causes of Workplace Injuries
Call Our Attorney Today
Why Hire Our Fredericksburg Work Injury Attorney?
We have recovered millions of dollars in settlements and verdicts on behalf of our clients. We are proud to say we have a 99-percent case success rate.
Our Fredericksburg personal injury attorneys understand the laws surrounding work injury cases in Texas. We are ready to fight for you during a workers' compensation claim or work injury lawsuit.
Our Fredericksburg work injury attorneys operate on a contingency fee basis, meaning we will only charge you attorney's fees if we secure compensation for your case.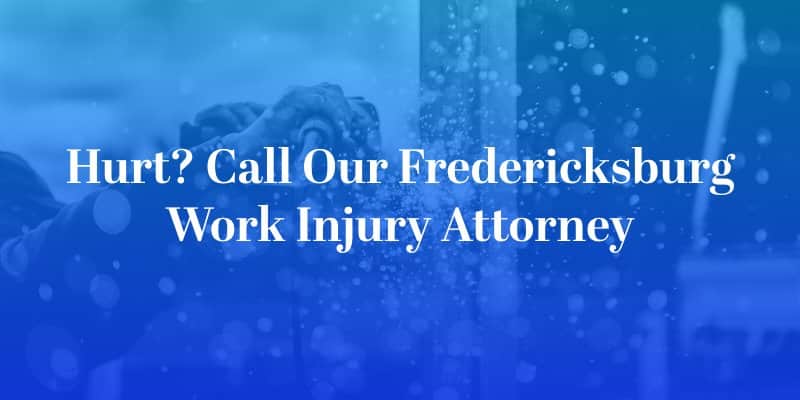 Why Are Work Injury Cases Frequently Complicated?
Workplace injury cases can be more complicated than standard personal injury claims because when an illness or injury occurs on the job, it can create tension between you and your employer. You may be hesitant to file a workers' compensation claim due to concerns about how it might affect your future employment. If your employer was negligent and this is why you were injured, you may worry that reporting it could mean the loss of your job.
Know that it is against the law for employers in Texas to retaliate against workers who file workers' compensation claims or report safety violations. If you face any adverse employment action after coming forward with an injury claim, an attorney can help you file a retaliation claim in addition to an injury case. Your lawyer will shed light on the laws that protect you as an injured worker in Fredericksburg, including industry-specific safety regulations and insurance policies, to protect your ability to earn a living.
Determining Liability After a Workplace Injury
Texas is the only state in the country that does not make workers' compensation insurance mandatory for any private employers. However, many employers opt to purchase workers' comp insurance anyway to cover workplace injuries and illnesses. If your employer offers workers' comp coverage, you cannot hold your employer liable (legally and financially responsible) for causing your injury if you accept a workers' comp settlement. Instead, you can receive no-fault benefits to pay for your medical care and a portion of your lost wages.
However, if workers' comp is not available or you suspect that your employer was negligent (failed to use ordinary care), you may need to file a personal injury lawsuit instead. In a lawsuit, the injured worker has the burden of proof. This means you or your lawyer must provide evidence to establish that your employer or a third party (e.g., a product manufacturer or contractor) caused or materially contributed to your injury. If you are not sure who is liable for your work injury, our attorneys can determine the accountable party or parties for you.
Useful Evidence in a Fredericksburg Work Injury Case
A law firm will have the resources and personnel to investigate your accident and collect evidence to support a work injury lawsuit or workers' comp claim in Fredericksburg. Available evidence may include:
An accident report
A description of the accident, including the date and location
Eyewitness statements
Photographs of the scene
Video footage of the accident
Your medical records and hospital bills
Employment records
Communications with your employer or an insurance company
Testimony from experts, such as medical professionals
A lawyer from Hill Law Firm can visit your workplace, investigate the accident, interview eyewitnesses and hire experts to help you build the strongest claim possible.
How Our Fredericksburg Work Injury Attorney Can Help
Work injury cases in Texas can be complex. Your employer may not offer workers' compensation coverage, for example, or may deny responsibility for your work-related injury. In other cases, you may face challenges after filing an insurance claim, such as a wrongfully denied claim or inadequate settlement offer from an insurance adjuster.
Hiring an experienced work injury lawyer at Fredericksburg can protect your rights in the pursuit of justice and fair compensation. Your lawyer can take care of complex legal matters for you, such as negotiating with an insurance provider and pursuing the financial benefits to which you are entitled after a work injury. A lawyer will also have the ability to go to trial, if necessary. Meanwhile, you can focus on healing and returning to work, if possible. From factory to Amazon delivery accident lawsuits in Fredericksburg, our attorneys can help.
What Are the Leading Causes of Workplace Injuries?
The leading causes of workplace injuries in Fredericksburg differ depending on the industry. For example, the Occupational Safety and Health Administration states that construction is the most dangerous industry in the U.S. due to hazards such as inadequate fall protection, dangerous ladders and scaffolding accidents.
Commonly reported causes of workplace injuries in Texas are:
Caught in or between objects or equipment
Crush incidents
Electrocutions
Equipment malfunctions
Exposure to loud noises
Exposure to toxic substances
Falls
Fires and explosions
Heavy machinery accidents
Maritime accidents
Plant and refinery accidents
Repetitive motions or overexertion
Struck-by falling objects
Transportation accidents
Vehicle rollovers
No matter what type of accident or incident resulted in your work injury in Fredericksburg, consult with our attorneys to find out if you are eligible for financial compensation. You could be entitled to a monetary award for your lost wages, medical bills, and more. We will conduct a comprehensive investigation into the cause of your injury or a loved one's death to help you understand your financial recovery options.
Speak to Our Fredericksburg Work Injury Lawyer Today
Suffering a work injury can be painful, inconvenient and frustrating. Contacting a Fredericksburg work injury attorney at Hill Law Firm can give you more peace of mind during this difficult time. You can trust your attorney to take care of complicated legal processes on your behalf, including pursuing a workers' compensation claim or filing a personal injury lawsuit, while you concentrate on recovering.
Begin your case by consulting with a knowledgeable workplace accident lawyer at Hill Law Firm. Call us at (210) 960-3939 or contact us online today to schedule a free consultation.