Texas is a leader in crude oil production. It is home to 32 active oil refineries that produce an average of almost 5,500 barrels of crude oil per month. Currently, the oil and natural gas industry in Texas employs approximately 443,000 workers. Unfortunately, these workers do not always enjoy safe work environments. They are often subjected to serious injury hazards, including plant and refinery explosions.
If you were recently injured or a loved one was killed in an industrial explosion, contact Hill Law Firm for a free case consultation. Our Fredericksburg plant and refinery explosion accident attorneys can help you seek justice for this life-changing disaster. We will guide you through every phase of the legal process to make sure you have what you need during this difficult time. Call (210) 960-3939 today.
Fredericksburg Plant & Refinery Explosion Resources
To immediately access the resources at any point on this page, click the corresponding links below.
Why Choose Our Lawyer?
Potential Injuries Caused by an Industrial Blast
Are Plant & Refinery Explosions Usually Preventable?
How We Can Help
Potential Damages Available in Your Case
Filing a Wrongful Death Lawsuit
Time Limit to File a Claim
Speak to Our Lawyer Today
Why Choose Our Fredericksburg Plant & Refinery Explosion Lawyer?
We know how to get real results. Our Fredericksburg personal injury law firm has recovered millions of dollars for our clients, including an $11.9 million settlement for an oil field explosion in Texas.
Our lawyers take pride in providing personalized care to every client and case. You will work closely with your attorney to work toward your individual case goals.
We operate on a contingency fee basis, meaning you will only pay attorney's fees if we collect financial compensation for your plant and refinery explosion case.
Our law firm represents clients in Fredericksburg and throughout Texas, including refinery workers in San Marcos, Boerne, Austin, and San Antonio.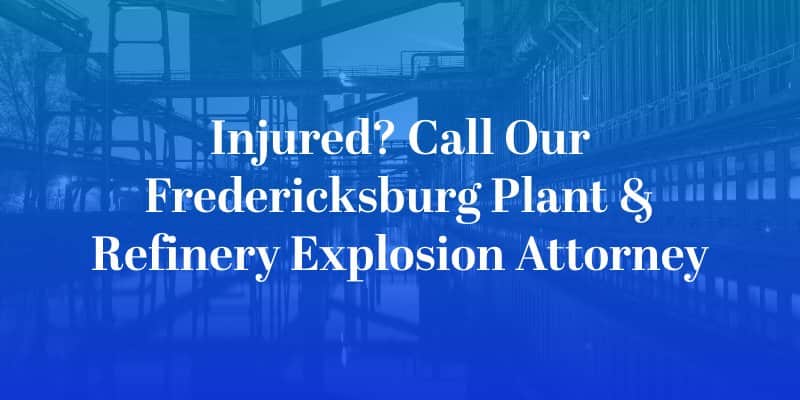 Potential Injuries Caused by an Industrial Explosion
Plant and refinery explosions are typically catastrophic events. The force of the blast can lead to blunt-force impact injuries and shrapnel damage, while fire from the explosion can cause severe burn injuries. Industrial explosions often result in multiple injured workers and come with a risk of fatalities.
Common injuries include:
Amputated limbs
Bone fractures
Burn injuries
Cuts and lacerations
Facial and eye injuries
Head injuries and concussions
Hearing and eyesight loss
Lung injuries
Post-traumatic stress disorder (PTSD)
Spinal cord injuries
Toxic exposure
Traumatic brain injuries
Wrongful death
At Hill Law Firm, our personal injury lawyers are prepared to handle any type of injury claim after an industrial explosion in Fredericksburg. We can help if your injuries include emotional damage from the traumatic incident or if you need continuing care, such as skin grafts and physical therapy. We can also help if you tragically lost a loved one in a fatal plant explosion.
Are Plant & Refinery Explosions Usually Preventable?
Plant and refinery explosions should never happen in safe workplaces. There are many safety laws and regulations in place that industrial plants must follow, including how to safely handle and contain flammable materials. Unfortunately, employers have been known to cut corners to save time and money – increasing the odds of related disasters.
Common causes of plant and refinery explosions include:
Noncompliance with state and federal laws
Improper handling of toxic or flammable substances
Failure to safely contain volatile materials
Flammable fumes leaking
Incorrect gas valve adjustments
Failure to properly prepare for power outages
No emergency plan or risk management measures in place
Poorly maintained equipment and related breakdowns
Lack of safety inspections or ignored property hazards
Defective equipment
Inadequate training of staff
Oil and gas is a dangerous industry by nature. It is critical for supervisors and others in positions of authority at oil refinery plants to ensure and maintain safe premises for workers. Contractors, workers and equipment manufacturers also have responsibilities in terms of industry safety. If any of these parties fall short of their duties of care, preventable disasters such as fires and explosions can occur.
How Our Fredericksburg Plant & Refinery Explosion Lawyer Can Help
If you or a loved one was involved in an oil refinery or industrial plant explosion in Fredericksburg, an attorney from Hill Law Firm can investigate to determine the cause of the event. Then, we can advise you on what to do next, such as how to pursue financial compensation through a personal injury or wrongful death claim.
We will provide personalized legal advice in the face of this tragedy to help you and your family move forward and start planning for the future. We can collect evidence, evaluate your losses, take care of the claims process, hire experts as needed, negotiate with insurance adjusters and – if necessary – take your case to trial in Gillespie County.
Potential Damages Available in Your Case
Filing a claim with assistance from an attorney after a plant or refinery explosion in Fredericksburg could lead to financial compensation for various economic and noneconomic damages. This may include:
Past and future medical bills
Long-term treatments, such as rehabilitation or counseling
Losses of income
Lost future capacity to earn due to a disability
Pain and suffering
PTSD
Anxiety or depression
Punitive damages, in rare cases
Do not rush into a fast settlement from an insurance company after being involved in an explosion or fire in the workplace. Instead, consult with an attorney to understand the true value of your claim.
Filing a Wrongful Death Lawsuit After a Refinery or Plant Blast
Sadly, chemical plant and oil refinery explosions can be fatal. If you lost a loved one in this type of tragedy, our attorneys can help you file a wrongful death claim. This type of lawsuit is similar to a personal injury claim, but it is brought by surviving loved ones on behalf of the deceased individual. A Fredericksburg wrongful death case can pay beneficiaries for funeral and burial costs, lost wages, lost household services, loss of consortium, and other losses suffered by grieving family members or the estate.
Time Limit to File a Claim After a Texas Industrial Explosion
Under Texas state law, you have no more than two years from the date of an industrial explosion to file a related personal injury claim, in most cases. Although there are rare exceptions under which this deadline may be extended, it is crucial to contact a Fredericksburg plant and refinery explosion attorney as soon as possible about a potential case. Do not miss your chance to seek justice and compensation by waiting too long.
Speak to Our Fredericksburg Plant & Refinery Explosion Attorney Today
At Hill Law Firm, we understand the physical, emotional and financial toll caused by being involved in a plant and refinery explosion. Our attorneys are here to help you negotiate for the case results that you need to pay for related costs and move forward from this traumatic incident. Seek justice with our assistance. Call (210) 960-3939 or contact us online to request a free consultation.