Taking a bus to travel to, from or around Fredericksburg, Texas should not end in a harmful accident. Unfortunately, bus, shuttle and transportation services cannot always be trusted to ensure the safety of their passengers or the public. If you have been injured in a recent bus accident in Fredericksburg, find out how our attorneys at Hill Law Firm can help. We are dedicated personal injury lawyers with years of experience handling bus accident cases on behalf of our clients. Contact us today for a free case evaluation.
Fredericksburg Bus Accident Resources
To immediately access the resources at any point on this page, click the corresponding links below.
Why Select Our Attorney?
Common Causes of Bus Accidents
How Our Lawyer Can Help
Determining Liability After a Bus Accident
Proving Negligence After a Bus Crash
Potential Damages Available in Your Case
What is the Applicable Statute of Limitations?
Speak to a Lawyer Today
Why Select Our Fredericksburg Bus Accident Attorney?
Fredericksburg personal injury lawyer Justin Hill has trial experience. While most bus accident cases reach settlements, his experience could lead to a higher settlement being offered from an insurer, as the carrier will want to avoid going to court.
Our law firm knows how to get results. We have secured millions of dollars in settlements and verdicts for past clients. We know what each case needs to succeed; you will benefit from a personalized legal strategy during your case.
We operate on a contingency fee basis. This means you will only pay your Fredericksburg bus accident attorney if we successfully secure financial compensation for your losses. No win means no fee – guaranteed.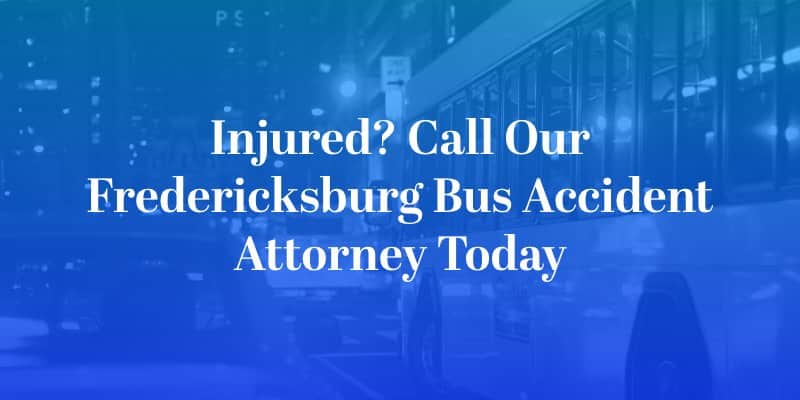 Common Causes of Fredericksburg Bus Accidents
Bus accidents are often caused by driver errors and human negligence. Negligence is the failure to use reasonable or ordinary care. Despite being responsible for the lives of dozens of passengers, bus drivers can make the same mistakes as other motor vehicle drivers in Texas.
Examples include:
 Distracted driving
Texting while driving
Driving while impaired
Driving drowsy or fatigued
Tailgating (following too closely)
Speeding
Reckless driving
Running a red light
Rolling through a stop sign
Violating traffic laws
Failing to yield the right-of-way
Making an unsafe or illegal lane change
Some bus accidents in Fredericksburg are not the fault of the bus driver but are caused by issues with the bus, such as part defects or equipment failures. Others are traced back to road defects, such as dangerous potholes.
How Our Fredericksburg Bus Accident Attorney Can Help
An attorney in Fredericksburg can investigate your bus accident to identify the cause of the crash and the person or party responsible. An attorney can help by providing a comprehensive investigation, collecting evidence of fault and strengthening your case by hiring experts. You can also benefit from greater peace of mind in the aftermath of a confusing bus accident by receiving personalized legal advice and guidance throughout the recovery process. You can trust your attorney to take care of confusing legal matters for you while you focus on healing.
Determining Liability After a Bus Accident
Holding someone liable means pursuing financial compensation from that person or entity for causing or significantly contributing to your bus accident. The party or parties you are accusing of causing your bus accident will become known as the defendant(s) in your personal injury claim. If you get involved in an accident on a privately owned bus, such as a party bus, you may be able to hold the individual bus company liable. However, most buses are not privately owned.
Most buses that operate in Fredericksburg are owned by companies, corporations or the government. This includes bus companies such as Greyhound, Stagecoach, wine tour companies, and shuttle and trolley services. An accident involving these buses could lead to a lawsuit filed against the company. If you were in a city or public bus accident, however, you may be able to hold the government agency liable.
Proving Negligence After a Bus Crash
Most motor vehicle accident cases in Texas involve the legal doctrine of negligence. As a general rule, accident victims must establish negligence to be eligible for financial compensation from an accused party. The burden of proof is a preponderance of the evidence, meaning enough evidence to show that the defendant is more likely than not responsible for the bus crash.
Negligence consists of four main elements:
Duty of care
Breach of duty
Causation
Damages
All bus companies and bus drivers are subject to a heightened duty of care in Texas since they are recognized as "common carriers." This means they must adhere to higher safety standards as operations that transport passengers. Any failure to meet this duty of care, resulting in a preventable bus accident and damages, could give a victim grounds to file an injury claim.
Potential Damages Available After a Bus Accident
After getting injured in a bus accident in Fredericksburg, you may be able to recover financial compensation for several of your related past and future losses. This compensation is also referred to as "damages" in personal injury law.
You may qualify for the following types of damages:
Hospital bills and medical expenses
Property damage repairs
Lost wages
Lost future capacity to earn
Pain and suffering
Loss of enjoyment of life
Loss of consortium
Wrongful death damages
Punitive damages
Proving your damages and seeking fair financial compensation from a defendant are tasks that a Fredericksburg car accident attorney from Hill Law Firm can help you with. We are passionate about pursuing justice and maximizing case results on behalf of our clients after harmful bus accidents in Texas.
What Is the Statute of Limitations for Texas Bus Accident Lawsuits?
Take swift action if you get injured in a bus accident in Fredericksburg and wish to file a personal injury claim in pursuit of financial compensation. According to Texas State law, the statute of limitations gives you no more than two years to bring your legal cause of action. In general, if you wait longer than two years after your bus accident to attempt to file, the courts will refuse to hear your case. This means you will lose the right to hold someone accountable. Contact an attorney as soon as possible to preserve your right to file a claim.
Speak to Our Fredericksburg Bus Accident Lawyer Today
You may be facing a future of uncertainty after getting into a bus accident in Fredericksburg. Help is available at Hill Law Firm. Our attorneys are dedicated to holding wrongdoers accountable on behalf of injured bus accident victims. We will work relentlessly to make sure you have everything you need to rebuild your life and move forward after a devastating crash. We can help if you were injured as a bus passenger, bicyclist, pedestrian or motor vehicle driver, or if a loved one died in a fatal bus accident.
Contact our Fredericksburg bus accident attorneys today to learn more during a free case consultation. Call (210) 960-3939 or fill out our online form and we will get back to you as soon as possible.