If you get bitten by a dog in Fredericksburg, Texas, you could suffer severe injuries. Dog attacks can lead to painful puncture wounds, infections and disfiguring scars. At Hill Law Firm, we are passionate about protecting the rights of dog bite injury victims in Fredericksburg. We can help you seek financial compensation from the responsible party to help you pay for your medical bills and move on from this traumatic incident.
To learn more about how we can help you with a dog bite injury claim in Fredericksburg, contact us at (210) 960-3939 for a free case consultation with an attorney.
Fredericksburg Dog Bite Resources
To immediately access the resources at any point on this page, click the corresponding links below.
Why Select Our Lawyer?
Who Is Most at Risk of a Dog Attack?
Does Texas Have a "One-Bite" Rule?
How Our Attorney Can Help
Determining Liability After a Dog Bite
Potential Compensation Available to a Dog Bite Victim
Call a Lawyer Today
Why Select Our Fredericksburg Dog Bite Lawyer?
We are trial-ready attorneys who will fight for you. Our lawyers are not intimidated by complicated cases, catastrophic injuries, or powerful adversaries and insurance companies.
Our Fredericksburg personal injury lawyers have a 99-percent case success rate. We have collected millions of dollars in successful settlements and verdicts for our clients.
We accept dog bite injury cases in Fredericksburg on a contingency fee basis. This means you will not pay us a penny in attorney's fees unless we win your case, guaranteed.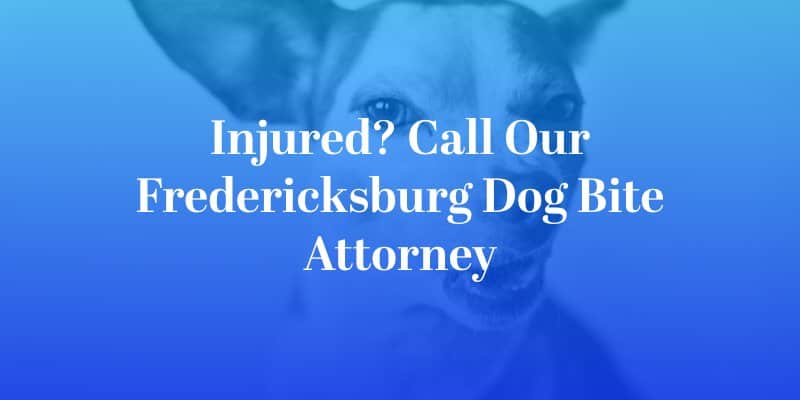 Who Is Most at Risk of a Dog Attack?
While anyone could fall victim to a dog bite injury in Fredericksburg, certain individuals are at an increased risk of suffering serious and fatal injuries in a dog attack. Children are the most at risk. Small children tend to be victims of dog bite injuries more often than adults. Sadly, many of these attacks result in fatalities. In 2019, 27 percent of dog bite fatality victims were under the age of nine.
Children are more at risk of serious dog bite injuries due to their inability to gauge when to avoid a potentially dangerous situation. For example, a child may pull a dog's tail, play with a dog's toys or take a dog's food. These scenarios could lead to a dog feeling defensive or aggressive and biting the child. It is important to teach children proper dog safety to help prevent attacks.
Does Texas Enforce a "One Bite Rule?"
There are two main types of dog bite injury laws: strict liability and the one-bite rule. Texas is a one-bite state. Under this law, a dog owner will only be held liable, or financially responsible, for a bite injury if the owner knew (or should have known with reasonable diligence) that the dog had dangerous or vicious propensities. In general, this means that the owner will be liable if the dog had bitten someone or exhibited dangerous behaviors in the past.
A strict liability law, on the other hand, allows injured victims to hold pet owners liable for their injuries regardless of any former viciousness of the dog or the owner's knowledge thereof. Strict liability dog bite laws are more favorable toward the plaintiff or injured party. If you wish to file a claim in Texas, you or your Fredericksburg dog bite injury lawyer will have to prove that the pet owner was negligent or failed to use proper care in preventing the attack.
How Our Fredericksburg Dog Bite Attorney Can Help
Proving a dog bite injury claim requires clear and convincing evidence that the pet owner knew of the dog's vicious propensities yet failed to reasonably prevent the bite. You may need an attorney to help you establish the elements of proof. An attorney can thoroughly investigate the dog bite incident and collect evidence to support your claim, such as eyewitness statements and medical records.
Some cases require expert testimony. An expert is someone with a high level of knowledge or experience in a subject who can give opinions on facts relevant to the case, such as the severity of the victim's injuries. A law firm will have the resources to hire experts and negotiate a fair settlement on your behalf. A lawyer can take your case to trial, if necessary, to achieve the best possible results.
Determining Liability After a Dog Bite
Determining liability, or who will pay for the damage, after a dog bite in Fredericksburg requires an understanding of Texas' dog bite injury law and the circumstances surrounding the incident. Since negligence is required to be proven in most dog bite injury claims in Texas, an investigation into the pet owner's actions or failure to act may be necessary.
If, for example, the pet owner knew that the dog had the propensity to be vicious, he or she had a responsibility to keep the dog leashed, muzzled or in an enclosed area to reasonably prevent incidents. The failure to take reasonable steps to prevent a dog attack could place liability on the pet owner. Liability for dog bite incidents could also be assigned to the controller of the dog at the time, such as a dog walker or pet sitter.
Finally, the owner or controller of the property where a dog attack occurred could be held liable in some circumstances. Property owners have a responsibility to ensure the reasonable safety of their premises, including controlling dangerous dogs. The failure to do so could lead to property owner or landlord liability for a dog attack.
Potential Compensation Available to a Dog Bite Victim
A successful dog bite injury claim in Fredericksburg could result in payment from the pet owner's insurance company to help you cover the costs associated with your injuries. Compensation can fall into two categories: economic and noneconomic damages.
Available compensation may include:
Medical bills (past and future)
Lost wages
Property damage
Pain and suffering
Permanent disability
Loss of enjoyment of life
Counseling or psychological care
Punitive damages, in some cases
If a child or another victim tragically loses his or her life in a fatal dog attack, surviving family members may be eligible for wrongful death damages. These can include lost wages, loss of household services, loss of consortium, and survivors' grief and mental anguish. A wrongful death lawyer in Fredericksburg can help you determine your legal options.
Speak to Our Fredericksburg Dog Bite Attorney Today
If you get injured in a dog attack, try to remain calm and document the incident. Get immediate medical care for your injuries. Then, as you explore your legal rights and options, contact Hill Law Firm to request a free case consultation. You can meet with one of our attorneys and tell your story during an initial case review. Then, you will receive personalized legal advice from an experienced Fredericksburg dog bite injury attorney about what to do next.
We care about our clients and will be there for you during this difficult time. Call (210) 960-3939 or contact us online today to request your free case consultation.