If you or a loved one has suffered burn injuries in an accident in Fredericksburg, you may not know what to expect from the future. You could be facing a painful recovery period, medical treatments and follow-up care, and lost wages from missed time at work. Help is available from the Fredericksburg burn injury attorneys at Hill Law Firm.
Our lawyers can help you with an injury claim in pursuit of financial compensation to help you cover your losses during this difficult time. We are committed, experienced and aggressive personal injury lawyers. Contact us today for a free case consultation.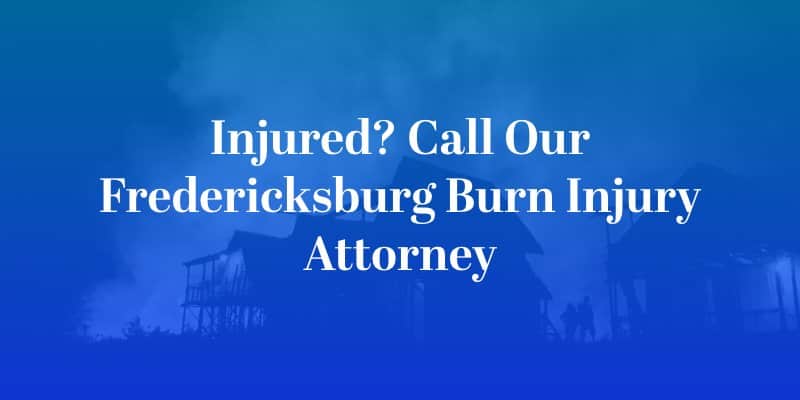 How a Fredericksburg Burn Injury Attorney Can Help
Hiring an attorney allows you to concentrate on healing while your lawyer takes care of legal processes for you. This includes investigating your burn injury accident, collecting your medical records, gathering evidence, and filing a claim against one or more responsible parties. A lawyer knows how to negotiate with an insurance company to achieve a fair case resolution on your behalf – such as a settlement that allows for future estimated medical costs. If necessary, your Fredericksburg personal injury attorney can take your burn injury case to court.
Types of Burn Injuries
There are four types of burn injuries: thermal, chemical, electrical and radiation. Thermal burns are the most common, and are caused by contact with a source of heat. Chemical burns can occur if a victim touches a caustic chemical. Contact with electricity can cause electrical burns, while sources of radiation (such as the sun or a tanning bed) can result in radiation burns.
Common causes of burn injuries in Fredericksburg include:
Hot metal, glass or other objects
Hot liquid or steam
Automobile accidents
Truck accidents
Work accidents
Fires and explosions
Defective products
Contact with hazardous chemicals
Electrical currents
Overexposure to radiation
Burn injuries are categorized into three degrees in terms of severity. First-degree burns are the most minor, while third-degree burns are severe and can be fatal. With a second-degree or third-degree burn, the victim may suffer permanent scarring, a risk of infection and other complications.
What Elements Are Necessary for a Burn Injury Claim in Texas?
To have grounds for a burn injury claim in Fredericksburg, one or more parties must be responsible for causing the burns. Most cases are based on negligence, or the failure to use proper care.
Negligence is composed of four elements:
Duty
Breach of duty
Causation
Damages
Essentially, you or your lawyer must prove based on a preponderance of the evidence that another person or party owed you a responsibility to behave with reasonable care, fell short of this responsibility and caused your burn injuries.
Financial Compensation May Be Available
Bringing a burn injury claim against one or more parties could result in a financial settlement or judgment award to help you and your family pay for necessary care and move forward without as much financial stress.
The compensation available may include:
Medical costs, including future care
Losses of income and earning capacity
Permanent disability, scarring or disfigurement
Damage to your home, vehicle or property
Pain and suffering
Loss of consortium
Learn about the potential value of your claim by consulting with one of our attorneys. An insurance company will want to minimize your payout to maximize its profits, but a lawyer will protect your best interests. Before accepting a fast insurance settlement, contact us.
Contact a Fredericksburg Burn Injury Lawyer Today
If you or a loved one is struggling after suffering a burn injury in any type of accident or incident in Fredericksburg, Texas, contact the burn injury lawyers at Hill Law Firm for a free case consultation. Our burn and carbon monoxide poisoning attorney in Fredericksburg can meet with you to discuss your case and legal options in detail. Call (210) 960-3939 today.