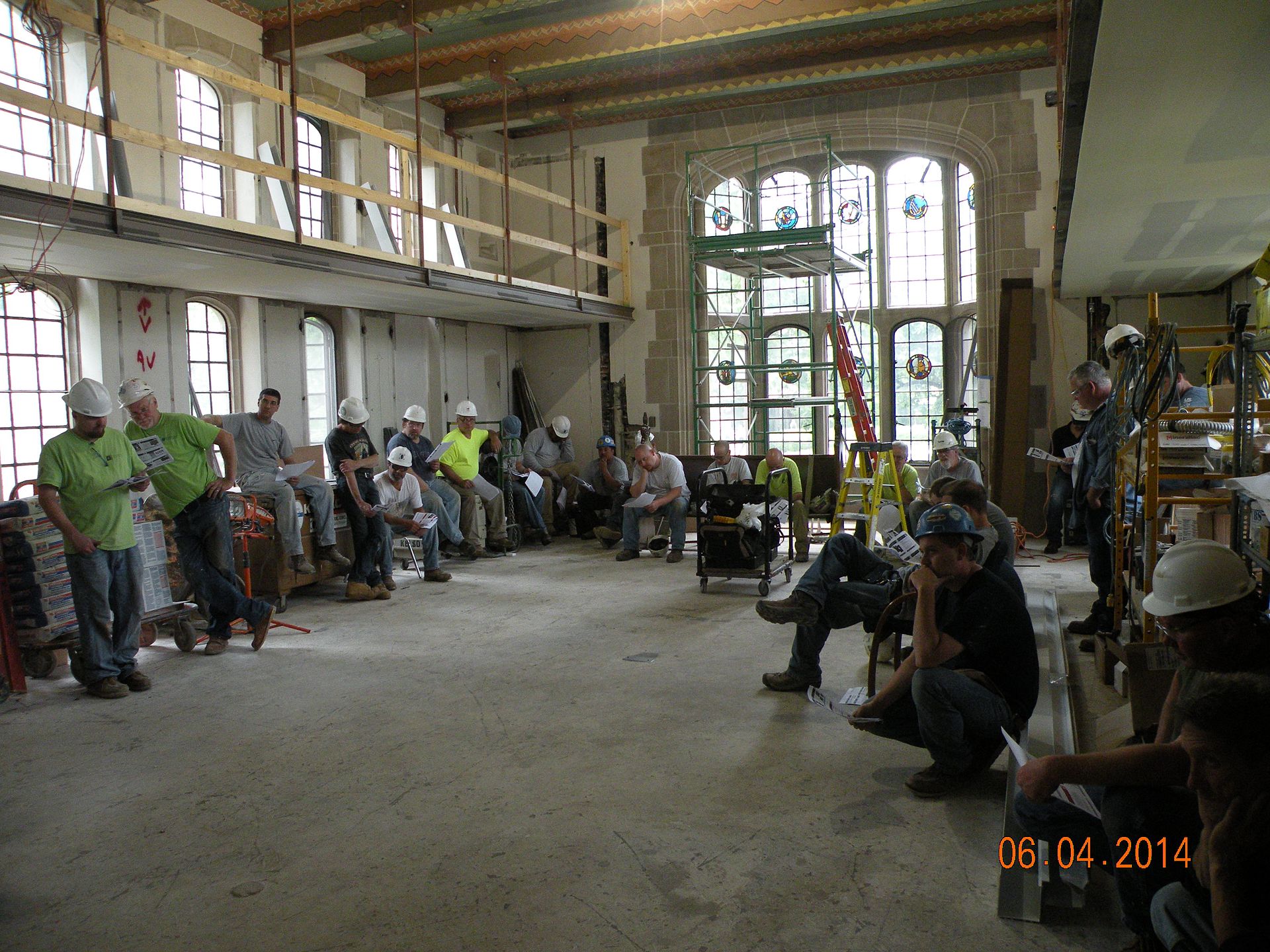 With this, the fifth entry in our ongoing series on the state of workplace safety in San Antonio, Bexar County, and Texas in general, we discuss another of the most common safety issues in the state, having to do with the use of scaffolding at work sites. Then, last week, the news brought the subject home.
According to New York City fire officials,  at least five construction workers were killed last Wednesday, July 15, 2020, when a 14-story-high scaffolding structure collapsed at the site of an under-construction New York City office building. Also, three firefighters were hurt slightly hurt in the collapse, which left behind a pile of steel, stone, and wood that reached up to the third floor of the building.
Some witnesses suggested the scene was not unlike the search for victims in the wake of the World Trade Center terrorist attack on Sept. 11, 2001. New York City police and fire department personnel sifted through the rubble looking for anyone who may be trapped underneath. At the same time, search dog teams walked over the pile as the animals tried to pick up the scent of any victims beneath. In all, about 250 first responders arrived at the scene, including some who had worked in rescue operations at the World Trade Center in 2001. Most worked in  "bucket brigades," in which they cleared rubble and handed steel rods from one to another as they attempted to clear the pile of debris.
While this tragedy happened in New York City, don't make the mistake of thinking such a thing can't happen here in San Antonio. In fact, scaffolding is a common sight anytime the economy is going well and construction is common. Scaffolding is used on a large number of construction projects because it allows workers to be able to reach heights not possible with a conventional ladder. According to the Occupational Safety and Health Administration (OSHA), roughly 65 percent of  construction projects utilize scaffolding somewhere in the project. Nationwide, the agency suggests that taking all proper steps to protect those workers using scaffolding, employers could prevent 4,500 injuries and 60 deaths nationwide every year, with San Antonio and Texas suffering a fair share of those.
The Primary Causes of Scaffolding Accidents
Recently, the Bureau of Labor Statistics (BLS) completed a study showing that 72 percent of workers who have been  injured in scaffolding accidents suggested that  one of the following was the cause of the accident:
The worker slipped;
The worker was struck by a falling object;
The planking or support gave out, usually because certain scaffold parts failed, or because the scaffolding was either defective or not properly maintained, or because it came with defective parts, or the instructions were either not sufficient or not followed properly.
OSHA has established strict standards for scaffolding. If followed, these standards will almost always prevent most scaffold accidents from even occurring. In fact, if you suspect that OSHA guidelines are not being followed at your construction site, you should not hesitate to report it to OSHA.
The Basic Dos and Don'ts of Scaffolding Safety
Here are some simple steps any workplace can take to maintain control of the hazards present when working on a scaffold:
DOs:
Inspect the scaffold before every shift. Use a standard checklist or mobile inspection app to ensure that the scaffold is in proper working order.
Follow the manufacturer's instructions completely when erecting the scaffold, and only do so under the direct supervision of a competent person.
Provide proper training to all workers at the site who may use the scaffolding at some point.
Make sure every worker at the site is equipped with and is using appropriate personal protective equipment (PPE).
Have a handhold above the scaffold platform.
Know the weight capacity of the scaffold and never exceed that.
Level the scaffold each time it is moved.
Do not extend adjusting leg screws more than 12 inches.
Ensure that all workers are using safety belts and lanyards when working on scaffolding. Attach the lanyard to a secure member of the scaffold.
Safely use the ladder when climbing the cross braces for access to the scaffold.
Always wear non-slip footwear and keep both feet on the decking at all times;
All workers should stay off the scaffold during loading or unloading.
Ensure planking is overlapping or secured from movement.
Be aware of coworkers working above and below you at all times, as well as others working on the scaffold.
Use the debris chutes or lower things by hoist or by hand.
Chock the wheels of the rolling scaffold, and use wheel blocks, and also lock the wheels with the wheel-lock, before using the scaffold.
Always use netting to catch anything that falls.
DON'Ts:
Never work on platforms or scaffolds unless they are fully planked.
Never use a scaffold unless all flooring and guardrails are in place.
Never stand on ties, guardrails, or extensions.
Never use the scaffold if it appears damaged in any way, or if there are components missing, including planking, guardrails, toe boards, debris nets, or protective canopies.
Never use unstable objects like barrels, boxes, loose brick, or concrete blocks to support scaffolds, increase your work height or planks.
Never walk on scaffold planking that is wet, icy, or muddy.
Avoid using a scaffold during bad weather, including heavy rain, sleet, ice snow, or strong winds.
Never climb on any portion of the scaffold frame not intended for climbing, and never climb with any materials or tools in your hand. Always hoist them up to the scaffold separately.
Never jump between scaffolding, and never lean or overreach the guardrails.
Never rock the scaffold.
Never leave anything on the scaffold at the end of your shift.
Never overload the scaffold.
Never throw anything "overboard" without a spotter.
Never move a mobile scaffold if anyone is using it.
As with anything else related to workplace safety,  communication is key, which is why it is important to implement a scaffold tagging schedule. Tags identify whether a scaffold is safe or unsafe for use through the use of red, green, or blue tags. Consult with an experienced construction accident attorney in San Antonio if you've suffered an injury in the workplace.