Dogs may be man's best friend, but they are also animals, with behaviors and motives we don't always understand. A dog attack is particularly terrifying, often leaving victims with emotional scars as well as physical ones. When a pet owner in Texas has good reason to know that their dog is capable of biting, allowing the dog to attack and bite a person is an act of negligence.
If you or a family member have been injured by a dog bite in Kerrville or the surrounding area, the Texas dog bite attorneys at Hill Law Firm are ready to help. We have deep compassion for victims of this serious trauma. Contact our Kerrville dog bite lawyer today for a free consultation on your case so we can hold the negligent dog owner accountable for the harm done to you and your family.
Kerrville Dog Bite Resources
To immediately access the resources at any point on this page, click the corresponding links below.
Why Choose Our Lawyer?
What is the "One-Bite Rule" in Texas?
Proving Liability for a Dog Attack
Potential Damages Available in Your Case
Statute of Limitations for Texas Dog Bite Cases
Call a Lawyer Today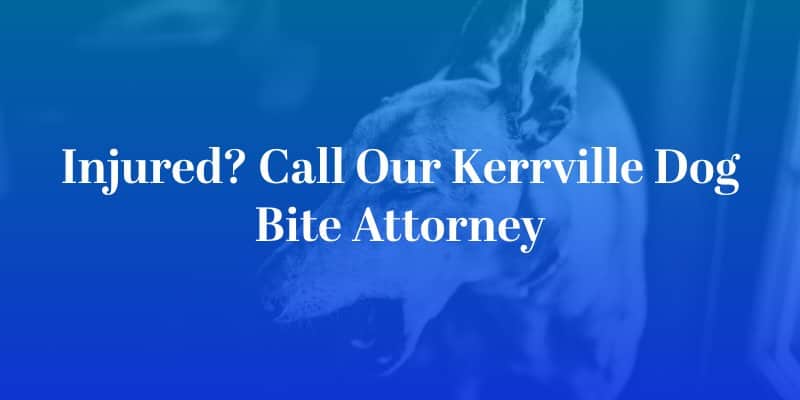 Why Choose Our Dog Bite Attorney in Kerrville?
Texas law holds dog owners to a duty of care to prevent their pets from harming others. If a Texas dog owner breaches this duty, we are ready to prove their liability and make a claim for compensation for your damages. "Damages" in a personal injury claim refer to the economic and non-economic consequences of an injury. Because dog bite injuries cause serious trauma, medical costs quickly add up. Your Kerrville dog bite attorney from Hill Law Firm will provide the following benefits for your Texas dog bite case:
Over a decade of experience in securing financial compensation for injury victims in Kerrville, including victims of serious dog attacks
A track record of success in securing millions of dollars for our injured clients
Award-winning attorneys who are highly respected among their peers, including rating as a top 100 attorney by America's Top 100, LLC
Skilled investigators and powerful litigators to maximize your chances of recovering full compensation for your damages
A compassionate team of legal minds with a resolution-based strategy for helping our clients achieve justice in the form of financial compensation
At Hill Law Firm, we offer free consultations to our Texas dog bite victims and only take a fee after our personal injury attorneys in Kerrville secure your settlement or court award for damages.
What is the "One-Bite Rule" in Texas?
Some states take a pure liability stand for pet owners, holding them accountable for their dog's actions even if they had no way of knowing their dog might bite. However, Texas is an owner-negligence state for dog bites. Sometimes called the "one-bite rule," a negligence state for dog bites means a bite victim must prove that the owner showed negligence because they were aware that their dog was capable of biting. Typically this requires documenting evidence that the dog has bitten at least one other time or has a history of aggressive behavior. If a pet owner knows their dog could bite, they have a duty of care toward others to prevent the dog from having contact with others by keeping the dog securely fenced, leashed, or otherwise contained.
Proving Liability for a Dog Attack
In a Texas dog bite claim, your attorney from Hill Law Firm will diligently investigate all aspects of the dog attack that caused your injury. Recovering compensation for damages after a dog attack in Kerrville requires demonstrating that the owner acted negligently in allowing the dog to bite because the dog's previous history of biting or aggression required them to take measures to prevent the dog from harming others. Liability in dog bites means proving the following:
The owner owed a duty of care to prevent harm to others by securing the dog and preventing it from biting
The owner breached this duty of care by acting negligently
The negligent breach of duty directly caused your injury
You've suffered significant damages from the injury
Damages in a dog bite claim are both economic and non-economic. While compensation for intangible, non-economic damages can't erase pain and trauma, it provides victims with a sense of justice and relieves financial burdens during recovery.
Potential Damages Available in Your Case
Dog bites are expensive as well as painful and traumatizing. A dog's jagged teeth cause bruises, lacerations, tearing wounds, soft tissue damage, and significant scarring. Dog bites are also prone to serious infections and require antibiotic treatments. In some cases, a dog attack can leave the victim disfigured so they require reconstructive surgery to improve appearance and function in damaged areas. Successful dog bite claims in Texas commonly result in compensation for damages such as the following:
Medical expenses
Future medical costs for reconstructive surgery and/or rehabilitation
Reimbursement for lost income
Future income loss
Pain and suffering
Scarring and disfigurement compensation
Emotional trauma, PTSD, anxiety, or depression
With the help of an experienced dog bite attorney in Kerrville, you can hold the negligent dog owner accountable. Typically, compensation for damages in a dog bite claim is paid by the pet owner's property liability insurance, even if the dog bites a victim somewhere other than the owner's property.
Statute of Limitations for Texas Dog Bite Cases
Like all states, Texas places a limit on the amount of time after an injury that the victim may file a lawsuit in court for their damages. This serves to protect defendants from living under the ongoing threat of a lawsuit and also ensures that evidence is still available and eyewitness testimony remains fresh if the case goes to court. Texas allows up to two years from the date of the dog bite for victims to take the case to court in a lawsuit.
The vast majority of dog bite claims are resolved out of court through a settlement from the defendant's insurance company, especially with representation by a Kerrville dog bite lawyer with a resolution-based approach. Only in the relatively small chance that we don't secure a full settlement for your damages does the case require a judge and jury to decide. If this is the case for your claim, your attorney from Hill Law Firm will file your lawsuit within the state's two-year statute of limitations and aggressively argue your case in court to win a positive jury verdict.
Speak to Our Kerrville Dog Bite Lawyer Today
At Hill Law Firm in Kerrville, we're ready to begin strategizing the best way to gain the largest possible settlement to help you through this difficult time. We understand the terror and pain associated with dog attacks. Contact our Kerrville law office today so we can hear about the unique circumstances of your case and begin helping you maximize your financial recovery while you focus on your physical and emotional recovery.