Carbon monoxide (CO) has been called the silent killer. It is a colorless, odorless gas that can cause severe organ damage and even death to those who are exposed in large quantities. In many cases, victims do not notice carbon monoxide poisoning until it is too late. If you or a loved one has been injured in a carbon monoxide poisoning accident, contact the attorneys at The Hill Law Firm to find out if someone can be held accountable. Our Kerrville carbon monoxide poisoning accident lawyer will help you understand your legal rights during a free case review.
Kerrville Carbon Monoxide Poisoning Resources
To immediately access the resources at any point on this page, click the corresponding links below.
Why Choose The Hill Law Firm
What Is/What Causes Carbon Monoxide Poisoning?
Symptoms/Long Term Effects
Who Is Liable
Contact Us
Why Choose The Hill Law Firm?
We are a trusted and reputable source of high-quality legal representation in Kerrville. Our Kerrville personal injury lawyers have years of experience and a long track record of success.
You will receive individualized care and attention from your carbon monoxide poisoning attorney. We never pass cases off to paralegals or assistants.
We accept carbon monoxide poisoning cases in Kerrville on a contingency fee basis. This means you will only pay attorney's fees if we secure compensation for your case.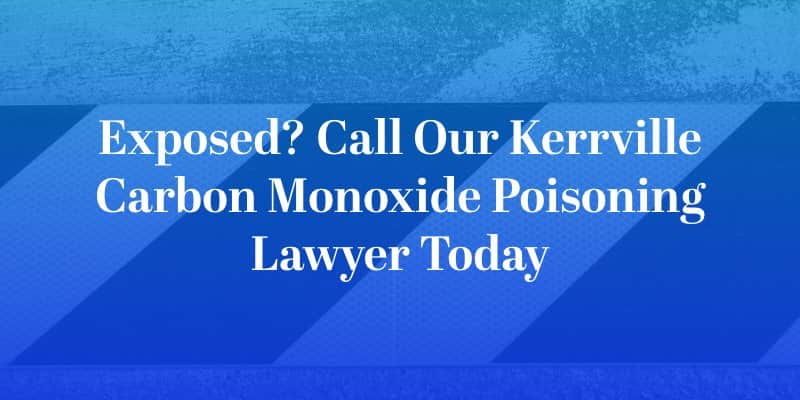 What Is Carbon Monoxide Poisoning? What Causes It?
Carbon monoxide poisoning occurs when there is too much of this toxic gas in the air, resulting in an individual inhaling dangerous amounts of CO. The carbon monoxide will build up in the blood and replace the oxygen cells, starving the victim of oxygen. If not caught in time, oxygen deprivation from CO poisoning can result in symptoms such as dizziness, loss of consciousness and organ damage.
Carbon monoxide poisoning is caused by an excess of CO produced by inefficient fuel burning. Wood, charcoal, gas and propane all emit carbon monoxide when burned. If an appliance such as an oven, engine or furnace does not efficiently burn fuel, an excessive amount of CO can build up in the atmosphere. In enclosed spaces, this buildup can be worse and expose people in the room to the risk of carbon monoxide poisoning.
What Are the Symptoms and Long-Term Effects of Carbon Monoxide Poisoning?
Carbon monoxide poisoning can have a wide range of serious effects on a victim. CO poisoning affects the brain and cardiovascular system the most. Prolonged exposure to carbon monoxide over time can cause the following:
Flu-like symptoms
Headache
Dizziness
Nausea or vomiting
Shortness of breath
Disorientation or confusion
Weakness or fatigue
Loss of muscle control
Loss of consciousness or coma
Even after recovering from carbon monoxide poisoning, a victim's nervous system and brain can suffer long-term damage. This may have effects such as memory loss, trouble with motor function and personality changes.
Who Can Be Held Liable?
It may be possible to file a personal injury claim for a case of carbon monoxide poisoning in Kerrville if one or more parties caused or contributed to the event. For example, the manufacturer of a faulty or defective product that produced too much carbon monoxide could be held responsible with a product liability lawsuit.
If a premises had old, broken or missing carbon monoxide detectors, the owner of the property could be held liable with a premises liability suit. Carbon monoxide poisoning that occurs at work could lead to a lawsuit against an employer or a workers' compensation claim. Consult with our attorneys to find out if you have grounds for a claim.
Contact Our Kerrville Carbon Monoxide Poisoning Lawyer Today
At The Hill Law Firm, we will work relentlessly to hold someone responsible for the full extent of your carbon monoxide poisoning damages, including how the incident has impacted you and will continue to affect you and your family in the future. We represent carbon monoxide poisoning victims in Kerrville and throughout Texas.
Learn more about how our Kerrville carbon monoxide poisoning attorneys can help you during this difficult time. Request a free case evaluation at (210) 960-3939 or by contacting us online today.