Oil refineries are complex operations with multi-stage processes involving highly volatile and explosive substances. More than two out of every 100 full-time oil refinery workers experienced on-the-job injuries in a single recent year. Oil and gas refineries in Texas experience three times the rate of employee work absences compared to other industries due to high rates of workplace accidents and injuries.
Explosions in oil refineries are especially catastrophic, causing severe injuries and death to victims. When explosions in refineries cause injuries, injury victims suffer consequences not only to their physical health but also to their finances, sometimes resulting in significant hardship for families.
If you or a loved one were injured in a refinery explosion in Texas, a refinery explosion attorney in Kerrville can help. Reach out to Hill Law Firm today to speak to an attorney who's secured millions in compensation for clients injured in refinery and oil field explosions.
Kerrville Refinery Explosion Resources
To immediately access the resources at any point on this page, click the corresponding links below.
Why Hire Our Lawyer?
Potential Causes of Refinery Explosions
Common Injuries in Refinery Explosions
Why Do You Need an Attorney?
Statute of Limitations for Texas Refinery Explosion Lawsuits
Steps to Follow After a Refinery Explosion
Speak to a Lawyer Today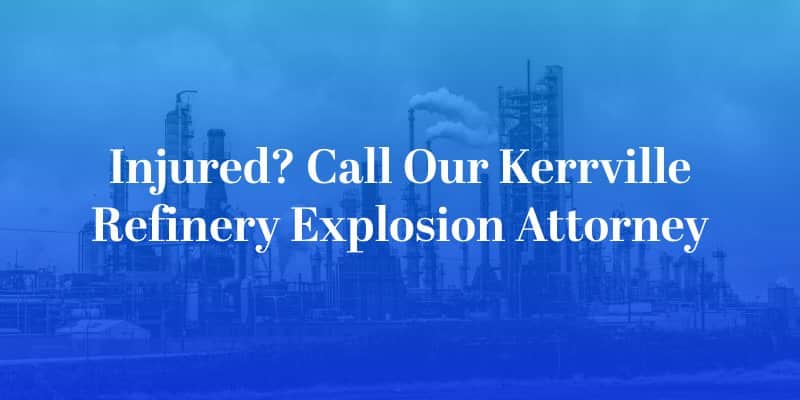 Why Hire Hill Law Firm's Refinery Explosion Attorney?
No one should go it alone when taking on powerful refineries and their mega-insurance companies. With a refinery explosion attorney from Hill Law Firm on your side, you'll have the following advantages in your case:
A Kerrville personal injury attorney with a reputation for success in holding large refineries accountable for injuries to their employees
A skilled investigator to determine the negligence that caused the accident and where liability lies
An aggressive advocate for refinery workers injured in explosions and other accidents in refineries and gas fields in Texas
The collaborative skills and knowledge of a legal team that's won awards and favorable recognition from peers
A locally known Kerrville trial attorney who has successfully represented injured clients in Texas since 2007
Our firm offers free case consultations so we can begin a strong strategy for your compensation with no fees until after we secure your compensation.
Potential Causes of Refinery Explosions
Workers at refineries and oil fields face a high risk of injuries at work. Gases, heat build-up, and volatile compounds all contribute to an increased risk of deadly fires, chemical exposures, and explosions. Common causes of refinery explosions include the following:
Negligent employers who fail to rigidly adhere to OSHA requirements to create a safe workplace for employees
Inadequate facility management
Poor hiring practices
Inadequate training procedures
Improperly maintained boilers and other equipment
Workers smoking on the job
Electrical hazards
Malfunctioning or defective equipment
Improper labeling
When explosions, fires, and toxic exposures occur in refineries, injuries to workers can be severe, with lasting implications on the victim's life and livelihood.
Common Injuries in Refinery Explosions
Refinery explosions and accidents cause severe and even grave injuries. Some result in fatalities, in which case, surviving family members may make a claim for compensation for their loss through a wrongful death attorney in Kerrville. Oil refinery injuries range from mild to severe and include injuries such as the following:
Burn injuries
Traumatic amputations
Head injuries and traumatic brain injuries
Blunt force injuries
Fractures
Middle ear damage
Ruptured eardrums
Ruptured eye globes
Impalement
Abdominal injuries
Blast lung injury
Lacerations and bruises
Injured refinery workers may require painful surgeries, medical procedures, rehabilitation, and lengthy recovery times. Some face long-term disabilities, disfigurement, and ongoing health problems that make earning a living difficult. From trauma injuries to burn accident lawsuits in Kerrville, we can help. A refinery explosion attorney from Hill Law Firm can help victims and their families recover compensation for their damages through a settlement or jury award.
Why Do You Need a Kerrville Refinery Explosion Attorney?
After you or a loved one experiences injuries in a refinery explosion or other refinery or oil field accidents, it's important to act as soon as possible to gain experienced legal representation. It's likely the refinery owner or manager will quickly begin a legal defense to protect themselves and minimize their responsibility for the accident so you won't recover compensation beyond workers' compensation benefits which allow nothing for your pain and suffering and other non-economic damages.
Refineries and oil field owners and managers have the reputation, resources, and experience to take on the most powerful refineries and their large insurance companies. Your attorney will work with officials and regulators to determine the cause of the explosion, fire, or other incident. They will prove liability through the following:
A thorough examination of all records
A review of refinery safety records
A review of surveillance videos and photos
Taking eyewitness statements
Consulting with accident reconstruction experts
Your refinery accident attorney in Kerrville will aggressively protect your rights and best interests throughout the legal process of your claim for damages, including negotiating with the insurance company to maximize the settlement for your compensation or pursue the matter before a judge and jury if required to secure a jury award for damages.
Statute of Limitations for Texas Refinery Explosion Lawsuits
Like all states, Texas places a time limit on the ability to file a lawsuit for a personal injury—including for refinery explosion injuries. In Texas, injury victims have two years from the date of the injury to file a lawsuit. Should the insurance company fail to offer an ample settlement for damages, your Kerrville refinery explosion attorney from Hill Law Firm will file a lawsuit within the window required for litigation in court and aggressively defend your rights in front of a judge and jury.
Steps to Follow After a Refinery Explosion
What you do to protect yourself after a refinery explosion should continue beyond the initial emergency care on the scene. The following steps can help protect your physical and financial future:
Accept emergency transportation to the hospital or go to an emergency room as soon as possible
Ask for a thorough medical evaluation and a doctor's report documenting your injuries, your doctor's treatment recommendations, and your prognosis for the future
Use your phone or a loved one's to record all the details you remember about the moments leading up to the explosion and the explosion itself while it's fresh in your mind
Preserve your clothing and any personal items you had with you in the explosion in a sealed plastic bag
Consult with the refinery explosion attorneys at Kerrville before giving any recorded statements, signing any insurance or workers' compensation documents, or accepting a low settlement in exchange for signing away your right to file a lawsuit
Refer all communication with workers' compensation, your employer, and insurance representatives to your lawyer
Be sure to follow your doctor's recommendations carefully, make all appointments, and fill every prescription
It's important to avoid posting on social media before you settle your claim. Your Hill Law Firm refinery explosion attorney in Kerrville knows how to use the evidence you preserve after an explosion to maximize your settlement.
Call Our Refinery Explosion Attorney in Kerrville Today
Don't wait before getting legal counsel after experiencing serious injuries at your workplace. Refinery explosions send an employee's life spinning off course in a sudden catastrophic moment. The attorneys at Hill Law Firm are ready to help. Call today for a free consultation so we can put the benefit of our experience and resources behind your refinery explosion claim.