Amazon is the largest online retailer and marketplace in the world. With over 1.6 million packages shipped per day, Amazon keeps up with consumer demand using a transportation fleet of more than 50,000 delivery vehicles and 275,000 drivers. There are also hundreds of thousands of additional Flex drivers contracted by Amazon. With so many deliveries, accidents involving Amazon vehicles are inevitable. This does include a Kerrville Amazon Delivery Accident.
If you have been injured in an accident with an Amazon delivery truck or van, it can be difficult to obtain the financial compensation that you deserve. The Kerrville Amazon delivery accident attorneys at The Hill Law Firm can help you protect your rights. We will use personalized legal strategies to fight for the case results that you need. Contact us today to begin with a free case evaluation.
Kerrville Amazon Delivery Accident Resources
To immediately access the resources at any point on this page, click the corresponding links below.
Why Hire The Hill Law Firm?
Possible Causes of a Crash
Types of Amazon Truck Accidents
How Our Lawyer Can Help
Who Is Liable?
Proving Negligence
Call an Attorney Today
Why Hire The Hill Law Firm After a Kerrville Amazon Delivery Accident?
Our Kerrville personal injury attorneys are ready to fight for you. We have recovered millions on behalf of our clients and have a 99 percent case success rate.
We have the resources to go up against powerful defendants such as Amazon in and out of court. We are not intimidated by major corporations or their legal teams.
Our Amazon delivery accident attorneys will not charge you anything unless we win your case. Our law firm accepts all personal injury cases in Texas on a contingency fee basis.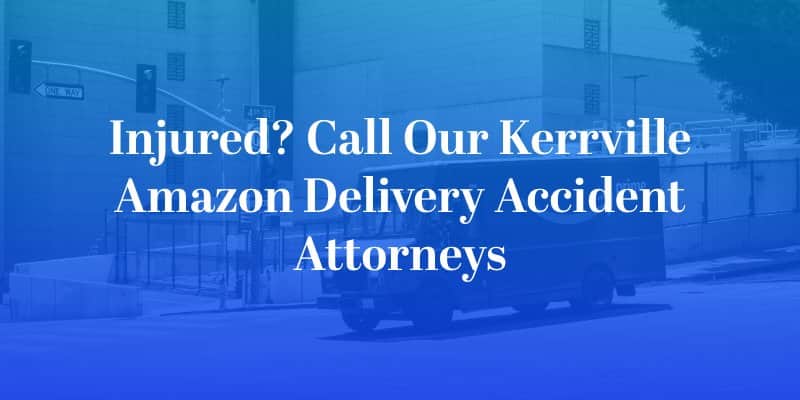 Possible Causes of an Amazon Delivery Vehicle Crash
Amazon delivery drivers have a responsibility to adhere to traffic laws and roadway rules while delivering packages. This includes yielding the right-of-way to others, when applicable, and obeying all traffic signs and signals. Like other drivers, however, drivers working for Amazon are prone to making dangerous mistakes and careless decisions.
Potential Amazon vehicle accident causes include:
Distracted driving
Driver inattention
Cell phone use
Reading package labels or house numbers
Drowsy driving
Driving under the influence
Speeding
Reckless driving
Tight work schedules
Running red lights or stop signs
Failing to yield to others
Following too closely
Delivery vehicle defects
Bad brakes
Overloaded truck or van
Poor road or weather conditions
Driver negligence, or the failure to use proper care, is behind most serious accidents and injuries involving Amazon vehicles in Texas. Some collisions are traced back to other causes, however, such as poor Amazon fleet maintenance or road defects like potholes. An investigation of your accident by one of our attorneys can help identify the cause.
Types of Amazon Truck Accidents
Amazon delivery vehicles in Kerrville, Texas are often involved in a variety of traffic accidents. Common examples include:
Bicycle and pedestrian accidents
Blind spot accidents
Cargo-related accidents
Jackknife accidents
Lane-change accidents
Rear-end collisions
T-bone accidents
Truck rollovers
The mechanics of your automobile accident can be used to determine its cause and identify the at-fault party or parties. Our Kerrville automobile accident lawyers may be able to determine who is liable for damages you suffered in the crash.
How a Kerrville Amazon Delivery Accident Lawyer Can Help
Amazon is an enormous corporation with substantial resources and an aggressive legal team defending it from liability for accidents involving its delivery vehicles and drivers. Filing a claim against Amazon for your injuries and losses is not easy. You need to be prepared to go up against a major insurance corporation and a team of lawyers and legal experts who may challenge your claim.
Protect yourself by hiring an experienced Amazon delivery accident attorney in Kerrville. An attorney will have the experience, knowledge and resources to match Amazon during a personal injury claim. You can trust your attorney to explore all of the legal options available to you and pursue maximum financial compensation on your behalf, even if this means taking your case to trial in Kerr County.
Your lawyer will take care of confusing paperwork, search for and collect evidence to support your case, hire qualified experts, prevent Amazon and its legal team from taking advantage of you, and pursue fair financial compensation for your damages so that you can move forward. Hiring an experienced attorney will give you peace of mind during this difficult time.
Who Can Be Liable for an Amazon Delivery Accident in Kerrville?
Understanding liability, or legal and financial responsibility, takes knowing your state's insurance laws and how they will apply to your particular accident case. Texas is a fault state, which means the person or party most at fault for an automobile accident will have to pay for the wreck.
Liability in a case involving an Amazon delivery vehicle could go to any of the following or a combination of multiple parties:
The driver of the delivery vehicle for errors or negligence.
A third-party driver in a multi-vehicle collision.
Amazon.com, Inc. for poor fleet maintenance or negligent driver hiring and training practices.
The cargo loading department for an imbalanced load.
The manufacturer of the vehicle for a defective part.
The government for an unsafe road condition.
Cases involving a delivery company such as Amazon are more complicated than traditional car accident claims in Kerrville. This is because the delivery driver is contracted by Amazon, meaning the company could be held vicariously liable. Understanding who is responsible for your accident may take consulting with an attorney.
Proving Negligence After an Amazon Delivery Accident
As the injured victim and filing party (plaintiff) in an Amazon delivery accident claim in Kerrville, you have the burden of proof. This means you or your attorney must prove that the accused party (defendant) was negligent and caused the traffic accident based on a preponderance of the evidence, meaning more likely to be true than not true.
Evidence that may be available to support a claim includes:
A police accident report
Eyewitness statements
Photographs and videos from the scene
Pictures of your injuries
Medical records and documentation
Amazon company employment records
Cell phone records
Fleet maintenance logs
A truck's black box
Expert witness testimony
Proving negligence requires evidence of four key elements. The first is that the defendant owed you a duty of care, meaning a responsibility to obey traffic laws and prevent an accident. The second is a breach of the duty of care, or a negligent act or omission by the defendant. The third element is causation, meaning proof that the defendant's negligence was the actual or proximate cause of the crash. The final element is damages: losses you suffered because of the Amazon delivery accident.
Speak to Our Kerrville Amazon Delivery Accident Attorney Today
If you or a loved one has been injured in an Amazon delivery vehicle accident in Kerrville, Texas or the surrounding area, do not hesitate to contact The Hill Law Firm for help. Our attorneys offer free initial case evaluations for accident victims and their families. We can review your case and help you understand your rights. Call us today at (210) 960-3939 or contact us online to request your free case consultation.