At The Hill Law Firm, our Kerrville workplace accident attorneys have recovered millions of dollars in verdicts and settlements for injured workers and their families throughout Texas. We can help you understand and protect your rights after a harmful work accident, whether you were injured in a slip and fall or a disaster such as an oil rig explosion. We have what it takes to help you during this difficult time. Contact us today for a free case evaluation.
Kerrville Work Injury Resources
To immediately access the resources at any point on this page, click the corresponding links below.
Why Choose Our Attorney?
Texas Workplace Accident and Injury Facts
Common Worker Injuries
How a Workplace Injury Lawyer Can Help You
Call a Lawyer Today
Why Choose Our Kerrville Work Injury Attorney?
We have achieved outstanding case results for injured workers, with notable settlements such as $11.9 million for an oilfield explosion and $1 million for a worker with a broken leg.
You will receive personalized care and attention from your Kerrville personal injury attorney. We are dedicated to providing the highest quality legal representation to every client who comes to us for help.
Our law firm operates on a contingency fee basis for all workplace injury cases in Kerrville. This means you won't pay us anything for our services unless we win your case.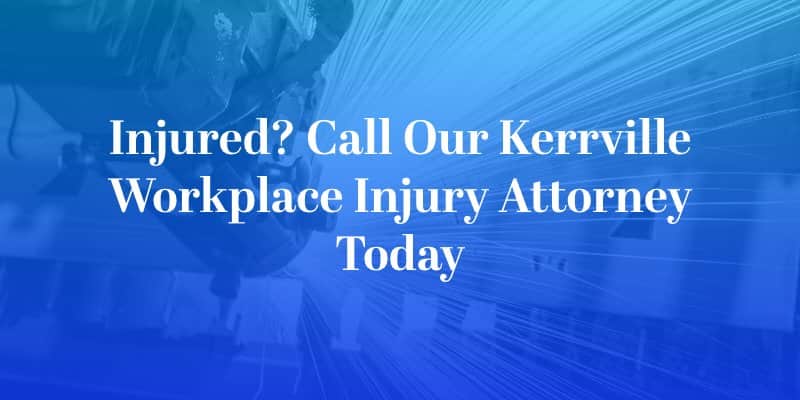 Texas Workplace Accident and Injury Facts
According to the Texas Department of Insurance, employers reported 178,900 nonfatal injury accidents in 2021. The U.S. Bureau of Labor Statistics reported 533 fatal injuries in 2021, as well. The highest number of deaths were caused by transportation incidents (260). After a vehicle collision, a car accident lawyer in Kerrville, TX may be able to assist you. Other common causes of worker injuries were falls, contact with objects and equipment, exposure to harmful substances or environments, and violence by persons or animals. Due to Texas's large oil industry, injuries and deaths are also common in oilfield and oil rig disasters.
Common Worker Injuries
Workplace disasters in Kerrville can result in many significant injuries and illnesses for affected workers. Examples include:
Amputations
Back injuries
Broken bones
Burn injuries
Exposure to asbestos
Head and brain injuries
Internal injuries
Repetitive motion injuries
Scarring and disfigurement
Severe lacerations
Soft-tissue damage
Spinal cord injuries and paralysis
No matter what type of injury you or a loved one suffered in a workplace accident, Justin Hill and his team of attorneys can help you understand your legal options.
How a Workplace Injury Lawyer in Kerrville Can Help You
Texas is the only state that does not make workers' compensation insurance mandatory for employers. If your employer has workers' comp coverage, however, a lawyer can help you file a claim and negotiate with an insurance company for a fair settlement. Workers' compensation is a no-fault system that provides financial benefits to workers who are injured on the job without requiring proof that someone else is at fault.
An attorney can also investigate your workplace accident to search for signs of negligence, or the failure to use proper care. This includes negligence by an employer, such as a lack of proper employee safety training. If evidence of negligence is discovered, your attorney can file a personal injury claim against one or more at-fault parties on your behalf. This could result in greater financial compensation than a workers' compensation settlement alone.
Speak to Our Kerrville Workplace Injury Lawyer Today
At The Hill Law Firm, we understand how challenging it can be to recuperate, recover and rebuild your life after a serious work injury. Our Kerrville workplace injury lawyers can take over your claim so you can focus on healing while we fight for justice and maximum financial compensation. Request your free case consultation by calling (210) 960-3939 or contacting us online today.