If a dog attacks or decides to bite, it could potentially cause life-threatening injuries to a victim. Dog attacks are violent encounters that can lead to permanently damaging, disfiguring or even deadly injuries. At Hill Law Firm, our Boerne dog bite attorney represents victims who are injured in these distressing incidents. We can help you go up against a pet owner or another party in pursuit of justice and fair financial compensation. Request a free case consultation with one of our attorneys today to learn more.
Boerne Dog Bite Resources
To immediately access the resources at any point on this page, click the corresponding links below.
Why Hire Our Lawyer?
What Injuries Can a Dog Bite Cause?
What Is the "One-Bite Rule" in Texas?
How Our Law Firm Addresses Dog Bite Case
Potential Damages Available After a Dog Bite
Time Limitations on Dog Bite Claims
Steps to Follow After a Dog Attack in Boerne
Speak to an Attorney Today
Why Hire Our Boerne Dog Bite Lawyer?
We use an individualized approach to each dog bite injury case. We personalize our legal strategies to achieve the best possible case results every time.
Our trial attorneys are prepared to go to court. If necessary, we can litigate against a pet owner or insurance company in a lawsuit to pursue the compensation we believe you deserve.
We do not charge our client anything in attorney's fees unless we win. Our Boerne personal injury lawyers accept dog bite injury cases on a contingency fee basis, meaning $0 in upfront fees for clients.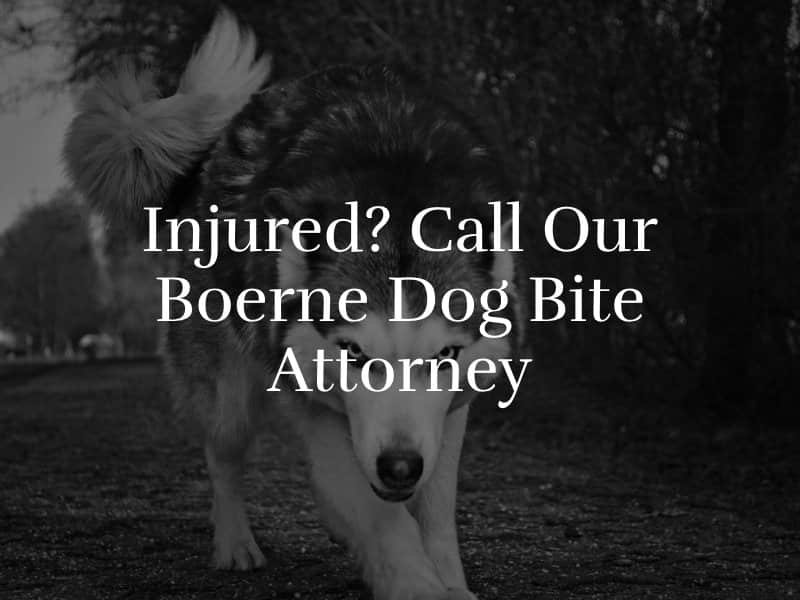 What Injuries Can a Dog Bite Cause?
A dog attack can be catastrophic for a victim. If there are multiple dogs involved in the incident, the injuries suffered can be even more severe. Small children and the elderly are most at risk of serious injuries, although anyone could end up in an emergency room from a dog attack in Boerne. Common examples of dog attack injuries include:
Broken bones and crush injuries
Bruising
Eye injuries
Face and neck injuries
Infections and diseases
Internal injuries and organ damage
Nerve damage
Permanent scarring or disfigurement
Puncture wounds
Severe cuts and lacerations
Soft-tissue injuries
These injuries can be caused by a dog biting a victim, but also a dog jumping on a victim and knocking him or her over or scratching a victim with sharp claws. Dog bite survivors often have to undergo multiple surgeries to reduce scarring, as well as attend rehabilitation to try to recover. This tends to result in missed work and financial duress. In some cases, a dog attack may even be fatal. In such a case, a Boerne wrongful death lawyer is prepared to fight for justice on your family's behalf.
What Is the "One-Bite Rule" in Texas?
Most states use either a strict liability law or a one-bite rule to determine financial responsibility (liability) for a dog attack. Texas uses a one-bite rule, also known as a negligence or scienter doctrine. Under this rule, the owner of a dog will only be liable for a dog attack if he or she had reason to know that the dog was dangerous or had vicious propensities prior to the attack. For instance, if the dog had attacked or bitten someone in the past. If a dog has a history of at least one prior bite, the pet owner can be held liable for a second or subsequent attack in Texas.
Once it is established that the pet owner knew or reasonably should have known that the dog might bite, the victim must then prove that the owner was negligent in exercising reasonable care to prevent further attacks; for example, that the pet owner had allowed the dog to run at large in violation of Boerne's leash laws. In a strict liability state, on the other hand, pet owners are held responsible for dog bite injuries regardless of the question of any prior knowledge of the animal's vicious propensities.
How The Hill Law Firm Addresses Boerne Dog Bite Cases
Texas's one-bite law can make it difficult for a victim to recover compensation for a dog attack. You may need a dog bite injury attorney to represent you during negotiations with an insurance company. In most cases, these claims will go through the dog owner's property insurance policy, as pets are classified as property in Texas. Your attorney can help you prove your injury claim to an insurance corporation to recover fair and full compensation for your losses. We will help you seek optimal case results while minimizing your financial and emotional stress as much as possible.
Potential Damages Available After a Dog Bite in Boerne
A successful claim against the owner of a dog that attacked or injured you in Boerne could result in payment for several economic and noneconomic damages. You may be eligible to recover financial compensation for all of your losses associated with the incident. This may include:
Medical bills
Lost wages
Disability
Physical pain
Emotional suffering
Post-traumatic stress disorder
A new phobia of dogs
Loss of enjoyment of life
You may also qualify for compensation for repairs and out-of-pocket costs if the dog damaged your property. An attorney can make it easier to hold a dog owner, a landlord, a property owner or another party responsible for these and other costs.
How Long Does a Victim Have to File a Lawsuit?
In Texas, a law known as the statute of limitations places a strict deadline on your ability to file a personal injury claim. The statute of limitations is two years from the date of the dog bite injury or the date that you discover your injuries. It is important to contact a dog bite attorney in Boerne immediately to avoid missing your filing deadline.
Steps to Follow After a Dog Attack in Boerne
If you get attacked by a dog in Texas, take these steps to protect yourself and build the strongest possible case against the pet owner or another defendant:
Get to a safe location away from the aggressive dog.
Call the police if it is an emergency.
Obtain professional medical treatment immediately for your injuries.
Gather information about the dog and its owner.
Report the attack to Kendall County Animal Control.
Take photographs of your injuries as you heal.
Store all of your documents, reports and records related to the incident.
Follow your doctor's treatment plan and recommendations.
File an injury claim with the pet owner's insurance company.
Do not speak to an insurance claims adjuster before contacting an attorney.
Before accepting an insurance settlement, consult with our Boerne dog bite injury lawyers to learn about your legal rights and potential remedies.
Speak to Our Boerne Dog Bite Attorney Today
Being attacked by a dog can be physically, emotionally and financially devastating. At Hill Law Firm, we have a reputation for providing exceptional legal services to injured dog attack victims in Boerne and throughout Texas. We can help you move forward after this traumatic event. To find out how we can help with a dog bite injury claim, contact us using our online form or call (210) 899-5031.