Bus accidents can be catastrophic in nature, resulting in severe injuries to passengers and people outside of the bus. At Hill Law Firm, our attorneys can help if you or a loved one was recently injured in a bus accident in Boerne. We have experience representing clients in complicated personal injury and wrongful death claims, including complex bus accidents. Our trial attorneys are prepared to do what it takes to pursue justice and fair financial compensation on your behalf. Contact us today for a free case consultation.
Boerne Bus Accident Resources
To immediately access the resources at any point on this page, click the corresponding links below.
Why Hire Our Attorney?
Common Injuries Caused by Bus Crashes
How Our Bus Accident Lawyer Helps
Potential Damages Available
Who Can Be Held Liable for a Bus Crash?
What is the Statute of Limitations?
Call a Lawyer Today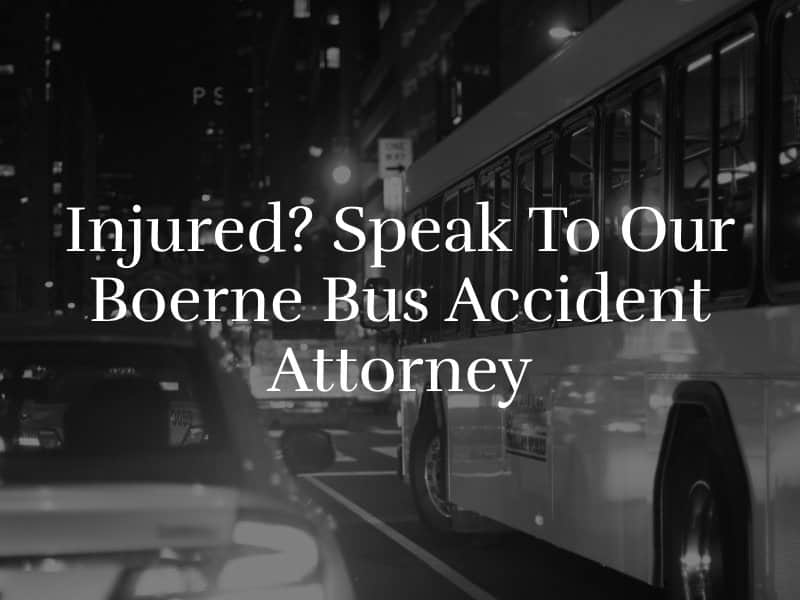 Why Hire Our Boerne Bus Accident Attorney?
We have a track record of success handling accident and injury cases throughout Texas.
Our attorneys are known by local judges and defense attorneys for fighting hard for our clients.
Attorney Justin Hill has over 12 years of experience in all aspects of personal injury law.
We use a client-focused approach to bus accident claims, with personalized legal services.
Our Boerne bus accident attorneys operate on a contingency fee basis, with no fees unless we win.
Common Injuries Caused By Bus Crashes
Bus accidents can involve a bus colliding with a fixed object or a passenger car, veering off the road, flipping onto its side, or another driver crashing into a bus. These collisions can result in severe harm to bus passengers and motor vehicle occupants, as well as bicyclists and pedestrians, in some cases. Bus passengers do not have seat belts or airbags to protect them from injury. These accidents can cause injuries such as:
Broken bones
Soft-tissue injuries
Neck injuries and whiplash
Chest and rib injuries
Traumatic brain injuries
Spine injuries
Paralysis
Nerve damage
Organ damage
Burn injuries
Catastrophic injuries
Scarring and disfigurement
Wrongful death
No matter what type of injury you were diagnosed with after a bus accident in Boerne, the lawyers at Hill Law Firm can help you seek financial compensation for your medical bills and other losses. Our lawyers will pursue the best possible results for your injury case. Our Boerne personal injury attorney can handle claims involving city buses, school buses, private buses, charter buses, the MetroBus, Greyhound buses, shuttle buses and other types of buses.
How Can Our Boerne Bus Accident Lawyer Help?
Collecting fair compensation for a bus accident claim can be difficult on your own. Insurance companies are known for taking advantage of claimants and attempting to minimize their payouts. Hiring an attorney allows you to even the scales. Your attorney can take over negotiations with an insurance claims adjuster to seek the case results that you deserve. This is especially important if you suffered catastrophic injuries that will require future medical care.
A bus accident attorney from Hill Law Firm can investigate your crash, return to the scene of the accident, interview witnesses, obtain copies of medical records and police reports, and hire experts to strengthen your claim. You can trust us to take over your case while you focus on healing from your serious injuries. We will work hard to seek a fair recovery for your past and future losses and expenses. Whether you suffered broken bones or require assistance with a burn injury lawsuit in Boerne, we can help.
Potential Damages After a Boerne Bus Accident
A bus accident claim allows a victim to seek financial compensation for various losses. Texas law permits claimants to recover both economic and noneconomic damages in a civil claim. If you were injured, you could seek compensation for:
Present and future medical expenses
Physical therapy and rehabilitation
Disability costs and accommodations
Lost wages and future earning capacity
Property damage
Pain and suffering
Emotional distress or mental anguish
Loss of enjoyment of life
Loss of consortium
Wrongful death damages, if applicable
Punitive damages, in some cases
Our lawyers can review your case to help you determine its value. Then, we can pursue maximum compensation for the full extent of your losses using proven legal strategies. We will prevent an insurance claims adjuster from undervaluing your settlement and taking advantage of you.
Who Can Be Held Liable for a Bus Crash?
The party that can be held liable, or financially responsible, for your bus accident will depend on the circumstances. Texas is a fault-based insurance state, meaning the person or party that must pay for an accident is the one that caused the crash. An investigation may be necessary to determine the cause of your crash, as well as name the defendant(s) or accused party. Possibilities include:
Bus company: the company in charge of the bus may be liable for its own negligence or that of its employees, including bus drivers. This may be the case if the crash was caused by bus driver distraction, drunk driving, drowsy driving, speeding, reckless driving, poor bus maintenance or a lack of bus driver training.
The city: if you were injured in a city or public bus accident, the entity responsible may be the City of Boerne. The city government has a duty to ensure the reasonable safety of its public buses and bus drivers. The city may also be held liable if a road defect such as a pothole contributed to the accident.
A third party: a third party is someone who was not present at the scene of the accident but still played a role in causing the victim's injuries. Examples include a bus manufacturer for a defective part, a maintenance crew for a poorly maintained bus, or the owner of the parking lot or property where the crash occurred.
Bus accident claims may be brought against the bus company, a private school, the government, another driver or a combination of multiple parties. Our lawyers can conduct a comprehensive investigation to determine who or what caused your crash and collect evidence of fault. We can identify the party or parties to hold responsible for your crash, then pursue maximum compensation from all available insurance policies.
What Is the Statute of Limitations for Bus Accidents in Texas?
Texas has a statute of limitations, or legal deadline for filing, that must be obeyed. Each state has a different filing time limit. In Texas, the statute of limitations is two years from the date of the accident, in most cases. If you did not discover your injuries right away, the deadline may be tolled (extended) until the date of reasonable discovery. If you are filing a Boerne wrongful death claim after the loss of a loved one, you have two years from the date of his or her death to file. If you miss your statute of limitations, you will most likely lose the right to file a claim.
Speak to Our Boerne Bus Accident Lawyer Today
It is important to contact an attorney as soon as possible if you've been injured in a bus accident in Boerne. Hill Law Firm can help you understand and protect your rights as a crash victim. For more information, contact us online or call (210) 960-3939 to schedule a free case evaluation with our Boerne bus accident attorney. We are also prepared to take on other types of car, rideshare, and truck accident lawsuits in Boerne.