Carbon monoxide poisoning is a serious health threat that is more common than most people realize. Carbon monoxide can be released into the air if an appliance malfunctions or is not operating correctly or efficiently. Carbon monoxide is colorless and has no taste or smell. Undetected carbon monoxide poisoning can lead to serious and even life-threatening injuries.
At Hill Law Firm, our Boerne carbon monoxide poisoning attorneys can help if you or a loved one has been injured by this gas. Call us today at (210) 960-3939 to schedule a free case consultation with one of our attorneys. We will help you understand your rights and pursue the financial compensation that may be available to you by law.
Boerne Carbon Monoxide Poisoning Resources
To immediately access the resources at any point on this page, click the corresponding links below.
Why Choose Our Attorney?
How Our Attorney Can Help
Why Is Carbon Monoxide Poisoning So Deadly?
Possible Symptoms of Carbon Monoxide Poisoning
Common Causes of Carbon Monoxide Poisoning
Potential Damages in Your Case
Speak to a Lawyer Today
Why Choose Our Boerne Carbon Monoxide Poisoning Attorney?
We are dedicated trial attorneys with a track record of success. Our past case results showcase our ability to achieve the case outcomes that our clients need through aggressive litigation.
Boerne personal injury lawyer Justin Hill has been representing injured victims throughout Texas for many years. Our lawyers have the experience you need for a strong personal injury case.
Our law firm operates on a contingency fee basis. This means you will not pay your carbon monoxide poisoning attorney unless your case results in financial compensation for your losses.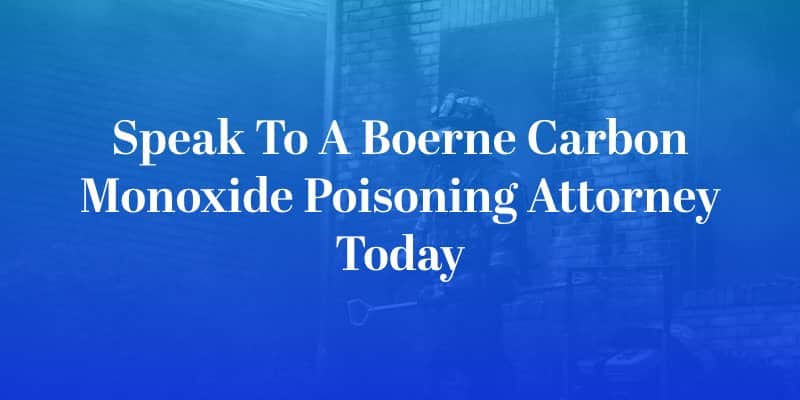 How Our Boerne Carbon Monoxide Poisoning Lawyer Can Help
Hiring an attorney to represent you during a carbon monoxide poisoning case can make it easier to navigate complicated legal processes. In Texas, the personal injury claims process can be difficult to handle on your own – especially since insurance companies do not have your best interests in mind. They want you to settle for as little money as possible. Your attorney can take over negotiations with an insurance company to fight for the settlement and case outcome that you deserve. Your attorney can also take your case to trial in Boerne, if necessary.
A personal injury lawyer from Hill Law Firm will have resources and time to dedicate to your case. We have connections to highly qualified experts who can testify during carbon monoxide poisoning cases, for example. We can determine fault and help you prove liability for your injury, whether you are going up against a product manufacturing company, a property owner or another party. Our lawyers will make sure you have everything you need to rebuild your life and move forward.
Why Is Carbon Monoxide Poisoning So Deadly?
Carbon monoxide (CO) is a colorless, odorless gas that is poisonous and flammable. It is found in fumes that are produced by burning fuels, such as propane, gas, wood or charcoal. If these fuels are not burned efficiently or are burned in an enclosed space, carbon monoxide can enter the air in hazardous quantities.
When exposed to carbon monoxide, the CO replaces the oxygen in the blood. Too much carbon monoxide building up in the blood can cause serious health effects, permanent organ damage and even death. Unfortunately, many people do not realize they are being exposed to carbon monoxide until it is too late, and they have already suffered adverse health consequences.
Possible Symptoms of Carbon Monoxide Poisoning
Carbon monoxide poisoning can initially result in mild symptoms as the victim is slowly starved of oxygen. Then, if CO exposure continues, the loss of oxygen to the body and brain will become more pronounced, resulting in more severe symptoms and the potential for long-term damage. In some cases, CO poisoning can result in damage to the brain, heart and other organs that is fatal.
Symptoms of carbon monoxide poisoning can include:
Dizziness
Nausea
Vomiting
Blurred vision
Confusion
Lightheadedness
Shortness of breath
Weakness
Fatigue
Headache
Flu-like symptoms
Low blood pressure
Chest pain
Convulsions
Coma or loss of consciousness
The symptoms of carbon monoxide poisoning can vary from person to person. Vulnerable individuals such as young children, the elderly, smokers, people with prior lung or heart diseases, and people who live at high altitudes are especially prone to health effects caused by CO exposure. In some instances, carbon monoxide poisoning can be fatal. A Boerne wrongful death attorney can help your family fight for justice if a loved one suffered fatal harm in a preventable poisoning accident.
Common Causes of Carbon Monoxide Poisoning
Carbon monoxide poisoning can occur in a home, building or workplace where a fuel-burning device is broken, defective or operating inefficiently. This can result in the appliance or device failing to completely burn off the fuel that it uses. Incomplete or inefficient combustion can release carbon monoxide into the air, which can build to poisonous levels in enclosed spaces.
Common causes of carbon monoxide poisoning include dangerous premises, defective products (e.g., heaters, portable generators, stoves and furnaces), improperly installed appliances, and vehicle malfunctions. Defective fuel-burning equipment or faulty emission systems could produce unhealthy levels of carbon monoxide that ultimately result in people in the room being poisoned.
Potential Damages Available in a Boerne Carbon Monoxide Poisoning Lawsuit
Filing a personal injury claim for carbon monoxide poisoning in Boerne could result in financial compensation being paid to you or your family from one or multiple defendants (accused parties). Your attorney will need to prove that the defendant is responsible for causing your carbon monoxide poisoning with at least a 51 percent certainty. This burden of proof is known as a preponderance of the evidence.
In Texas, if your case is successful, civil law permits you to recover financial compensation for a variety of economic and noneconomic damages as a plaintiff, including:
Past and future medical expenses
Long-term costs of a disability
Losses of income and earning capacity
Pain and suffering
Loss of enjoyment of life
Wrongful death damages, if applicable
The value of every personal injury case is unique. Case values depend on factors such as injury severity and the impact the injury will have on the plaintiff's life. To understand how much your case could potentially be worth, you must consult with a personal injury attorney. An attorney will provide an in-depth review of your case, injuries, losses and insurance coverage available to accurately estimate its value. Then, your attorney can fight for maximum financial compensation from an insurance provider on your behalf.
Speak to a Boerne Carbon Monoxide Poisoning Lawyer Today
Carbon monoxide poisoning is a serious health risk that can affect victims for life. These incidents are almost always preventable with appropriate actions taken by property owners, product manufacturing companies, appliance installers, maintenance crews and employers. If you or a loved one has suffered carbon monoxide poisoning in Boerne, Texas or the surrounding area, contact Hill Law Firm for help without delay. We care about our clients and are here for you during this difficult time. Call (210) 960-3939 for a free case consultation.