A work injury can occur in any workplace, in any industry, at any time. Getting hurt on the job can have serious ramifications for a worker, including years of lost wages from painful and disabling injuries. At Hill Law Firm, our attorneys represent injured workers in Boerne and throughout Texas. After a work injury, we can meticulously investigate the incident, identify those responsible, and fight for the justice and financial compensation that you deserve. Contact our personal injury attorney in Boerne today for a free case consultation.
Most Common Work Accidents and Injuries in Texas
According to the U.S. Bureau of Labor Statistics, there were 533 worker fatalities in Texas in 2021 alone. The number one fatal work event was "transportation incidents," responsible for 260 deaths. Other common causes of fatal work injuries were fall accidents, contact with objects and equipment, violence by persons or animals, exposure to harmful substances or environments, and fires and explosions.
In addition, nonfatal work injuries send thousands of workers to hospitals in Texas each year. Employees can suffer serious and catastrophic injuries in preventable work incidents. Examples include broken bones, soft-tissue damage, back injuries, spine injuries, crush injuries, burn injuries, electrocutions, traumatic brain injuries, face and eye injuries, and internal injuries. If you suffered any type of harm at work, our Boerne work injury lawyers can help.
Why Do Work Injuries Occur in Boerne?
Many workplace accidents and injuries in Texas can be traced back to negligence, or the failure to use ordinary care. Employer negligence, for example, can take the form of poor worker training, a lack of safety gear and equipment, and maintaining a dangerous premises. Many employers in Texas violate federal safety rules and regulations to save time or money. This puts workers at a higher risk of injury.
The Occupational Safety and Health Administration (OSHA) reports the following as the most frequently violated safety standards in fiscal year 2022:
Fall protection in the construction industry
Hazard communication standards
Ladder safety in construction
Respiratory protection
Scaffolding regulations in construction
Control of hazardous energy
Powered industrial truck regulations
Fall protection training in construction
Eye and face protection in construction
Machinery and machine guarding regulations
Construction is the most dangerous industry in Texas. However, employers can do many things to protect workers from harm. Unfortunately, many employers cut corners rather than providing workers with the protection that they need. If a worker in Boerne gets injured due to employer negligence or the fault of a third party – such as a coworker, contractor or equipment manufacturer – the victim can file a personal injury claim.
What Is a Third-Party Work Injury Claim?
Many injured workers in Texas can file workers' compensation claims to pursue no-fault insurance benefits from their employers' insurance carriers. However, this may not result in maximum compensation, depending on the case. In addition, Texas is the only state in the country that does not make workers' comp insurance mandatory for employers.
Filing a third-party injury claim, also known as a personal injury lawsuit, against a negligent party could lead to greater financial compensation for the victim, including pain and suffering damages. This may also be the only option if your employer does not offer workers' comp coverage. An attorney from Hill Law Firm can help you prove the negligence of your employer or a third party and pursue the best possible results for your personal injury lawsuit.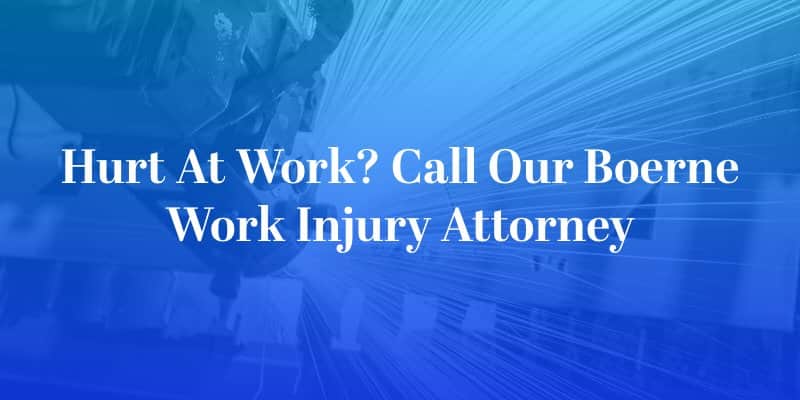 Contact a Work Injury Lawyer in Boerne Today
If you or someone you love was recently injured at work in Boerne, contact an experienced attorney at Hill Law Firm as soon as possible for assistance. We can investigate your workplace, speak to eyewitnesses, analyze your employer's compliance with federal safety laws and gather evidence to support your injury case. Call (210) 960-3939 or contact us online today to schedule a free case evaluation with our Boerne work injury lawyer.