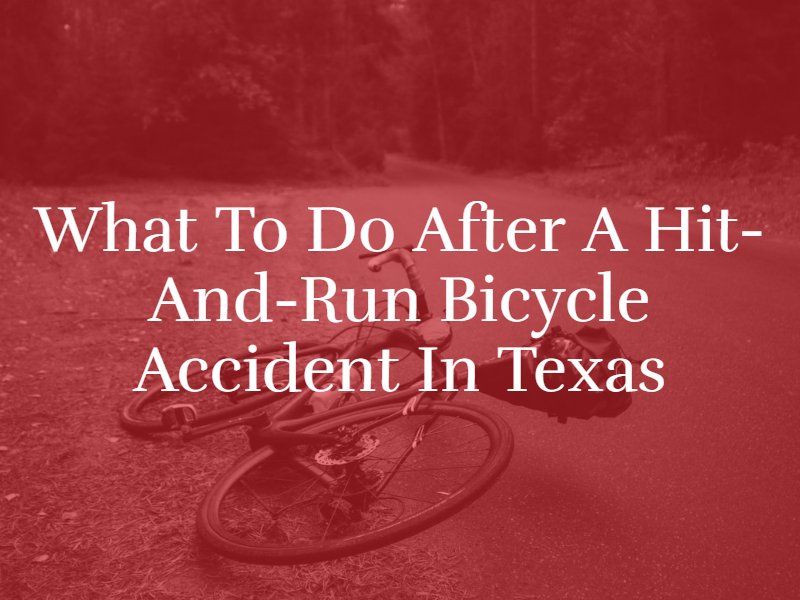 A hit-and-run accident is when a driver flees the scene without stopping. Hit-and-run bicycle accidents are dangerous, as an injured cyclist may not receive the immediate medical care that he or she needs. It can also make it more difficult – or even impossible – for the bicyclist to recover the financial compensation that he or she deserves. Here, our San Antonio injury lawyers discuss the necessary steps to take after a bicycle hit-and-run accident in Texas. 
Immediately Call the Police
Always call the police for an accident report after a hit-and-run collision. The police can investigate the crash and potentially track down the at-fault driver. Notifying the police can also create a record of the crash for your insurance company. The police will investigate the scene of the collision, collect any available evidence, speak to eyewitnesses, and search for the hit-and-run driver. If they succeed in finding the driver, you can hold him or her responsible for your losses. If they don't find the driver, having an official police report can help you with a first-party insurance claim.
Gather Important Information
If you can, collect information and evidence while you are still at the scene of the accident. If any eyewitnesses saw the crash take place, get their names and phone numbers. Ask if they are willing to put a statement on the record. Eyewitnesses may have information that leads the police to find the at-fault driver, such as a description of the vehicle. If you saw the car that hit you, write down the make, model, color, and any license plate numbers that you remember while the memory is still fresh in your mind.
Take Photographs of the Scene
Before you leave the scene, take photographs of the area where the crash took place. If there are any signs of the car, such as skid marks, broken glass, vehicle paint marks on your bicycle, or a detached piece of the fender, take pictures. If you are too badly injured to collect evidence and photographs on your own, the police can do so for you. You can also send a trusted friend or family member back to the scene to take pictures for you.
Go to the Hospital
 It is critical to get medical attention right away. In many cases, bicyclists jump up and think they are fine. The adrenaline from the crash often masks pain from an injury. However, do not assume that you are okay. Do not tell the reporting police officer that you're fine, even if you aren't experiencing immediate pain. You may have a hidden or delayed injury, such as a traumatic brain injury, a neck or back injury, a sprained muscle, a broken bone, or internal injury. Tell the police officer that you are not sure if you are injured and go to a hospital in San Antonio immediately.
Call Your Insurance Company
 Notify your own auto and health insurance companies of the hit-and-run bicycle accident without delay. Many auto insurance companies require prompt reporting, within 24 to 72 hours of the crash. If the police cannot locate the hit-and-run driver, your own automobile insurance policy may pay for damages. You must have uninsured or underinsured motorist insurance, however, for this coverage. Contact your insurance company to ask about your coverage for a hit-and-run collision. If you have trouble obtaining compensation from your insurance provider, explore your other options with help from an attorney.
Consult With a Bicycle Accident Attorney in Texas
 A bicycle accident attorney in San Antonio can help you understand your legal rights. Your rights may include filing a claim with your own insurer or bringing a personal injury lawsuit against a third party. A third party may be at least partially liable for your crash, such as the government for a roadway hazard or the manufacturer of your bicycle for a defect. If the police cannot locate the hit-and-run driver, a third-party lawsuit may be your only option for insurance coverage. An attorney can help you with all of the steps that you should take after a hit-and-run bicycle accident.