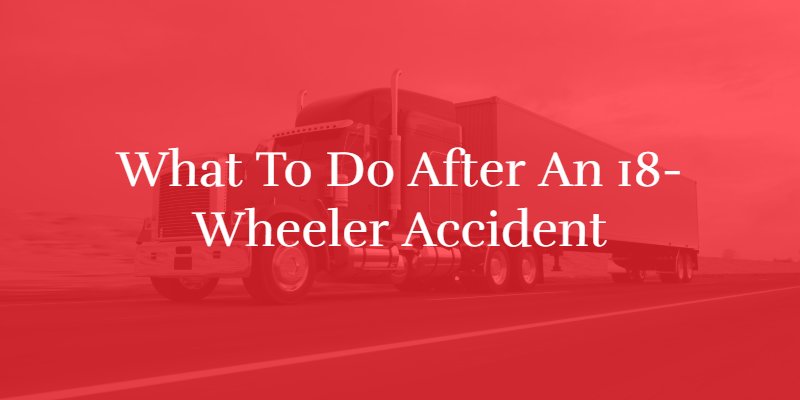 If you get involved in an 18-wheeler accident in Texas, it can upend your life. This is a traumatic event that will most likely cause serious injuries and irreparable property damage. While it is normal to feel confused or overwhelmed after a commercial truck crash, it is important to take certain steps to prepare for the recovery process. Knowing what to do – and what not to do – after a large truck accident can help you protect your rights.
Put Your Safety First
If you can, move your disabled vehicle to the side of the road, out of harm's way. Turn on your hazard lights to alert other drivers to the wreck. Check yourself carefully for injuries. Keep in mind that the adrenaline caused by the accident can act as a painkiller, and you may not notice the symptoms of an injury until later. Next, if you can, check the other people involved in the wreck to see if they've been injured, as well.
Contact the Police
Call 911 from the scene of an 18-wheeler accident. These collisions are always serious enough to warrant a phone call to the police. If anyone has been injured, request an ambulance. You may be too injured to collect evidence and information yourself after an 18-wheeler accident. Calling the police means a law enforcement officer can do this for you while you receive emergency medical care. A police report can contain important facts about the crash that you can use on an insurance claim later.
Exchange Information With the Truck Driver
If you are physically able to do so, exchange information with the driver of the commercial truck. This includes names, phone numbers, addresses, vehicle descriptions, license plate numbers and insurance information. You should also write down the name of the trucking company and the truck number. Do not admit fault for the truck accident when speaking to the truck driver or the police.
Take Photos
If you can, use your cell phone or a camera to take photographs and videos of the 18-wheeler accident before you leave. Taking pictures right away, before the trucking company or anyone else has time to remove or disturb any evidence, can help you build a stronger injury claim later.
Go to a Hospital Immediately
Do not delay in seeking medical care after a truck accident. Prompt medical care is critical if you wish to qualify for insurance benefits. If you wait to see a doctor, an insurance company may try to blame you for the extent of your injuries. Document your injuries and related losses by asking for copies of your medical records. Do not sign a Medical Authorization Release Form or anything similar from an insurance company. Instead, submit only the medical documents that are relevant to your claim.
File an Insurance Claim
Texas is a fault car accident state. This means that if you get injured in a trucking accident, you will hold the at-fault party responsible. If you believe the truck driver or trucking company is to blame for your collision, call the trucking company's insurance provider to file a claim. Otherwise, call your own car insurance company to file for benefits. Keep in mind that an insurance company will not protect your best interests. It may attempt to take advantage of you.
Consult With a Truck Accident Lawyer in San Antonio
Before you negotiate with an insurance company or accept a truck accident settlement contact an experienced truck accident lawyer San Antonio for a consultation. These cases often involve severe injuries and expensive medical bills. A truck accident lawyer will work for you, helping you fight for maximum financial compensation for the full extent of your past and future losses. Your lawyer can also litigate your case, or take it to trial, if necessary. Learn more about your 18-wheeler truck accident case by contacting a lawyer at The Hill Law Firm today.