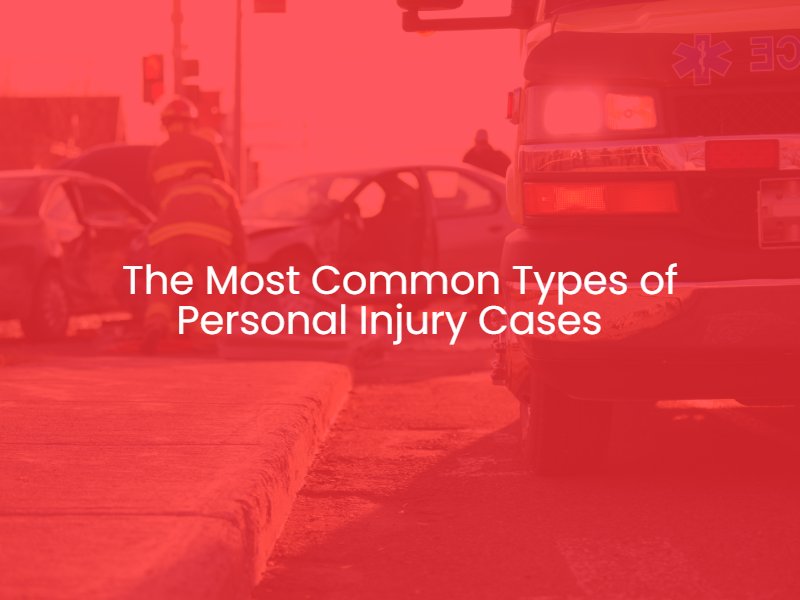 Personal injury is an area of civil law that allows an injured accident victim to seek financial compensation, known as damages, for his or her losses. A personal injury lawsuit has the power to make a victim whole again – to restore the victim to the financial state that he or she would have enjoyed had the accident never happened. There are five types of personal injury cases that are the most common in the United States. If you believe you have grounds for one of these types of cases, consult with an injury lawyer in San Antonio for assistance.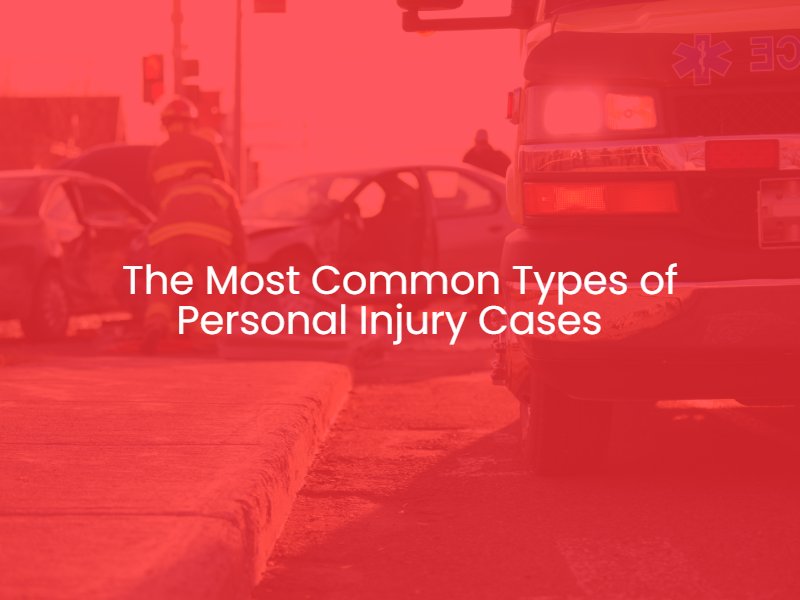 Motor Vehicle Accidents
Motor vehicle accidents are a leading cause of death related to unintentional injuries in the United States. Every year, thousands of people suffer serious injuries and die in motor vehicle collisions throughout the country. The Texas Department of Transportation reported 15,843 serious injuries from automobile accidents in 2019 alone.
Almost all car accidents are preventable. Common causes of traffic accidents in Texas are speeding, drunk driving, distracted driving, and reckless driving. In Texas, the driver or party at fault for causing the collision is financially responsible for damages. As an injured victim, it is up to you or your car accident attorney to prove that the other driver is at fault during a motor vehicle accident case.
Slip and Fall Accidents (Premises Liability)
A slip and fall accident claim alleges that a dangerous property hazard or defect caused the victim to slip or trip and fall and that the property owner had the power to remedy the issue but negligently failed to do so. Negligence in a personal injury case means the failure to act in a reasonable manner, resulting in harm or injury to another person.
Slip and fall injury claims fall under the umbrella of premises liability law. This is the area of personal injury law that deals with unsafe property conditions. A premises liability lawsuit in Texas seeks to hold a property owner liable for preventable injury risks, such as slippery floors or an unsafe staircase. A slip and fall case must prove that the property owner knew or reasonably should have known about the hazard but negligently failed to repair it.
Product Liability
A product liability case goes up against a product manufacturer, distributor, supplier, or retailer for a product that contains a defect and injures a consumer. All manufacturing companies have a responsibility to ensure the reasonable safety of their products. If an item with a design, manufacturing, or marketing defect injures a consumer, he or she may be eligible for financial compensation. For the most part, it is not necessary to prove fault or negligence to recover damages in a product liability lawsuit in Texas.
Wrongful Death
A wrongful death lawsuit seeks damages for the preventable death of an accident victim. Wrongful death lawsuits may involve fatal car crashes, workplace accidents, acts of violence, or other circumstances. If surviving family members can prove that one or more parties are responsible for causing the deceased person's fatal injury, the family may be entitled to financial compensation for funeral costs, medical bills, loss of consortium, and other losses.
Medical Malpractice
Medical malpractice is a type of personal injury case against a physician, nurse, surgeon, hospital, or another health care professional for the alleged mistreatment of a patient. Medical practitioners must adhere to strict standards of care when treating patients. Any actions or failures to act that fall short of these standards, resulting in patient injury, illness or death, constitute medical malpractice. Medical malpractice is an extremely complex area of personal injury law that requires help from an experienced attorney.
For more information about your type of personal injury case, contact an attorney today.