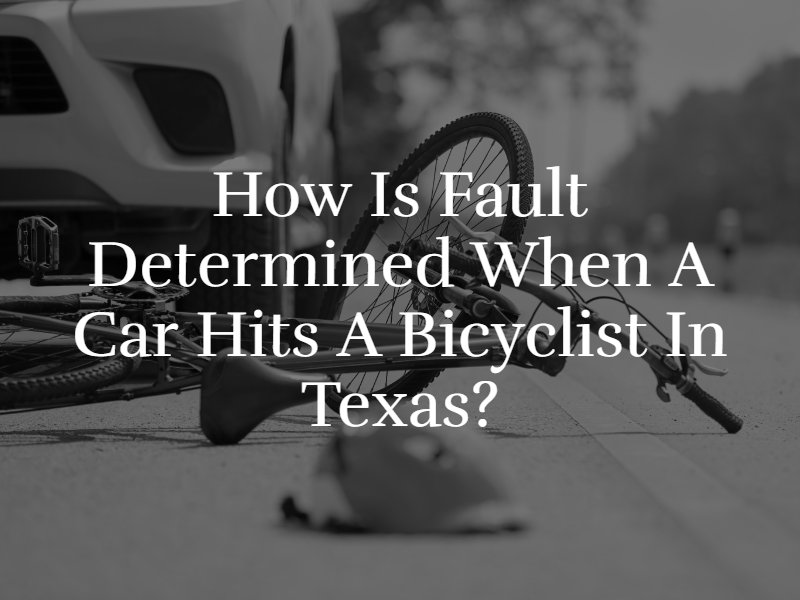 The injuries from a vehicle-bicycle collision can be immense, especially for the bicyclist. In Texas, the law requires accident victims to determine fault before they can file insurance claims to pay for their injuries and losses. Motor vehicle drivers are not automatically at fault for bicycle accidents. Instead, fault, when a car hits a bicycle, depends on the circumstances and the laws that applied to the situation.
What Is Negligence?
Most bicycle accident lawsuits in San Antonio are based on the legal theory of negligence. In personal injury law, negligence is the failure to act with reasonable care. If negligence causes a bicycle accident, the negligent party will be responsible (liable) for paying for related bills and losses. In Texas, the negligent party pays for an accident through his or her automobile insurance. This is what is known as the fault insurance law. In a no-fault state, on the other hand, both parties pursue compensation from their own insurance providers, regardless of who caused the collision.
Negligent Driver Behaviors
It may take an investigation of the accident to figure out who is at fault when a car strikes a bicyclist. The police and an insurance company may investigate the collision to determine liability. Investigators will look to see if the driver, bicyclist, or both parties were negligent. A motor vehicle driver could be negligent or reckless in many different ways, including:
Driving while distracted

Using a cell phone while driving

Driving under the influence of drugs or alcohol

Speeding

Driving drowsy

Failing to yield the right-of-way

Running red lights or stop signs

Following or passing too closely

Dangerous lane merging

Driving aggressively

Dooring a cyclist
Driver error is the number one cause of bicycle accidents in Texas. Drivers can be guilty of many actions and behaviors behind the wheel that risk the lives of other roadway users, especially vulnerable pedestrians and bicyclists. However, bicyclists also have a responsibility to obey the law and exercise due care.
Negligent Bicyclist Behaviors
Cyclists who are injured in car accidents are not automatically eligible for financial compensation, even when their injuries are severe. There are scenarios where a cyclist in San Antonio can bear fault for an accident. If the cyclist was negligent or violating a traffic law at the time of the crash, he or she could be liable. Examples of bicyclist negligence are:
Riding a bike while impaired

Riding while distracted or listening to music

Failing to pay attention to surroundings

Riding the wrong direction (against traffic)

Not using an available bicycle lane

Failing to stop for red lights and stop signs

Turning without signaling

Riding at night without lights
An evaluation of the damage to the car and the bicycle, signed statements from eyewitnesses, photographs from the scene of the crash, video surveillance footage, a police accident report, and other sources of evidence can help investigators determine the cause of the wreck. Once fault is determined, the party responsible for the crash will be liable for damages, either through insurance or a personal injury lawsuit in San Antonio.
Comparative Fault
It is possible for both the motor vehicle driver and the biker to share fault. For example, if a car hit a bicycle because the motorist was texting while driving, but the biker should not have been where he was at the time of the crash, both parties may share a portion of fault for the collision. A percentage of fault may be allocated to both parties. 
In Texas, an injured party can still recover financial compensation even with some fault for the collision, as long as the fault equals less than 51 percent. However, the financial recovery will be reduced by an equivalent amount. Twenty percent of the blame for a bicycle accident, for instance, would mean the bicyclist receives 20 percent less in financial compensation. For professional assistance determining and proving fault in a vehicle-bicycle collision in San Antonio, Texas, contact an attorney as soon as possible.