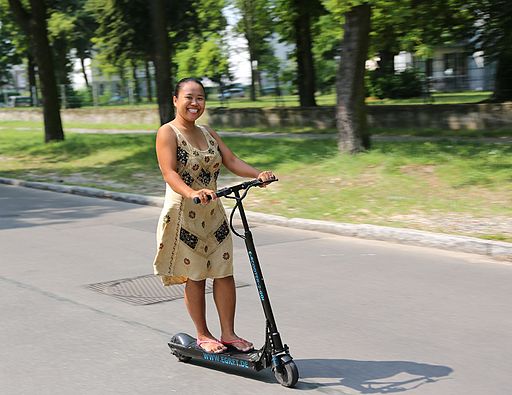 San Antonio recently became the latest city in Texas to host a fleet of lightweight, dockless e-scooters that are controlled by a smartphone app when The Bird Scooter Company decided to set up shop here. Unlike the shared rental bicycles that can be found all over town, these scooters are not docked and there is no central kiosk. That means they can be found all over town, using the Bird app on a smartphone. Every evening, the company gathers all the scooters and recharges them overnight and then scatters them all over town the next morning.
Have Fun and Get There Faster
There is no doubt these scooters can be fun. They work much like the toys we rode when we were all kids, with two wheels and a flat platform for standing, but there is one key difference; with a few foot kicks, a built-in motor engages and the scooter takes off on its own. You control the speed, up to a maximum of 15 miles per hour, with your right thumb and you use your left hand to engage the brake when you want to stop. Balancing is actually much like riding a bicycle, so most who can ride a bicycle can ride one of these e-scooters.
There are differences, however, and some of them could be potentially dangerous. Because the scooter's wheels are smaller and there is a lower center of gravity, the rider feels uneven sections of the road more distinctly, such as riding along Houston Street's brick paving. That means it is necessary to pay extra attention as you ride. Also, since you control speed with one hand and brake with the other, signaling a turn is a challenge. When you have so much freedom, remembering to follow traffic rules, like stopping at stop signs and traffic lights, may be a challenge for many riders.
When someone registers within the app, they provide their name and email address and a photo of their driver's license as proof they are over 18. They also agree to abide by a number of safety conditions, including an agreement to wear a helmet while riding and to obey all traffic laws. If you need one, you can order a helmet through the Bird app.
E-Scooters Bring Increased Safety Concerns
Even though they make the agreement, however, perhaps not surprisingly in Texas, where helmet laws tend to be lax, most people who ride their e-scooter through San Antonio streets seem to be doing so without a helmet. Also, since scooter riders are sharing the roads with cars and large trucks, there is an inherent danger that wearing a helmet could mitigate.
Earlier this month, a terrible crash involving an e-scooter in Austin brought this problem into stark reality. The accident happened when a woman was riding her scooter quietly down Congress Avenue and slammed into a curb. The impact slammed her head-first into the sidewalk. Bystanders called for emergency help, but while they were waiting for help to arrive, the woman became unresponsive and she began foaming at the mouth and her eyes rolled back into her head as she lay on the ground. She was not wearing a helmet at the time of the crash.
This accident and others have brought forth questions about whether these scooters are safe, where scooters should be allowed to ride and who is liable in a crash. Consider the added danger of pedestrians, many of whom can't seem to take their eyes off their phones as they cross the street. This was just the latest accident, as scooter riders have reported head injuries and scraped and bloody knees, elbows and ankles all over the country, as these scooters proliferate. For its part, Bird has formed a safety advisory board, which will be headed by a former National Highway Traffic Safety Administration official.
How Will San Antonio Address Scooters?
As of now, there are no specific municipal regulations in San Antonio regarding e-scooters, but there are some under review. Meanwhile, the city has asked Bird and any other companies poised to place scooters in the city later, to recommend that riders use the streets, not sidewalks.
That said, the San Antonio Police Department (SAPD) has pointed out that the Texas state transportation code does specifically allow "motor-assisted scooters" to be operated on sidewalks, although each city can set its own rules. SAPD recently released a statement saying, "We encourage anyone operating a scooter to abide by traffic regulations and observe any posted street signs. Failure to do so is subject to a Class-C misdemeanor (up to a $500 fine). We also recommend riders avoid sidewalks and be considerate of pedestrians."
The Bird company has so far declared Alamo Plaza and the River Walk "off limits" to their scooters. One company, Blue Duck, will be offering scooters with "geo-fencing" capability built in, which means, when a scooter enters those areas or others declared "off-limits," the scooter will sound an alarm and shut down within 20-30 seconds. It will then have to be removed from the "fenced" area to be rideable again.
The potential problems have been being played out in Austin, where e-scooters simply started showing up on streets in April, before city officials had a chance to approve and regulate them. They have since changed their regulations slightly, requiring companies who want to operate in the city to apply for a permit to operate. They also addressed the problem of undocked scooters by imposing a $200 fine if a scooter is left in a right-of-way. They are still evaluating other potential safety regulations.
While San Antonio officials consider safety regulations, if you are going to ride one of these scooters, take the same types of precautions you would take while riding a bicycle. Always wear a helmet (and knee and elbow pads couldn't hurt). We hope the city of San Antonio and the state of Texas examines these vehicles and their riders very closely, and comes up with some regulations that allow everyone to have fun and ride safely. In the meantime, drivers should pay special attention to these vehicles and those riding should behave safely.