If you get attacked by a dog in Austin, the outcome can be disastrous. A violent dog attack can cause severe, life-changing physical injuries, as well as psychological and emotional damage. At Hill Law Firm, our attorneys can help you move forward with a legal claim or personal injury suit after suffering a dog bite injury. We understand these cases and are passionate about helping injured victims. Contact us to get help with your case.
Austin Dog Bite Resources
To access the resources at any point on this page, click the corresponding links below.
How Can a Dog Bite Attorney Help?
Your Legal Rights After a Dog Bite in Texas
What Injuries Can a Dog Bite Cause?
Average Dog Bite Injury Settlement in Texas
What to Do After a Dog Attack
Speak to an Attorney Today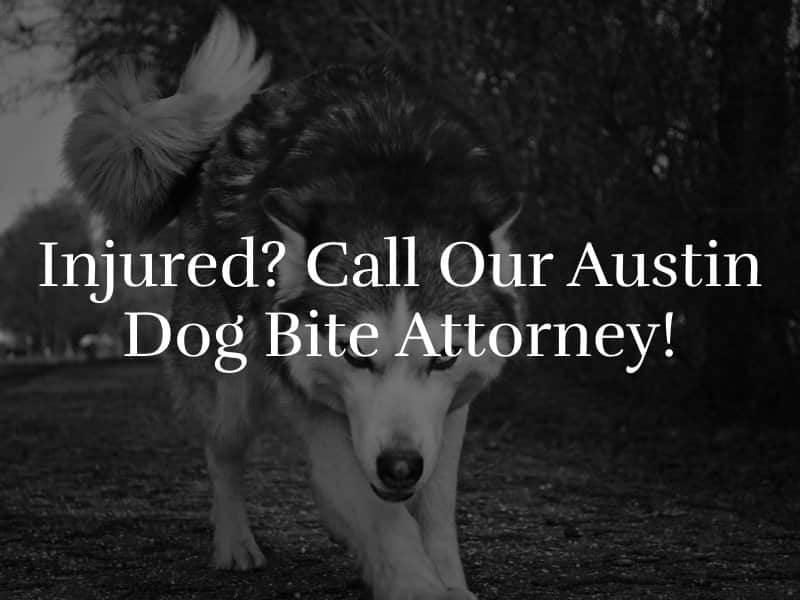 How Can an Austin Dog Bite Attorney Help? 
A dog bite injury claim can be confusing; special state laws and municipal animal regulations may apply. You will most likely have to go up against a pet owner's property insurance company, as this policy covers dog-related injuries. A lawyer can make sure an insurance company doesn't take advantage of you, such as by convincing you that your injuries are worth less than they actually are. 
Your attorney can take over settlement negotiations or take a dog bite injury case to trial in Travis County, if necessary. An Austin personal injury law firm will have the personnel and resources to thoroughly investigate the attack, gather evidence, hire qualified experts and bring a claim against the at-fault party/ies for you. Meanwhile, you can rest and focus on what matters most – healing and moving forward.
What Are Your Legal Rights After a Dog Bite Injury in Texas? 
Each state has unique dog bite laws – statutes that determine who is responsible for paying for the damage when a dog attacks. Most states use one-bite laws or strict liability statutes. Texas is a one-bite state, which is a law that uses the legal doctrine of negligence. In strict liability states, on the other hand, a pet owner can be held liable without proof of negligence. According to Texas dog bite law, a pet owner will only be deemed liable for a dog bite injury if he or she had reason to suspect the dog's propensity for viciousness. 
If the dog had bitten someone else in the past, for example, a second or subsequent attack would be reasonably foreseeable. This knowledge gives the pet owner a legal responsibility to prevent future attacks. If the owner of the dog knew or reasonably should have known that the animal had the potential to be violent, you may be able to file a civil suit for damages (financial compensation) for the losses caused by the animal's behavior.  
Most dog bite injury claims in Texas are based on the argument that the pet owner was negligent; he or she knew that the dog could attack yet negligently failed to take steps to prevent the incident. To qualify for compensation for a dog attack in Austin, you must prove these elements as more likely to be true than not true. You or your attorney must show a causal connection between the pet owner's negligence and the attack, such as the owner allowing the dog to run at large (off-leash or unrestrained).
What Types of Injuries Do Dog Attacks Typically Cause? 
Dog attacks can be extremely violent. When some dogs attack, they don't let go. They may lunge at a victim's most vulnerable areas, such as the neck and face. This can cause catastrophic or fatal injuries. According to the Centers for Disease Control and Prevention, about 1 in 5 people who suffer dog bite injuries require medical attention. Dog bite injuries come with a high risk of complications, including scarring, disfigurement, infections and diseases such as rabies. 
The top injuries associated with dog attacks include: 
Lacerations

Penetration wounds

Degloving or loss of skin

Evisceration

Broken bones

Soft-tissue injuries

Tendon and ligament damage

Nerve damage

Facial injuries

Eye injuries

Scalp injuries

Hand or finger injuries

Permanent scarring

Infections and diseases
Sadly, some victims do not survive violent dog attacks. Children and the elderly are most at risk of suffering fatal dog bite injuries. If you lost a loved one in a traumatic dog attack, speak to an attorney at Hill Law Firm about a potential wrongful death claim in Austin. We can help your family seek financial compensation for a fatal attack that was the result of a pet owner's negligence, including reimbursement for funeral and burial expenses.
What Is the Average Dog Bite Injury Settlement in Texas? 
Pursuing a dog bite injury claim in Austin can potentially lead to a financial settlement or judgment award that helps your family pay for related losses and expenses. The civil justice system in Texas allows for the retrieval of both economic and noneconomic damages in a personal injury claim. This means you could receive compensation for the following:
Past and future medical bills

Disability costs

Lost wages and future capacity to earn

Physical pain and emotional suffering

Post-traumatic stress disorder

Property damage

Legal fees and expenses

Punitive damages, in some cases
Claims filed for dog attacks can result in settlement values that range from $10,000 to $100,000 or more. There is no such thing as an average settlement amount, as values vary significantly. Clients with catastrophic or permanent injuries, for example, could receive seven-figure case outcomes. Discuss the potential value of your case with an attorney to learn more.
What to Do Following a Dog Attack in Austin
If you get injured in a dog attack, try to remain calm while you get to a safe location away from the animal. Exchange information with the owner of the pet, including the dog's vaccine history. Notify Austin Animal Control about the attack. They can let you know if the dog has been involved in any other injury or bite reports. They may also intervene to quarantine the dog to check for rabies. Next, go to a hospital for professional injury treatment. Keep copies of all documents and records associated with the attack and your medical care. Finally, contact an attorney to discuss your legal rights.
Contact an Austin Dog Bite Lawyer for Free Today 
You will go through a lot as a victim of a dog attack or a surviving loved one. At Hill Law Firm, our mission is to make things easier for victims of serious accidents. We offer legal advice and high-quality services in the pursuit of justice and financial compensation after dog attacks in Austin and throughout Texas. Start with a free case consultation with one of our dog bite injury attorneys. Call (210) 960-3939 or contact us online today.