Amazon Marketplace is the world's largest online retailer, offering over 350 million items across all retail categories. Amazon orders account for 37.8% of e-commerce sales in the United States, a number expected to rise by over 11% by the end of 2024. Although we love the endless options and unmatched convenience of ordering from Amazon, the thriving company's delivery trucks add significantly to traffic congestion in Kyle and the surrounding Hays County region.
Amazon delivery vans make up a significant percentage of accidents involving commercial vehicles in Texas. If you or a loved one suffered injuries in a delivery truck accident in Kyle, the attorneys at Hill Law Firm are ready to help. Call or contact the Amazon delivery truck accident lawyers at Hill Law Firm today for a free consultation on your accident case.
Kyle Amazon Delivery Accident Resources
To immediately access the resources at any point on this page, click the corresponding links below.
Why Choose Our Attorney?
Why Do Amazon Delivery Truck Accidents Occur?
How an Amazon Delivery Accident Lawyer Can Help
Who Can Be Liable for Your Injuries?
Seeking Damages After an Amazon Delivery Accident
Steps to Follow After an Amazon Delivery Truck Accident
Call a Lawyer Today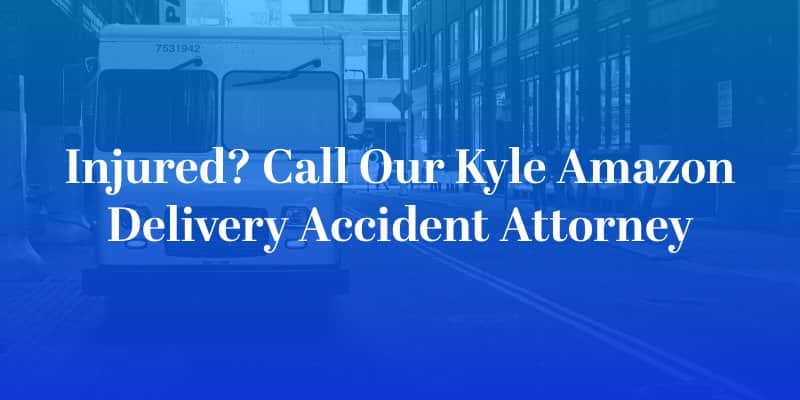 Why Choose Our Amazon Delivery Attorney for Your Case?
Determining liability in an Amazon delivery truck accident is challenging. Often, it takes a Kyle car accident attorney with years of experience in this specialized area of law to prove liability and pursue a compelling case for damages. "Damages" in a personal injury claim are the economic and non-economic consequences of an accident, including medical expenses, lost wages, and pain and suffering, as well as property damage to a vehicle.
No one should take on the challenge of an Amazon delivery truck accident claim without an experienced attorney in their corner. A lawyer from Hill Law Firm will provide the following advantages for your case:
A powerful voice behind your claim from a locally-known law firm with a track record of securing millions of dollars for our injured clients
An attorney with over a decade of experience navigating commercial truck and delivery van accident claims
Open and honest communication throughout the process so you're never left in the dark about your claim
A resolution-based approach to seek an ample out-of-court settlement for your damages
Experienced litigators who are ready to take your claim all the way to court if necessary to secure your compensation
The award-winning attorneys at Hill Law Firm have deep compassion for victims injured due to negligent drivers. We make every client's case our own and advocate zealously for the compensation our clients deserve.
Why Do Amazon Delivery Truck Accidents Occur?
Amazon delivery drivers have grueling schedules that sometimes lead to reckless driving, speeding, and other negligent driving behaviors that cause serious accidents. Common causes of delivery truck accidents in Kyle include the following:
Speeding
Making unsafe lane changes due to extended blind spots
Aggressive driving to meet timetables
Distracted driving due to GPS app use, choosing playlists and podcasts, responding to dispatchers, and eating behind the wheel
Fatigued driving due to long hours and intense pressure
Some Amazon delivery vehicle accidents in Kyle and the Austin area occur due to third-party causes, such as improperly loaded cargo and unbalanced loads, poor vehicle maintenance, or defective truck or van parts.
How A Kyle Amazon Delivery Truck Attorney Can Help
A Kyle delivery accident attorney from Hill Law Firm will determine the at-fault party in your accident and document compelling evidence of their liability. Your Kyle, Texas accident attorney will do the following in your delivery truck accident case:
Perform a diligent investigation into all aspects of the accident
Craft a compelling case for liability against the at-fault party
Carefully calculate your damages to maximize the amount of compensation you can claim
Send an evidence-backed demand package to the appropriate insurance company
Negotiate with the insurance company to secure an ample settlement
Take the case to court within the Texas Two-year statute of limitations if the insurance company fails to offer an acceptable settlement amount or wrongfully denies the claim
The Kyle truck accident lawyers at Hill Law Firm are ready to provide the skilled representation you need.
Who Can Be Liable for Your Injuries?
Insurance companies hire adjusters expressly to fight accident claims or minimize payouts. The injury victim in a commercial vehicle accident has the burden of proving the at-fault party liable for damages, which often requires an investigation. Possible liable parties in Amazon truck accidents in Kyle could be any of the following, depending on the circumstances:
The driver if they are an independent contractor
The employer if they work for a shipping company with negligent hiring/training practices
A third-party freight-loading company
Amazon itself, if the negligent driver was an Amazon employee
In less common cases, the liable party could be the manufacturer of a defective truck or van part, a negligent road maintenance agency, or a third-party driver. Proving liability in a Texas Amazon delivery vehicle accident requires demonstrating the following:
The at-fault party owed a duty of care to take reasonable measures to prevent injuries
They breached this duty of care through negligence or recklessness
Their negligent breach of duty caused the accident and injuries
The injury victim suffered significant damages due to the injury
Your Amazon delivery accident lawyer from Hill Law Firm will document evidence of liability to make a strong claim for your compensation.
Seeking Damages After an Amazon Delivery Accident
Delivery trucks and vans are large and heavy, giving them the advantage in a collision with a passenger car. If you've been injured in this type of accident, you deserve compensation for damages such as the following:
Past and future medical expenses
Lost wages and future income loss
Diminished earning capacity due to disabling injuries
Pain and suffering
Any other non-economic damages that apply in your case, like disfigurement compensation, loss of enjoyment of life, or emotional trauma
Recovering compensation in an injury claim also helps victims achieve a sense of justice after a delivery truck accident in Texas.
Steps to Follow After an Amazon Delivery Truck Accident
The scene of an accident is chaotic and confusing during the immediate aftermath, but if you can use your cell phone—or ask an uninjured person to use it for you—the following steps are critical for your physical and financial future:
First, call 911 to report the accident and request emergency services
Give reasonable aid and comfort to any other injury victims
Use your phone to take photos of the damaged vehicles, the accident scene, and any identifying company markings on the truck
If you can, take photos of the Amazon driver's information, including license, registration, and employee identification
Add the contact information of involved parties and eyewitnesses
Always accept medical transportation to a hospital after an accident and get a complete examination and a detailed medical report. Obtain a copy of the police report and call the Amazon delivery van accident attorneys at Hill Law Firm before speaking to insurance adjusters.
Speak to Our Kyle Amazon Delivery Accident Lawyer Today
Texas has time limits for personal injury lawsuits, including for Amazon delivery vehicle accidents in Kyle. Reach out to the attorneys at Hill Law Firm today and pay nothing until after we secure your compensation for damages. We understand the toll a serious accident has on a victim and their family. Our experienced attorneys are ready to help.