Most passengers assume they're safe when riding on a large, lumbering bus or sharing the roadways with these common vehicles, yet a startling 60,000 bus accidents occur in an average year in the U.S. When a bus accident causes injuries, the injury victim may not know where to turn for help in recovering the financial compensation they deserve for damages like medical expenses and lost wages. A Kyle bus accident attorney from Hill Law Firm is ready to help. Reach out to our Kyle Law office today to talk to an attorney with years of experience in bus accident claims in Texas.
Kyle Bus Accident Resources
To immediately access the resources at any point on this page, click the corresponding links below.
Why Choose the Hill Law Firm?
Common Bus Crash Injuries
Bus Accident Lawsuits Can Be Complex
How Our Kyle Bus Accident Lawyer Can Help
Who Can Be Liable for a Bus Crash?
Potential Compensation Available After Your Bus Accident
Time Limits to File a Lawsuit
Speak to an Attorney Today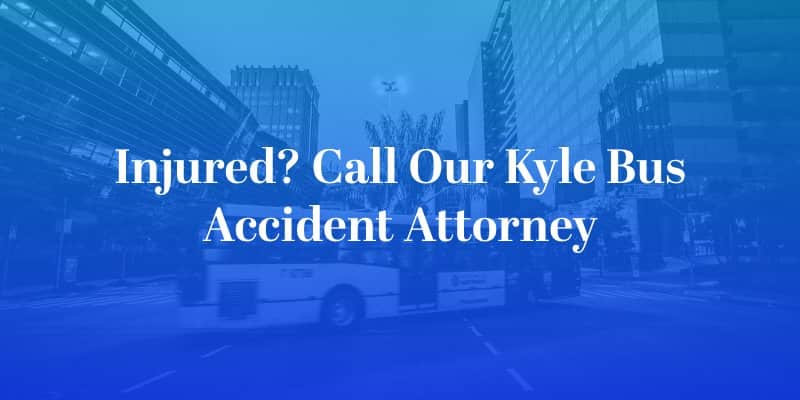 Why Choose the Hill Law Firm for Your Case?
Determining liability in a truck accident takes serious investigation. Texas accident laws require the injury victim to prove the at-fault party's negligence and liability through a preponderance of evidence. The attorneys at Hill Law Firm are ready to advocate aggressively for your rights and best interests throughout the process. By choosing Hill Law Firm, you'll have the following advantages in your bus accident case:
A Kyle car accident attorney with over a decade of experience in navigating bus accident liability claims
The skills and knowledge of a team of award-winning attorneys who put a powerful voice behind your claim
Open and honest communication throughout the process
A results-oriented law firm that treats every client with the individualized attention they deserve
A free case consultation and contingency-based payment so we only take our fee after we secure your settlement
Bus accident injuries are often severe with long-term implications on health and finances. Even less severe injuries can quickly become expensive and interfere with work and daily routines. Choose the bus accident attorneys in Kyle who are more than ready to take on powerful insurance companies for your claim.
Common Bus Crash Injuries
Passengers in bus accidents are vulnerable to serious injuries due to crowded conditions, the lack of seatbelts, and the difficulties of exiting a large bus after a crash. Passengers in other vehicles involved in bus collisions also face great risk due to the large size and heavy weight of buses. Common injuries cited in bus accident claims include the following:
Traumatic head injuries
Fractures
Back injuries
Neck injuries
Spinal cord damage
Soft tissue damage
Burns
Smoke inhalation
Cuts, bruises, and abrasions
Chest injuries, including broken ribs and internal organ damage
When a bus accident in Kyle causes serious injuries, the expenses pile up at the same time you're struggling to recover, causing stress and financial hardship. A successful personal injury claim in Kyle can help with your financial recovery so you can focus on your physical recovery.
Bus Accident Lawsuits Can Be Complex
Bus accident scenes are chaotic and frightening, and sorting out liability for a successful injury claim later quickly becomes complex. Large buses typically mean many injury victims, more serious injuries, several involved vehicles, and multiple potentially liable parties including the bus driver, the bus company, or a third-party driver. It takes a skilled attorney to prove liability and make a compelling case for compensation for an injured victim after a bus accident in Kyle.
How Our Kyle Bus Accident Lawyer Can Help
Large insurers count on injury victims giving up their right to lawsuits due to the difficulty of navigating a complex claim with the possibility of multiple entities at fault. Before you speak to insurance adjusters after a bus accident in Kyle, it's important to have skilled legal counsel on your side. The bus accident attorneys at Hill Law Firm can help navigate the legal process on your behalf by doing the following:
Thoroughly investigating all aspects of the bus accident to determine fault and liability
Identifying the correct liable party and the appropriate insurance company
Carefully calculate your damages to maximize the amount of compensation you can recover
Craft a compelling case for your compensation in a demand package to the insurance company
Negotiate with the insurance adjuster to secure the largest possible out-of-court settlement
Take the case to court if the insurance company fails to offer an acceptable settlement or wrongfully denies the claim
Advocate aggressively for your rights in court to secure a positive jury verdict and large court award for your damages
At Hill Law Firm, we have many years of experience in successful bus accident claims for injured clients.
Who Can Potentially Be Liable for a Bus Crash?
Navigating a bus accident claim in Texas can be challenging. Your Kyle bus accident lawyer will investigate the accident to determine who was at fault and where liability lies. Unlike accidents between standard family vehicles, there are several potentially liable parties in bus accidents including the following:
The bus driver
The busing company, whether a charter company, corporate shuttle bus company, or a city entity such as a public transit
The local school district
In less common circumstances, liability for Texas bus accidents could lie with the manufacturer of a defective bus part, a negligent bus maintenance or repair company, a negligent road maintenance organization, or a third-party driver. In complex cases, multiple entities could share liability according to the state's comparative negligence laws.
Potential Compensation Available After Your Bus Accident
If you or a loved one suffered injuries in a bus accident in Kyle or the Austin area, you're likely to have expensive medical bills coming in while your injuries prevent you from a prompt return to work. A successful claim for damages after a bus accident can help you gain compensation for the following damages:
Medical expenses
Future medical expenses for ongoing medical care related to your injuries
Lost wages
Future lost wages
Diminished future earning potential due to disability
Pain and suffering and other non-economic damages like emotional trauma
Bus passengers are rarely at fault in an accident, and no one should be left with the undue burden of expenses.
How Much Time Do You Have to File a Lawsuit?
Like all states, Texas places a time limit on the amount of time an accident victim has to file a lawsuit for their damages, including bus accident victims. In Texas, injury victims have up to two years after the date of their accident to file for compensation for their damages. This statute of limitations serves to protect defendants from the ongoing threat of lawsuits and helps ensure that evidence is still available should a case come to court.
Contact Our Experienced Kyle Bus Accident Lawyer Today
No one should have to take on a complicated bus accident claim alone. Contact the experienced Kyle bus accident attorneys at Hill Law Firm today for a free consultation so we can begin a strong, individualized strategy for your case.