Breach of Fiduciary Duty
A fiduciary relationship arises when someone places their utmost trust in another to protect their property or money.  The most common examples of fiduciary relationships include attorney/client, ward/guardian, and director/shareholders.  When a fiduciary relationship exists, a fiduciary owes the principal the strictest duty of care owed under law in the United States.  Similar to the case with a Breach of Contract, when a fiduciary takes advantage of their principal or fail to act as a fiduciary should under the law, they can be sued for breaching this duty.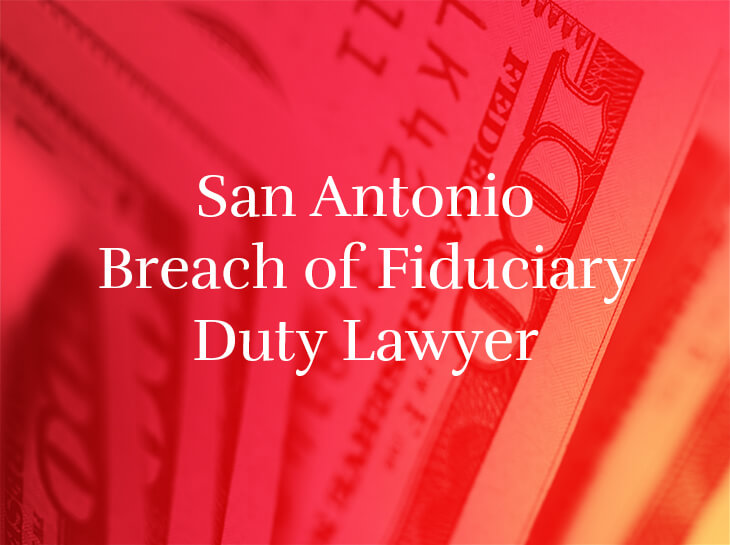 To successfully prosecute a Breach of Fiduciary Duty case in Texas, certain elements must be proven at trial.  Those elements are:
A fiduciary relationship exists between the Plaintiff and the Defendant;
The Defendant breached his fiduciary duty to the Plaintiff; and
The Defendant's breach proximately caused injury to the Plaintiff or a benefit to the Defendant.
If these elements are proven, Texas law provides for certain damages in a Breach of Fiduciary Duty action.  These damages may include:
Economic Damages:

Out-of-pocket losses
Lost profits

Mental anguish damages
Equitable remedies:

Constructive trust
Fee forfeiture
Profit disgorgement
Rescission
Receivership appointed

Exemplary or punitive damages
Pre and post-judgment interest
The Texas Breach of Fiduciary Duty Lawyers at Hill Law Firm is here to help you with your breach of fiduciary issues with an office in San Antonio, Texas.  If you have been taken advantage of by someone for whom you have a fiduciary relationship, you can pursue a claim against them for breaching this special relationship. Proving a breach of fiduciary duty is not easy and requires a careful analysis of the relationship as well as the actions of the fiduciary. If you have questions regarding a potential breach of fiduciary duty and would like to speak with an attorney, contact the Texas Breach of Fiduciary Duty Lawyer at Hill Law Firm today for a free consultation.